Description
A recent study by the Content Marketing Institute (USA)
found that nearly 9 out of 10 B2B marketers are now using content marketing as a core component of their online marketing strategy (2016
).

How can your firm win the battle in this highly fierce new approach to gaining customers and keep from being left in the dust?

We are presenting a hands-on workshop to equip you with brilliant techniques to kickstart CONTENT MARKETING STRATEGY in your organisation.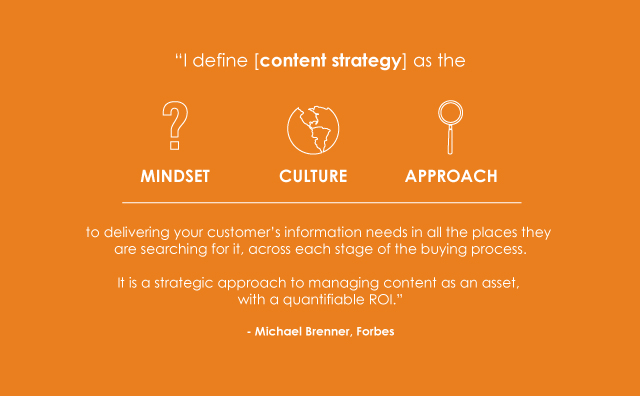 ---


WORKSHOP BENEFITS
Create highly effective contents for your target audiences
Boost your brand and authority in the market with strategic content placements
Develop a content calendar for different social media platforms and content formats
Utilize content ideation frameworks so that you'll never run out of content ideas
Craft catchy headlines that draws attention
Sexify the content for maximum effectiveness - psychologically and emotionally
Improve productivity by leveraging on the latest techs and tools
---
WHO SHOULD ATTEND
Entrepreneurs
Corporate Comm Specialists
PR Personnel
Digital Marketers
Social Media Specialists
Copy Writers
Content Creators
Sales and Marketing Team
---
COURSE OUTLINE
0900 | INTRODUCTION & WORKSHOP OVERVIEW
Content Creator, Strategist & Marketer: What are the differences
Strategy - Creativity - Technology
Content Marketing in the B2B Sales Funnel
The Triple E of Content Marketing
0930 | ZERO-IN ON YOUR TARGET AUDIENCE
Ideal customer profiles
Demographics & Psychographics
Dominant emotions
Understanding the CTAs
Audience segmentation
1015 | CONTENT MARKETING PLATFORMS
In-house: Email list, newsletters, blogs, whitepapers, ebooks, events (offline engagement)
Article: Medium, LinkedIn (Pulse), Facebook Notes, StumbleUpon,
Authority/Discussion: Quora, Reddit, Forums, LinkedIn Groups, Meetup
Photos: Pinterest, Instagram, Flicker, Tumblr (micro-blogging)
Video: Youtube, FaceBook Live, Vine, Webinars
Chats: WhatsApp, Snapchat, WeChat, QQ,
Podcast: iTunes, Stitcher, Spotify
Understand where your audience hang out
1045 | 58 DIFFERENT TYPES OF CONTENT
21 Evergreen Content Types
The Other 37 Content Types
1115 | CONTENT TOPIC GENERATION
The Ideal Customer Profile Method
The [Topic] + [Life] Method
The Keyword Idea Method
The Reverse Google Method
The Trending Topics Method
1200 | YOUR

CONTENT CALENDER
Long term strategy
Apps to help manage content (brainstorming, idea collection, resource management, scheduling)
Content Types vs. Format vs. Platforms
1230 | LUNCH BREAK & NETWORKING
1330 | OWN VS THIRD PARTY CONTENT
Challenges of own vs. Third party contents
Tools for third-party contents
Enter the Influencer
1400 | OVERCOMING WRITER'S BLOCK
The William Forrester Method
The 25-25-25 Method
The Focus/Desperation Method
1430 | CRAFTING EFFECTIVE CONTENT HEADLINES
How Tos
List Type
Facts & Figures, Statement & Statistics
Question
Controversial/Trending
Headline Analysis Tools
1530 | THE KILLER CALL-TO-ACTIONS (CTA)
The relevancy test
Injecting urgency
Words that always work!
1545 | COPYWRITING MAGIC
The Psychology of the Written Words
The Art of Conversational Writing
Readability Tools
Personality Tools
Grammar Tools
1615 | CONTENT TECHS
Post schedulers
Illustration softwares
Metrics & Analysis
Remarketing & Retargeting
1640 | VISUAL RESOURCES
Stockphotos
Icons & Vectors
Apps, Software & Tools
1700 | Q&A, RECAP & WORKSHOP END
---
TRAINER'S PROFILE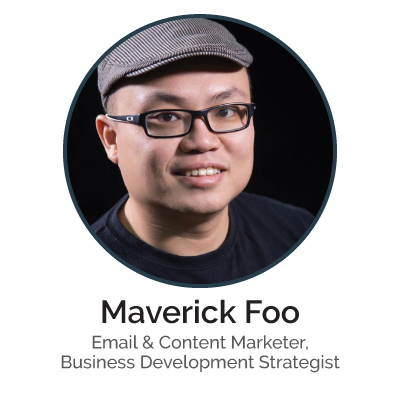 One of the business heads at a large insurance company once dropped Maverick's boss and mentor an email after his sales meeting, saying "Maverick is one of the worst sales person I've ever met." As a matter of fact, Maverick never read the email in full because not wanting to hurt him further, his boss deleted the email.
Since that day a decade ago, Maverick decided to turn his weakness around and focus on what he's better at - email marketing. Four businesses later, he can attest that over 93% of his businesses started off with an email exchange, usually a cold-email, that led on to solid deals.
Now a business development director at several ventures, where he falls short, he uses technology to overcome. Instead of cold-calling, he does cold-email. Instead of door-to-door selling, he creates sales funnels to attract the right prospects through the door.
With Maverick, you can expect textbook materials and fancy theories left at the door. A strong supporter of "you can't teach what you have yet to understand and implement", in his session, you'll get practical techniques, proven strategies, quick-fire tips and a sprinkle of humor and personal encounters throughout.