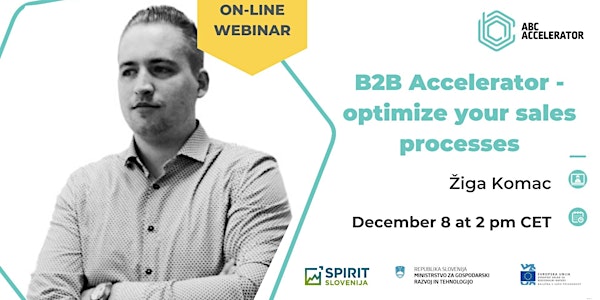 B2B Accelerator - optimise your sales processes
B2B Accelerator - optimise your sales processes
About this event
Good sales results and growth are based on both good sales skills and well-optimized sales processes that become even more important and complex in B2B sales models.
When we talk about sales, we often focus only on sales competencies and how to become a good salesperson, but we often forget the bigger picture - the whole system.
In recent years, technologies have been developed to further enhance the holistic view with tools that empower sales teams to accelerate results.
That's why this workshop will look at the fundamentals of B2B sales, as well as more complex topics such as how to develop and optimize your sales processes to increase the speed at which you acquire new leads, and customers and close new deals.
WHY TO ATTEND?
Throughout the workshop, we will also look at the best practices of successful companies, especially on more complex topics such as their sales processes, their implementation, and their organization.
The workshop is designed to be interactive, where the lecturer will pose some sales "challenges" (e.g. lead generation) that many companies often face. These will be interactively solved by you, with the help of the lecturer.
We will also look at how to implement digital tools in your sales, and how you can take your sales performance to the next level by using modern tools. In addition to processes, we will also look at the individual skills that are so essential for salespeople today.
Both the way we sell and the consumer's journey have changed in recent years. Information has never been as abundant as it is today, so it is crucial to address the disconnect between how salespeople sell and how buyers buy.
Specific topics covered in the training:
B2B Sales Fundamentals
Buyers and key accounts
Identifying potential customers
Account Based Marketing
Your product/service and added value
Argumentation
Generating new leads and sales opportunities
How to transform the organizational aspects of your sales
Creating a partnership or franchise model
Buying center and types of sales methodology
Differences between sales methodology and sales process
How to develop a sales process
How to support the sales process with tools and technology solutions
Email sales
Which tools are currently available for your team
Is CRM a "Swiss Army knife"?
How to integrate marketing tools with sales tools to increase the generation of new sales opportunities
How to create content that leads to sales
Overview of opportunities with the Sales Engagement Platform
Automating outreach
Addressing practical challenges and opportunities with your business
How can your salespeople use tools effectively in their daily work
Finding contacts and preparing contact sheets
Validation of e-mail sequences
Integration with lead generation platforms
About Žiga Komac
Žiga Komac is an engineer who started his career in the technology industry. His roles have ranged from research and technical roles to corporate account management, new business development management, and digitalization. He has also recently completed an MBA at the Cotrugli Business School in Zagreb.
He is motivated by business challenges that can be solved with the use and leverage of technology.
Today he advises companies of all sizes on the implementation of digitalization and new technology solutions, the optimization and redesign of business processes, and the development of marketing and growth strategies. In recent years, he has advised more than 50 companies in the sales area and has implemented numerous digital tools and platforms (e.g. Salesforce) for complex forms of sales.
JOIN US ON DECEMBER, 8th AT 2 PM!
We have 30 spots for these workshops.
The application process applies.
Join us today by applying via Eventbrite and let's do this ✌️
❗ This workshop will be held in English and is FREE of charge! Hurry, the number of tickets is limited. It will be hosted online. You will receive a link to access the webinar two days and two hours before the event starts.
❗❗ Warning: webinar is being recorded. In order to fulfill the Call to tender "SIO 2020-2022", your personal data will be forwarded to the contractual partners of the said tender (SPIRIT Slovenia, Ministry of Economic Development and Technology, European Regional Development Fund).
ABOUT ABC ACCELERATOR
ABC Accelerator is an award-winning acceleration program for startups and scaleups designed to grow your business and increase your valuation, combined with a 25k€ convertible loan and an option for 100k-250k€ investment.
THIS EVENT IS SUPPORTED BY:

The event is co-financed by the Republic of Slovenia and the European Union from the European Regional Development Fund. The operation is being carried out under the "Operational Program for the Implementation of the European Cohesion Policy 2014-2020", priority axis: "3 Dynamic and competitive entrepreneurship for green economic growth".www.eu-skladi.si