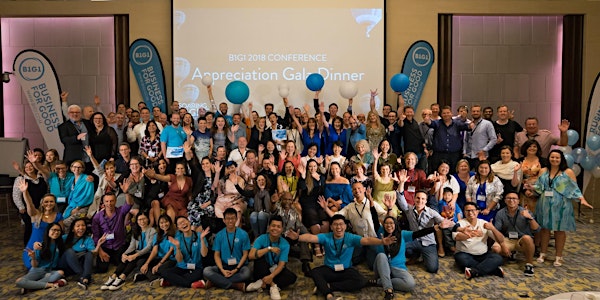 B1G1 Business for Good Conference 2021: Instalment Option
B1G1 Business for Good Conference 2021: Instalment Option
By B1G1: Business for Good
Date and time
July 7, 2021 · 9am - July 9, 2021 · 1:30pm +07
Location
InterContinental Hanoi Landmark 72 Keangnam Hanoi Landmark Tower, Plot E6, Cau Giay Urban Area, Keangnam, Từ Liêm Hà Nội, Vietnam 100000 Viet Nam
Refund Policy
Refunds up to 30 days before event
About this event
Join us and delegates from around the world in the historic Vietnamese city of Hanoi for this important 2021 B1G1 Global Conference marking the 14th anniversary of B1G1.
The 2021 Theme: 'TIME TO RISE'
B1G1 Conferences bring you extraordinary results. They're designed from the ground up to be decidedly different, highly meaningful and powerfully purposeful.
The feedback from past conferences has been universally great. "The best conference I've ever been to in my life" is the common theme. And this 2021 Conference is going to be a stand-out event for 3 special reasons:
THE EXTENDED CONNECTION: It's going to be a 2.5-day event + special optional activities. This extension (previously, all B1G1 Global Conferences were 2-day events) gives you the time to make even deeper connections and formalize new ideas.
THE GOALS: The 2021 Conference comes exactly 9 years before time runs out on the Global Goals. It gives you the opportunity to plan your next 9-year goals for your business and together explore how we will support the world to meet its Sustainable Development Goals by 2030.
THE IMPACT ON THE GROUND: Being in Hanoi, home of a few great Worthy Cause activities, we will learn more about the impact on the ground from our Worthy Cause partner in Hanoi. You get to participate in powerful discussions to make a real impact together both here and at home.
Imagine what we can achieve in the next 9 years by aligning our efforts and direction. 
And most importantly, you'll connect with fellow B1G1 Members across all professions and industries bringing you superb insights to further transform your business and make it an even better place to be.You'll experience unique-to-Hanoi sessions that leave an indelible impression on you. And you'll hear life-changing presentations from people in the front line of implementing giving in amazing ways.People who came to any of the previous conferences said:
" This is the best conference I have been to. "
" Fantastic. I really loved every moment. "
" Everyone comes to this conference wanting to give more to each other and to the world. Including the world-class speakers. There is no other place like this. "
The previous B1G1 Conferences set a high bar as you'll see here in this video.
The experiences and interactions at B1G1's Business for Good Conference are exceptional and unforgettable because of the contributions everyone makes.This is a conference full of game-changing learning and exchanging of remarkable ideas, exceptional insights and inspiring moments. And it's all weaved together with a common thread of a deep sense of connection, engagement and a spirit of giving that really encourages us all to rise like never before in business and in life.
And in 2021, we're designing, curating and creating an even more 'connecting' experience by weaving in the learning we get from the people of Hanoi including those who are part of the local B1G1 Worthy Cause, Blue Dragon. You'll directly experience some of the hidden gems of this incredible buzzing city, exploring the real 'power of small' over 2.5 inspiring days.And we will be making this experience even better, even more meaningful and impactful.
KEY HIGHLIGHTS
  ► Learn from extraordinary speakers (what we might call B1G1 'gurus')
  ► Engage in interactive activities to experience the theme 'Time to Rise' together
  ► Discuss and brainstorm key ideas and solve business issues collectively
  ► Discover innovative ways others implement giving into their business
  ► Be part of an uplifting, dynamic and value-packed Giving Auction
  ► Celebrate collective achievements at the Appreciation and Award Dinner
  ► Discover the power of B1G1 projects you might not have noticed
  ► Take part in specially curated opportunities and experiences
  ► Interact with like-minded business owners, their team and family members
  ► You can also take part in optional special activities such as cooking classes and even a football match with the Blue Dragon children (the beneficiaries of the Worthy Cause Partner in Hanoi).
And there'll be lots of surprises too. So many highlights ….all of them designed with two main focal points: to give you a conference unlike any other. And to build your Business for Good.We look forward to sharing it with you!
----------------------------------------------------------------------------------------
*PAYMENT OPTIONS FOR CONFERENCE TICKETS
If you prefer to pay for the conference ticket(s) in once-off payment pricing, please go to this page instead.
OTHER THINGS TO NOTE
Included in the Conference Package:
    2.5-day Conference Package with all refreshments and buffet lunch each day  (breakfast is included in your hotel room)
    Giving Auction Dinner on 7th July
    Appreciation Dinner on 8th July
    All conference activities and resources
    Special gift items
    When you purchase a Ticket for Good, you will also be invited to the Welcome Reception on the evening of 6th July (7:30-9:30pm). Small bites and drinks are provided for this networking function.
Not included in the Conference Package:
    Return flights to Hanoi from your country and travel insurance
    Accommodation (you can reserve a room at a special rate - a link will be sent to you later)
    Airport transfers (it's super easy to get an affordable taxi ride to the hotel on arrival)
    Any tourist tax and visa (depending on the country of your citizenship)
    Extra drink consumption (only if you consume more than the provided quantity)
    Room services and gift shopping
    Optional activities that are chargeable - details will be announced later
ABOUT CHILD TICKETSIf you have children between 6-12 years old then this is just the ticket for you. It lets your children join an adventure group for the entire duration of the conference so that they can:
o    visit places of interesto    experience local cultureo    try local cookingo    experience pottery-makingo    and even learn to make handicrafts to sell (and give the proceeds to a good cause).
If you are bringing children with you to Hanoi, you get to enjoy the conference experience fully while knowing your children are taken care of and having a great time with other children from B1G1 families. The 'Kids on a Mission' ticket Includes:
o    Special excursions to various places of interest (please refer to the program schedule) o    Activity facilitation (games, cooking, pottery-making etc.)o    Transportationo    Lunches, drinks and snackso    Two dinners to join their parents in the eveningo    Special giving to help local childreno    All activity materials
HOTEL ROOM BOOKING
You can book the room directly by filling in this form and sending it to the hotel. Your special rate (inclusive of breakfast) will only apply when you book under the special B1G1 Group rate.
CANCELLATION TERMS
If you book now and have to cancel your ticket later, these are the refund terms.
Time range before the event:
    > 6 Months: Full refund, less any bank charges incurred
    3-6 Months: Cancellation charge of US$100 per ticket will apply     (We will forward any residual fee to various B1G1 Projects, if any)
    1-3 Months: Cancellation charge of US$200 per ticket will apply     (We will forward any residual fee to various B1G1 Projects, if any)
    < 1 Month: The ticket is non-refundable    (However, it can be transferred to someone else)
The cancellation terms for the room booking will follow the cancellation terms by the hotel.
About the organizer
B1G1 exists because businesses have the power to change lives. Simple as that.
So together with B1G1, business owners and their teams make giving a habit by linking their products and services to hundreds of high-impact projects around the world through the magic of B1G1 transaction-based giving. We call it 'embedding giving'.
And it's happening right now, every second, every day and in every way. 
So the coffee shop is able to say, 'Every time you buy our coffee, a child gets access to water'; every time a book gets sold, a tree gets planted; the recruitment company educates kids each time a candidate is placed.
With B1G1 the possibilities are endless, the impact is huge. And it's so easy to be a part of: www.b1g1.com