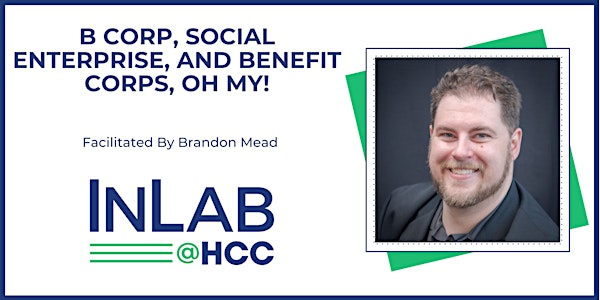 B CORP, SOCIAL ENTERPRISE, AND BENEFIT CORPS, OH MY!
Learn about options to start a nonprofit or social program, decide which form may be the best fit, and the how to start.
About this event
In this workshop you will learn how you can give back to your community as a nonprofit board member and the responsibilities involved.
You will also learn about the various forms of social business formation and if one may be a good fit for your project.
Brandon has been called a Renaissance Man, Pioneer, and Jack of all Trades but considers himself a Missionpreneur. He is a business owner with corporate experienced from Fortune 500 Companies such as GE and Comcast. He is an advocate for grassroots nonprofits and is a respected leader within the nonprofit community with over 20 years of experience. Currently, Brandon runs a consulting firm and social enterprises which he began in 2012 which has allowed him to found multiple nonprofits including Nonprofit Collaborative and Foster Guardian. He earned a Bachelors of Organizational Management/Ministry from Palm Beach Atlantic University and is currently finishing his studies for an Executive Master of Nonprofit Administration through the University of Notre Dame and plans on beginning work on a PhD studies on Organizational Systems in 2021. Brandon and his wife, Erin, are foster parents who live in Tampa Bay with usually four or more children, including biological and foster children.
For security purposes you will receive an e-mail containing the ZOOM link 24 hours and again 1 hour prior to the workshop start date and time.