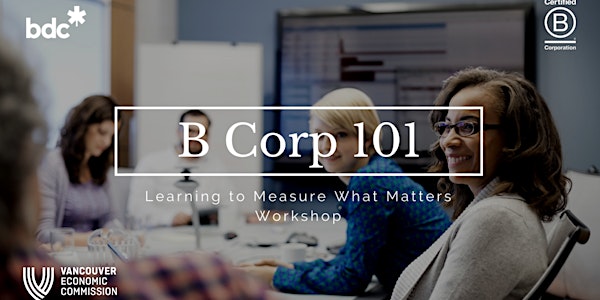 B Corp 101 – Learning to Measure What Matters
Do you strive to create a positive impact in the world through business? Join us to learn how to measure it using the B Impact Assessment.
When and where
Location
Online N/A Vancouver, BC V6B 5A1 Canada
About this event
BDC and the Vancouver Economic Commission - are pleased to present B Corp 101 – Learning to Measure What Matters.
Measure what matters: your company's health and impact on others
Does your company help make Vancouver a better place to live?
Are you striving to improve the livelihoods of your employees, to forge solid relationships with your community, and to preserve the environment through business?
Good news: there is a global movement of entrepreneurs just like you! And they use a business tool and certification designed just for them.
B Corps™ use business as a force for good
Certified B Corporations® are a global movement of companies created and run by people who define success as more than money. Local examples of these purpose-driven businesses include tentree, Renewal Funds, Lunapads, and Traction On Demand.
Join this workshop to learn the value of measuring your impact
If you're a business owner or employee interested in certifying—or simply looking to complete an impact "health check"—then this workshop is for you!
During this session, you will learn how you can measure your impact like B Corps do: by using a robust tool known as the B Corp Impact Assessment. This free, confidential assessment measures a company's success and impact in the following areas:
Governance
Employees
Community
Environment
Clients
Let's start your journey together.
Who should attend?
This session is intended for entrepreneurs or employees of purpose-driven businesses who are interested in managing their impact and/or obtaining the B Corp Certification. If you are looking for ways to report on sustainability or ESG, B Corp is an excellent tool to pursue.
All registered attendees will receive a link to the workshop 2 days prior.
Hear their stories! Podcast interviews with B Corp entrepreneurs at The B Corp Effect, available on Google Play and Apple Podcasts.
Speaker's Bio
Carla Heim is Senior Advisor, Sustainability and ESG at the BDC (Business Development Bank of Canada), the bank for Canada entrepreneurs.
She is a leading figure in the national movement of entrepreneurs who use business as a force for good. i.e., they create for-profit companies that help build robust communities that are inclusively prosperous and climate resilient. She is a national expert on the B Corp certification and the B Impact assessment tool, and serves as the BDC / B Lab Partnership Lead. B Lab is the not-for-profit that is the creator of the international B Corp movement.
Carla has thirty-plus years' experience in owning, managing, advising and financing businesses. She brings to entrepreneurs a singular mix of hands-on experience, deep expertise and – as a longstanding member of the national and global B Corp networks ¬- knowledge of the latest, most innovative practices.
_________________________________________________
Vancouver Economic Commission contributes to building a prosperous, inclusive, zero-carbon and resilient Vancouver economy, competitively positioned in the global market today and in the future. As the economic development agency for the City of Vancouver, VEC works to strengthen Vancouver's economic future by providing programs, supporting local companies, convening with purpose, attracting targeted high-impact investment, and conducting and publishing thoughtful leading-edge industry research.