AZ WPS Pesticide Safety Trainer Refresher Course (Online) - Presented by AZDA-ESD in coordination with Yuma Area Ag Council.
About this event
Attendees who successfully complete this refresher course online will renew their trainer certificate for 3 years, to provide pesticide safety training in Arizona to workers and to handlers of pesticides, as required by AAC R3-3-1003. ESD license holders such as applicators and PCA's, will receive 3 continuing education units (3 AZ/CEU's).
NOTE: This course will be offered online, however, to obtain an AZDA Pesticide Safety Trainer license, participants MUST appear in person to take and pass the course exam at a designated testing location (Phoenix & Yuma). CDC guidelines including wearing of face coverings and social distancing will be followed at testing sites.
A course handbook will be emailed after registration is complete. At the testing location, participants will receive a USB flash drive containing the AZDA/EPA approved training video and other training aids (included with registration fee). [EPA W/H PST0016]
This course is brought to you by a partnership between the Arizona Department of Agriculture and the Yuma Area Ag Council, Inc., a non-profit organization.
If you have any questions regarding this course, please call (928) 344-7909.
Persons with disabilities may request reasonable accommodations, such as a sign language interpreter, by contacting Melissa Meek at (602) 542-0925 (voice), or 1-800-367-3839 (TDD Relay). Requests should be made as early as possible to allow time to arrange the accommodation. (Americans with Disabilities Act)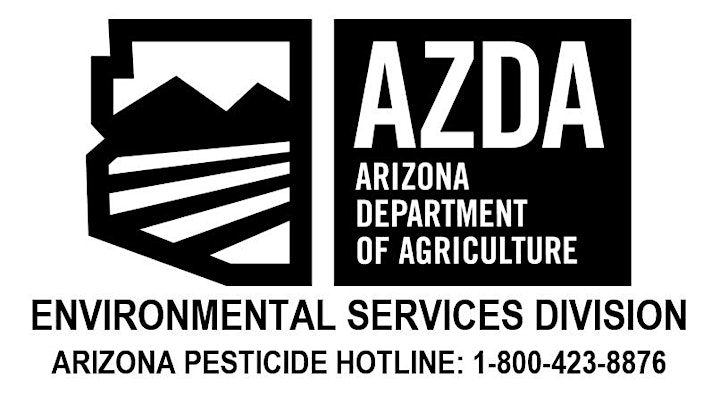 Date and time
Location
Refund policy