About this Event
Internationally beloved singer/composer/producer Azam Ali's award-winning career has been defined by boldly defying genres and commercial expectations to heed her creative instincts. In keeping with this fearless spirit, her latest opus Phantoms, is a masterstroke of artistic wholeness and focus. The darkly alluring record is Azam's first self-produced entirely English language album that melds Azam's other-worldly, cinematic musicality with gorgeously heartbreaking gloomy electro-pop, adding a whole new dimension to an unconventional artist who has always eluded categorization.
Responsible for every facet of Phantoms from song writing, singing, programming, to production, Azam Ali pushes through the glass ceiling and enters the largely male dominated tech world to join in the ranks of other visionary female electronic musicians and producers who are shifting and shaping the landscape of electronic music.
Phantoms is retro-futuristic album that draws inspiration from electronic and shoegazing music of the 80's and 90's of such groups as Massive Attack, Portishead and Cocteau Twins, combined with influences of moody film soundtracks that combine classical and electronic music. The result is a lush electronic album rife with intriguing layers of rugged beats, synths, live strings, grimy industrial-tinged textures and dirty ambience. This edginess is beautifully offset by Azam's distinct emotive, sensually feminine vocals and her elegant instrumental production choices.
It is an album that is at once melancholic and rapturous, introverted and danceable, dramatic and subtle. Though Phantoms is punctuated with tones of ambient, trip hop and techno, the album withstands any one category of electronic music. This being for the simple reason that Azam Ali continues to stand at the forefront of pushing the sonic envelope and defying global genre boundaries.
"Azam Ali is like an ethereal beautiful voice from the edge of tomorrow. Think about traditional music vocals, updated for the digital age. Add Bjork, Portishead, Maggie Rogers, and stir. Great stuff from a new voice on scene"- DJ Spooky
"Tackling a Cocteau Twins song is regarded by many to be either very brave or very foolhardy. I know there haven't been many covers attempted of our songs that's for sure, but any really great cover version of any song needs to shine a new light upon it. The original was written before my time, so I may not be the best to judge, but Azam Ali ticks all the boxes for me. Its greatest achievement is that it doesn't even sound like a cover version. Brilliant music!" SIMON RAYMONDE (Cocteau Twins)
"It's a beautifully executed/produced/composed album with Azam's voice lending it the emotional connection required to make it come alive."- DAVID SYLVIAN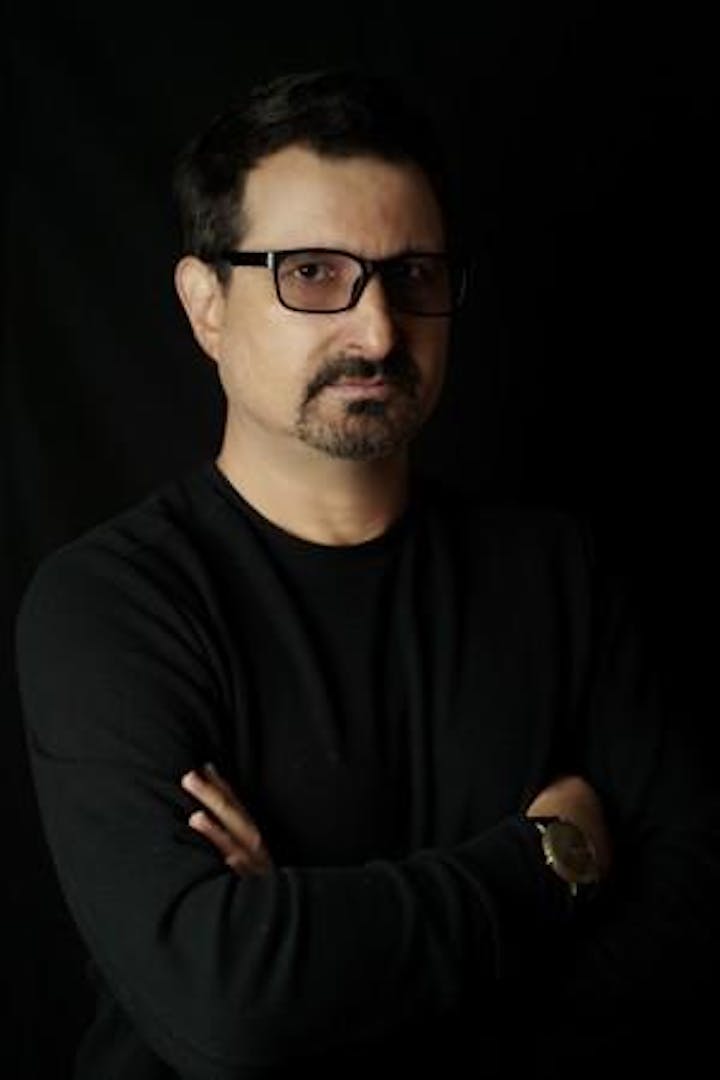 Jeff Rona is a contemporary film composer and recording artist. Jeff worked for many of the top pop record producers including Maurice White (EWF), Albhy Galuten, Malcolm Cecil (Stevie Wonder, Gil Scott-Heron) David Foster, and others. He most notably worked with Philip Glass on several film and live projects, and later with film composer Hans Zimmer. Since then he's scored dozens of films, TV series, video games and creative projects with directors such as Steven Spielberg, Wong Kar-wai, Robert Altman, Steven Soderbergh, Mark Pellington, Stephen Hopkins, Jonathan Demme, Frank Darabont and many others.
Among his album projects, he recorded and performed as a member of Jon Hassell's highly regarded group, co-composing and producing the acclaimed "City-Works Of Fiction" album which toured and performed with Brian Eno. He has contributed music to international artist Azam Ali and the band Niyaz. His first solo album PROJECTOR came out in late 2017 and an album of remixes in 2018. Rona collaborated with Lisa Gerrard on several film projects, and toured with Dead Can Dance, arranging and conducting a full orchestra.