Description
Azalea Festival Home Tour 2018
April 14 1-6pm and April 15 1-5pm
Climb the porch, cross the threshold and enter in to a very special part of Wilmington and its history! Eleven beautiful homes will be open for you to explore. As part of Wilmington's Azalea Festival, Historic Wilmington Foundation's Home Tour, presented by Delinda Harrelson and Associates, will take place April 14, 1-6pm and April 15, 1-5pm.
A ribbon cutting ceremony will kick-off the Tour on Saturday, April 14, 12:30pm, at the Daniel-Poisson House, 315 S. Front Street. Join local dignitaries and Cape Fear Garden Club Azalea Belles as we cut the ribbon, explore the home and enjoy free ice cream provided by Dairy Queen.
Docents will greet you and share highlights and history at each of the homes. Tickets are good for the full weekend. Tour goers can attend either or both days, and can start and end at any point along the route.
Houses on Tour:
Daniel-Poisson House, 315 S. Front Street (Ribbon Cutting House)
Parker–Saunders House, 401 S. Front Street
Edward Payson Willard House, 15 S. 4th Street
Miles Costin House, 20 S. Fifth Avenue
May and Eugene Cook House, 16 Dock Street
Charles O. McNair House, 402 N. Seventh Street
Bowdoin-Moore House, 617 Red Cross Street
Wolf-Webb House, 412 N. 14th Street
Register-Lawhorne House, 1919 Wrightsville Avenue
Soverel House, 221 Brookwood
Sutherland House, 112 Colonial Drive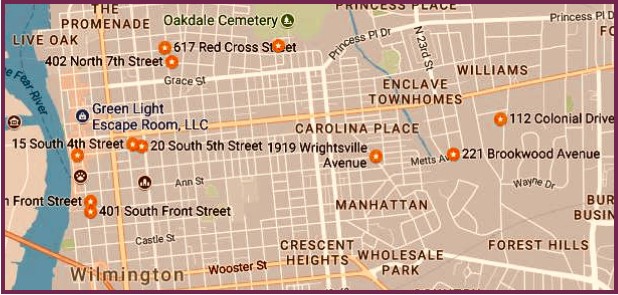 Historic Wilmington Foundation, 2011 Market Street, Wilmington NC 28403, 910.762.2511, events@historicwilmington.org