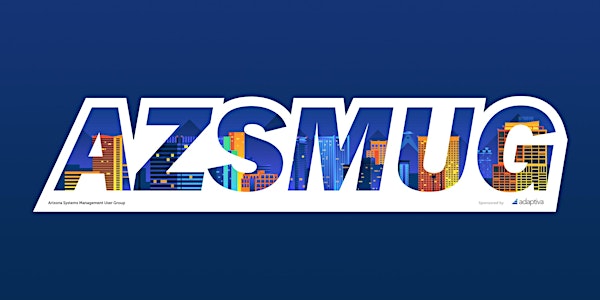 AZ Systems Management User Group presents: Wally Mead, Microsoft MVP
Location
Wells Fargo Connections Phoenix
100 West Washington Street
Phoenix, AZ 85003
Description
We are planning on having our Q1 meeting of 2018 on Tuesday, February 13th. The meeting will run from 3:30 PM to 6:00 PM. You are welcome to come by as early as 3:00 PM and socialize a little bit.
***NEW MEETING LOCATION***
Reminiscing on my years with Configuration Manager
23 years with a single product? That's a long time. 22 years in one company, especially Microsoft? That's a long time too. What was it like, what did I learn, what did I do for all those years? This discussion will be just about that - what my time in the Configuration Manager space, and at Microsoft, was like. Things I learned, things I did, things I didn't do that some of you think I did. All will be revealed in this non-technical discussion.
Speaker: Wally Mead
Wally is a retired System Center Configuration Manager guru. Most recently he was a Principal Program Manager at Cireson. Wally spent over 20 years at Microsoft, in the Configuration Manager product group, where he worked with TAP customers, MVPs, and spoke at many conferences and events.

How to Deploy Windows 10 Quickly with Adaptiva's Windows 10 Accelerator Program
Are you excited about Windows 10? So is Adaptiva! We created the Windows 10 Accelerator Program to help enterprises rapidly plan and test, deploy, and maintain Windows 10. In this session, we will show you some of the Program's exclusive Microsoft MVP videos, training and guides and provide techniques for using Adaptiva OneSite, Adaptiva Client Health for Windows 10 and community tools to speed your Windows 10 migrations. Let Adaptiva take the stress out of moving to Windows 10 today.
Speaker: Adam Bresson
Adam is director of product marketing at Adaptiva. Adam joins the company with more than 20 years of experience working on technology solutions coupled with sales and marketing responsibilities. Prior to Adaptiva, Adam was at Microsoft as a technical and solution sales professional and senior product marketing manager and at Oracle as director GTM IaaS product marketing.

Company Description
For more information on Adaptiva, the market leader in modern endpoint management and security, please visit www.adaptiva.com, and follow the company at LinkedIn, Facebook, and Twitter.
Adaptiva is sponsoring the food, beverage (yes - including adult beverages!) and parking for the meeting. And if that's not enough, they will also be raffling off a $100 Amazon gift card!
***UPDATED*** Parking Location:
Wells Fargo Garage (the garage entrance is off of Adams and First Ave.)
100 West Washington
Phoenix, AZ 85003
Bring the yellow token to the meeting in order to get your parking validated (courtesy of Adaptiva).