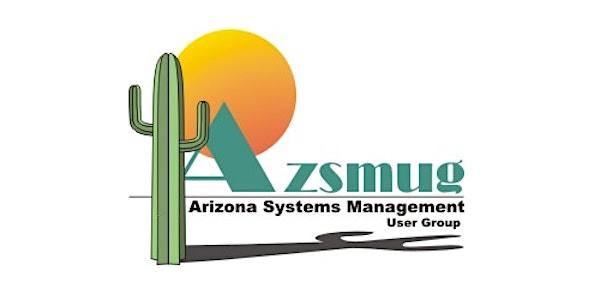 AZ Systems Management User Group presents: Get Current - Stay Secure
Location
Wells Fargo Connections Phoenix
145 West Adams Street
Phoenix, AZ 85003
Description
We are planning on having our Q3 meeting of 2018 on Tuesday, September 25th. The meeting will run from 3:00 PM to 5:30 PM. You are welcome to come by as early as 2:30 PM and socialize a little bit.
***MEETING LOCATION*** (Wells Fargo Connections is next to the Wells Fargo History Museum)
Get Current - Stay Secure
Windows as a Service in the Enterprise
Operating system deployments are tricky enough, now comes Windows 10 that needs to be upgraded frequently. Windows 10 Servicing has many challenges in the enterprise, huge payloads, application compatibility, useful reporting, and end users. Mike will present on some of these challenges, and steps to prepare your environment for these biannual upgrades using pre-caching, app compatibility scans, custom reporting metrics, and auto remediation pre-assessments - or WaaS in the Enterprise.

Speaker: Mike Terrill, Microsoft MVP
Mike's career has been focused around systems management (SCCM) and operating system deployment for over 21 years (ever since SMS v1.2). He is a Microsoft Enterprise Mobility MVP and runs the Arizona Systems Management User Group. He specializes in the design, architecture and installation of Configuration Manager and Windows operating system deployments. In his career, Mike architected and deployed System Center 2012 Configuration Manager in several Fortune 100 companies and now works on deploying Windows 10 in the Enterprise for a 400K seat environment.

Deep Dive - OSD Client Side Troubleshooting
Do you ever wonder what's actually happening on a client during OSD in Configuration Manager? In this session, we'll do a deep dive into what is going on and how to troubleshoot different stages of an OSD task sequence failure on the client. This session will be an excellent resource for seasoned ConfigMgr admin's as well non-ConfigMgr admin's who want to understand how to troubleshoot OSD errors. Topic's in this session include wpeinit.log, winpeshl.ini, SMSTS.LOG, DiskPartScript.txt, unattend.xml, DISM, SetupACT, NetSetup.LOG, AppEnforce.log, WUAHandler.log, UpdatesDeployment.log, CAS.log and many more components involved in OSD!

Speaker: Justin Chalfant
Justin Chalfant is the engineering lead @PatchMyPC. He helps implement customer feedback into their third-party patch management solution. Before his current role, Justin Chalfant was also a Premier Field Engineer at Microsoft supporting System Center Configuration Manager.

Sponsor Session: Patch My PC
Come learn how to a simplify third-party patch management in Configuration Manager. With Patch My PC's Third-Party Update catalog, you can publish over 270 third-party updates across 150+ unique products automatically. Justin Chalfant will show you what it looks like to set up their third-party patch management solution, and we will review the new features around third-party updates in Configuration Manager 1806. Justin will also cover the free software update dashboard reports available from Patch My PC.
Company Description
Patch My PC was founded on the premise that third-party patch management shouldn't be complicated. Our sole mission is to provide home users and enterprises of all sizes easy-to-use and effective solutions for third-party patch management. We have proven track record of excellence because our unrivaled focus on customer service.
Patch My PC is sponsoring the food, beverage and parking for the meeting. And if that's not enough, they will be raffling off a Surface Go.
AZSMUG will also be raffling off a conference pass to MMS Desert Edition.
***UPDATED*** Parking Location:
Wells Fargo Garage (the garage entrance is off of Adams and First Ave.)
100 West Washington
Phoenix, AZ 85003
Bring the yellow token to the meeting in order to get your parking validated (courtesy of Patch My PC).