AZ MLK CELEBRATION Awards & Scholarship Breakfast 2019 / MARCH & FESTIVAL

Friday, January 18, 2019 from 7:00 AM to 9:30 AM (MST)
Event Details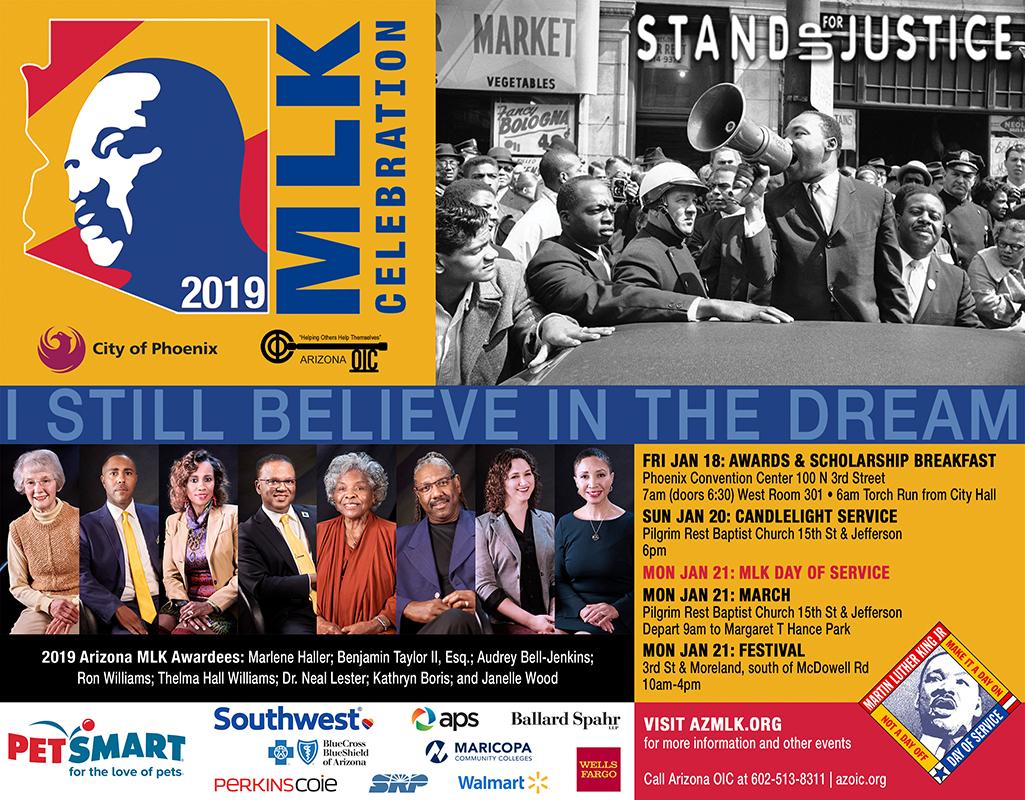 Don't Miss.....2019 MLK Awards & Scholarship Breakfast [Ticketed Event]    
Phoenix Convention Center, West Room 301, 100 N. 3rd St, Phoenix

The Arizona Dr. Martin Luther King, Jr. Celebration Committee is celebrating its 33rd year honoring the legacy of Dr. King on Friday, January 18, 2019 with the theme: I Still Believe in the Dream. We cordially extend an invitation to you to join us –through sponsorship and participation – in the activities planned to focus on the fulfillment of a dream. For more information on the MLK Awards & Scholarship Breakfast contact AZ OIC 602-513-8311
About the Awards & Scholarship Breakfast The Phoenix Human Relations Commission, in collaboration with the Phoenix Equal Opportunity Department, recognizes the accomplishments of people who have made an impact on the quality of life of Phoenix residents and contributed significantly to creating a compassionate and socially just community with the Dr. Martin Luther King Jr. Living The Dream Awards and Calvin C. Goode Lifetime Achievement Award.
---
The 2019 MLK Celebration is a long-standing tradition of the Arizona Martin Luther King, Jr. Celebration Committee, with a series of events honoring the life and legacy of Dr. King. The week-long celebration includes the MLK Celebration Awards & Scholarship Breakfast, Candlelight Ceremony, Community Service Day, Basketball Tournament, MLK Annual March & Festival and Youth Rally. 
CANDLELIGHT CEREMONY CONCERT - January 18th - 6:00PM
Pilgrim Rest Baptist Church for more information contact Clara Briggs (602)516-0357 or Dr. Will Counts (480) 237-1665
YOUTH RALLY - January 15th 9am-2pm
The MLK Youth Rally presented by Phoenix College - NAACP/Black Student Union will take place on Tuesday, January 15th from 9am - 2pm at Phoenix College Bulpitt Auditorium located at 1202 W Thomas Road, Phoenix, AZ. For more information contact Dr. Camilla Westenberg (602)330-3249 or Billy Ramsey (480)225-2808
MLK BASKETBALL TOURNAMENT - January 14th - 19th
Eastlake Park, 1549 E Jefferson Street, Phoenix, for more information contact Emmett Boyd (602)534-8222 or Braxton (602)576-5807
COMMUNITY "Days of Service"
Various locations and dates (All City Services).  For more information contact Roberto Frietz (602)621-3681
MARCH - January 21st 9:00AM
On Monday, January 21st the MLK March will begin at Pilgrim Rest Baptist Church located at 15th Street & Jefferson Steet and end at Hance Park. Assembly starts at 8:15 AM as the March begins promptly at 9:00 AM For more information contact MLK March coordinator: Marquis Scott at (602)695-3837 
FESTIVAL - January 21st 10am - 4pm
The MLK Festival runs from 10AM - 4PM at Margaret T. Hance Park located at 1202 N 3rd Street, Phoenix, AZ. Join the City of Phoenix along with city leaders, schools, local businesses, churches and other community organizations, as we pay homage to this great Civil Rights leader.  On Monday, January 21, 2019, the Arizona Dr. Martin Luther King Jr. Celebration Committee will celebrate its 33rd year of promoting cultural diversity, awareness and unity as it seeks to involve all Arizonans in recognizing the legacy or Rev. Dr. Martin Luther King Jr., and the contributions he left to the world in his quest for equality for all people. We look forward to having you as part of this special event. Should you have any questions or need additional information, MLK Festival coordinator: Lanette Campbell at (623)282-1555
---
For additional MLK Event information visit www.azmlk.org or email info@azmlk.org

Have questions about AZ MLK CELEBRATION Awards & Scholarship Breakfast 2019 / MARCH & FESTIVAL ?
Contact Arizona OIC
When & Where

Phoenix Convention Center
100 N 3rd Street
West 301
Phoenix, Arizona 85004


Friday, January 18, 2019 from 7:00 AM to 9:30 AM (MST)
Add to my calendar
Organizer
AzOIC, a 501(c)(3) organization, represents the interest and determination of many less fortunate
individuals who realize the uniqueness of their lives and have made up their minds to see a change, a
better life for themselves through hard work and education. Our mission is to provide recruitment,
training, job placement and employee services to the unemployed, underemployed, unskilled youth and
adults. Though we have been implementing our mission since 1967, recent years have seen
unprecedented requests for our services to address a marked increase in employment needs of the most
economically disadvantaged in the Phoenix Metropolitan area, including ex-offenders and Veterans.