AZ Innovative Learning Collaborative "Mixin-it-Up" May 31, 2017
Event Information
Location
Tucson, Phoenix See Website for Locations
Description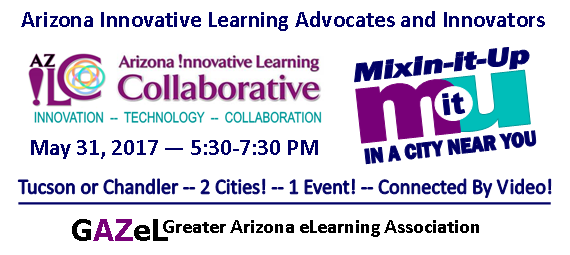 Stock up on business cards and register below to connect with Arizona innovative learning advocates and innovators. Festivities are happening simultaneously, same day and time, in Tucson and Chandler, with live video conference links.

Network and collaborate in your local community while getting updates and connecting with colleagues in that other city up-or–down the road. How cool is that! Experience this innovative approach to networking!
Why should you be there?
Learn something new, share what you know, make connections with AZ Innovative Learning advocates and innovators, find resources and help for your initiatives, and hear about, and provide your updates, on happenings in Arizona.
All interests are welcome
STEM education? CTE? Digital curriculum and EdTech? Robotics? Innovation Labs/Makerspaces? Competency based education? Project based learning! Open Education Resources! Colleagues representing universities, community colleges, K-12, community organizations, parents, students are all invited.
Agenda
The evening features refreshments, innovative learning presentations, time on the agenda for you to make an announcement or ask for help, and networking, networking and more networking.
Tucson Location
​Learning A-Z
​1840 E. River Road, Suite 320, Tucson, AZ 85718
520.301-4748

Chandler Location
StrongMind
2501 N. Arizona Ave, Chandler, AZ 85225
​Mobile: 480.330.5902
Contact Info
520-321-1309
Registration
Free
Date and Time
Location
Tucson, Phoenix See Website for Locations