AZ Innovative Learning Collaborative "Mixin-it-Up" July 26, 2017
Event Information
Location
Tucson and Mesa AZ - See Website for Locations
Tucson and Mesa AZ - See Website
Description
We Want You! Collaborate With Us!
The Greater Arizona eLearning Association is leading the development of the Arizona Innovative Learning Collaborative. We are excited! Our network of collaborators is growing. Our July 26 afterHours networking in Tucson and Mesa is a great way to connect with us. Hope to see you there.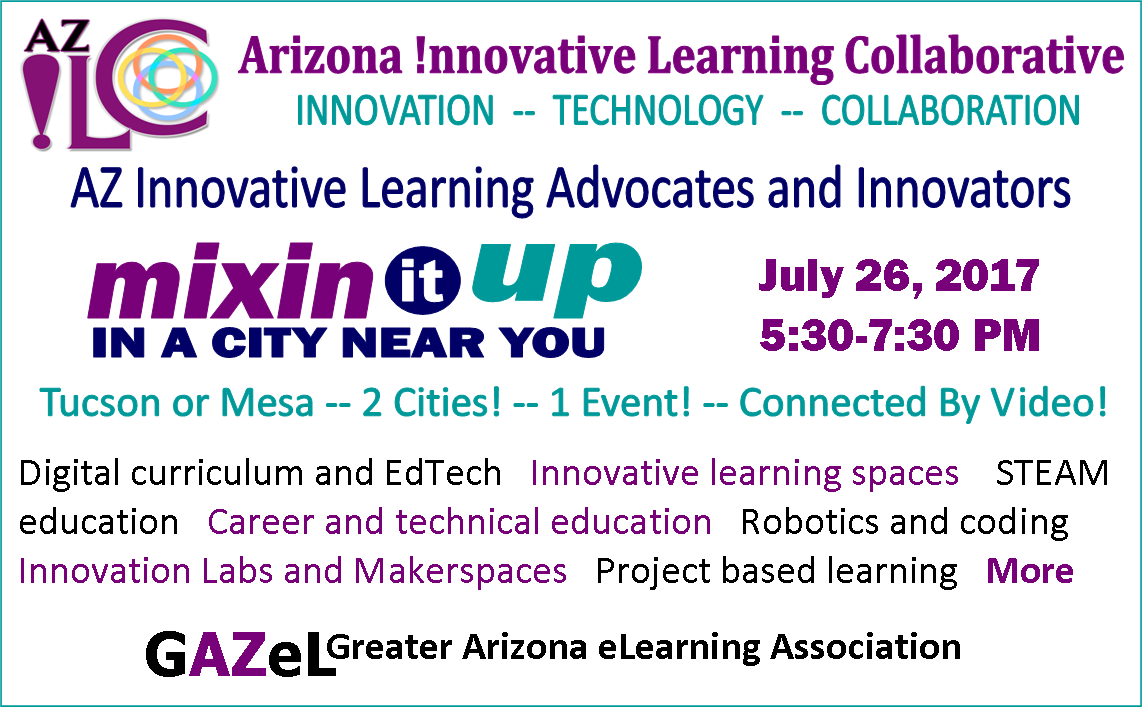 It's hot. Bet you thought we were talking about the weather. What's hot is the July 26 AfterHours networking festivities happening simultaneously, same day and time at two of Arizona's best known Hackerspaces/Makerspaces, XeroCraft in Tucson and HeatSync Labs in Mesa, connected with live video conference links.

Register here, register now to connect with colleagues from universities, community colleges, K-12 districts, other community schools and organizations, and companies creating innovative learning experiences and teaching environments in Arizona. Business and industry partners, parents, and students are invited!
While you are there you will hear about the Collaborative's emerging plans for an Arizona Makerspaces Network and how Makerspaces are providing young people and adults opportunities for hands-on designing, building, prototyping and developing STEM skills.
All Interest Are Welcome
STEM education! CTE! Digital curriculum and EdTech! Robotics! Iinovation Labs/Makerspaces! Competency-based education! Project-based learning! Open education resources!
Why should you be there? What's The Agenda?
This is a great opportunity to learn something new, share what you know, make connections with AZ Innovative Learning advocates and innovators, find resources and help for your initiatives, and hear about and provide your updates on happenings in Arizona. The evening features refreshments, innovative learning presentations, time on the agenda for you to make an announcement or ask for help, and networking, networking and more networking.
Tucson Location
Xerocraft Hackerspace
101 W 6th St #101
Tucson, AZ 85701
424 - 262-5342
Mobile 202-251-7374
Phoenix
HeatSync Labs Hackerspace
140 West Main St.
Downtown Mesa, AZ
602-492-5227

Contact Info
520-321-1309
Registration - Free
Date and Time
Location
Tucson and Mesa AZ - See Website for Locations
Tucson and Mesa AZ - See Website