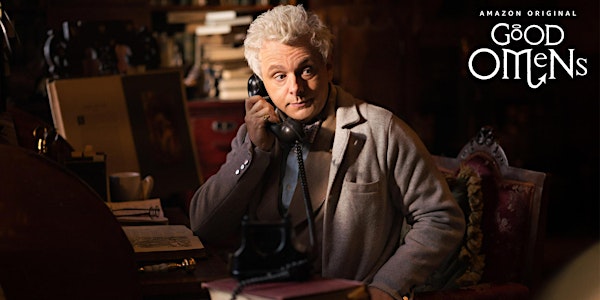 A.Z Fell and Co – Bookshop Escape Room
Location
19 Greek St
19 Greek Street
London
W1D 4DT
United Kingdom
Description
Aziraphale begrudgingly invites you to the very small and not at all grand opening of his bookshop, hidden in the back streets of London's Soho, and packed with antique books and oddities.
Once you've made it through the door you'll realise this is more than just a bookshop. Prepare for a five floor immersive experience, as well as an exhibition which brings the weird and wonderful world of Terry Pratchett and Neil Gaiman's Good Omens to life. From original props and costumes to on-set artwork by artist Lorna May Wadsworth, the exhibition is a breathtaking exploration of Good Omens to coincide with its much anticipated premiere on Amazon Prime Video.
The full experience is free of charge, and entry to the exhibition floors will be through walk-ins from Friday 31st May to Sunday 2nd June. Opening times as follows:
Friday 31st May - 12.30pm - 7pm (last entry 6.30pm)
Saturday 1st June - 11am - 7pm (last entry 6.30pm)
Sunday 2nd June - 11am - 5pm (last entry 4.30pm)
Entrance to the escape room elements will be ticketed through this page, with a chance for walk ins on the day, subject to availability. The escape room experience, which lasts approximately 30 minutes, can be booked by clicking 'Register' and selecting your preferred escape room session. With tickets limited and the imminent apocalypse, well, inevitable, fans are encouraged to book their places before the rather inconvenient end of the world.
*Please note the experience is not wheelchair accessible, with each area separated by staircases. Under 14's must be accompanied by an adult.
Good Omens starring Michael Sheen and David Tennant will premiere on Amazon Prime Video on 31st May.