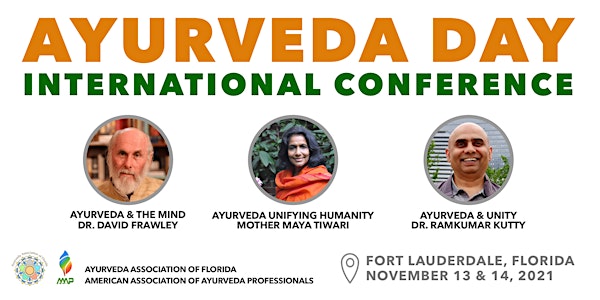 Ayurveda Day International Conference
The Ayurveda Association of Florida and the American Association of Ayurvedic Professionals welcome you to this two day event.
When and where
Location
Fort Lauderdale Woman's Club 20 South Andrews Avenue Fort Lauderdale, FL 33301
Refund Policy
Contact the organizer to request a refund.
Eventbrite's fee is nonrefundable.
About this event
In-Person or Zoom Tickets Available
Helpful links:
NAMA PACE credits and CE credits are available.
Saturday, November 13, 2021
United with Ayurveda
8:30 am to 9:00 am - registration, ID badges at welcome booth
9:00 am to 9:30 am - Inauguration ceremony & Dhanvantari prayer
Chief guest -TBD
Dr. Aparna President of AAF will welcome attendees
Dr. Vivek President of AAAP will talk about United with Ayurveda
9:30 am to 10:30 am - Keynote Speakers
Topic- United for World Health with Ayurveda
Dr. Tanuja Nesari - AIIA, AYUSH, GOI
Dr. Geeta Krishnan - WHO, Geneva
Tea break 10 minutes
10:40 am to 12:00 pm- Panel discussion with Q and A
Topic - Integration of Ayurveda and other Medical Sciences
Dr. Shubhangi Chumble - Neurologist- Ft Myers, FL
Dr. Chippy Ajithan - Cardiologist- Sarasota, FL
Dr. Alda Sainfort - Internal medicine, Miami FL
Dr. Amit Gumman - Acupuncture Specialist- Oklahoma city, OK
Dr. Vivek Shanbhag - Licensed Naturopathic Doctor - San Jose, CA
Moderator - Dr Avi Jadhav - Orthopedic Surgeon, Citrus Hills , FL
Video presentation - 7 minutes each by:
Dr. Vijay Jain- General Surgeon - Palm beach FL
Dr. Gopal Basisht - Rheumatologist, Orlando, FL
12:00 pm to 1:30 pm - lunch break
1:30 pm to 2:30 pm –
Topic - Legal considerations for practice of Ayurveda in US and FL
Susan Etheridge, Esq. Alternative Health Law Firm Tampa
Q and A from audience
2:30 pm to 2:50 pm -
AyurVet - Healing your pets with Ayurveda.
Marjorie Lopez
2:50 pm to 3:15 pm -
AyurVegan - Being vegan with Ayurveda
Meri Consor
3:15 pm to 4:15 pm -
Topic - Ayurveda and Unity
Dr. Ramkumar Kutty
4:15 pm to 5:00 pm -
Topic - Ayurveda and Jyotish 'It all started when someone looked up'
Penny Farrow
5:00 pm to 5:30 pm -
Few minutes break to walk in park followed by -
Sunset Agnihotra and fire ceremony with mantra recital by
Swami Satyananda, Miami FL
5:30 pm to 6:30 pm -
AAAP Anniversary celebration AAAP board will talk about AAAP vision and future projects
6:30 to 7:30 -
Dinner with entertainment (dance, music recital, comedy skits etc)
7:30 to 8:30 pm -
Sai Ayurveda college reunion / alumni meet.
Ex Students will share their success stories after graduation from Sai Ayurveda college (2007 to 2021).
Sunday, November 14, 2021
Ayurveda and the Mind
7:30 am to 8:15 am Yoga and Pranayama
8:30 to 9:30 am -
Topic - Ayurveda and The Mind
Keynote speaker - Dr. David Frawley
9:30 to 9:45 tea break
9:45 am to 11:00 am
Panel discussion - Ayurveda and Psychology / Psychotherapy with Q and A
Dr. Sujatha Reddy, Colorado
Dr. Harish Varma, Canada
Dr. Vishwanath Guddadar, Pine Island FL.
Dr. Archana Kulkarni, Tampa FL
Anay Abreau, Miami FL
Moderator- Dr. Anisha Durve -Fort Lauderdale FL
11:10 am to 12 pm –
Topic - Identifying and growing Ayurveda herbs in US/FL show and know with herbal samples
Nina Raymond
12 pm to 1:30 pm lunch break
1:30 to 2:00 pm -
Topic - Food and Moods- Nutrition for mental health
Dr. Rupali Panse
2:00 to 2:15 -
For all Participants- My Emotional and Spiritual Quotient
Questionnaire will be provided at beginning of conference and results will be announced during this session by Dr Rupali Panse
2:15 pm to 2:45 pm -
Marma with Dr. Anisha Durve
3:00 pm to 4:00 pm –
Closing Keynote - Topic - Ayurveda Unifying Humanity
Mother Maya Tiwari
4:05 pm
Announcement of Poster presentation competition and Essay competition- Results declared with Prizes.
4:10 pm
Vote of Thanks from AAF Board