Description
An Albuquerque institution for over 60 years, the Albuquerque Youth Symphony Program, each year serves over 500 students of all economic, social and ethnic backgrounds throughout the greater Albuquerque area. Among the top such programs in the country, our mission is providing a high quality music education that instills an emotional connection with and lifelong passion for music, fostering a diverse community of musicians, and offering outstanding symphonic performance opportunities for students to share their musical gifts with the community.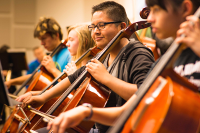 Join us for the launch of our new signature fundraiser, Symphonic Kitchen. We are coming together to blend the worlds of epicurean dining with beautiful symphonic musical pieces performed by our own AYSP students. A progressive gala event, throughout this wonderful evening you will be enthralled by a variety of AYSP ensembles as you move through delectible appetizer, main course (2) and dessert from some of Albuquerque's most notable chefs. The menu and music will have a latin fusion flavor.

It's a magical night to be. Not only are we showcasing our students and the culinary arts of some of New Mexico's top Chefs and Mixology talents, but also the opportunity to tour AYSP's 23,000 sq ft building and rehearsal spaces.
A truly unique, progressive and memorable experience for all. You won't want to miss this rare treat for the senses. Seats will go quickly and seating is limited, so don't wait to purchase yours!
As a 501(c)(3) non-profit organization and fair market value of the meal of $40, a majority of your ticket price may be tax-deductible (depending upon your individual circumstances) and you will separately be provided disclosure statement for your records.
AYSP annually provides tuition assistance to 80-100 of its student's families. Proceeds of this event go to support our tuition assistance fund, private lesson program and our continuous efforts to provide a high quality music educational experience to all students desiring to participate, regardless of their financial means.
(This is an age 18 and over event. Dress is 'NM dressy').
We are so grateful to our sponsors and partners supporting AYSP in bringing this exciting event: