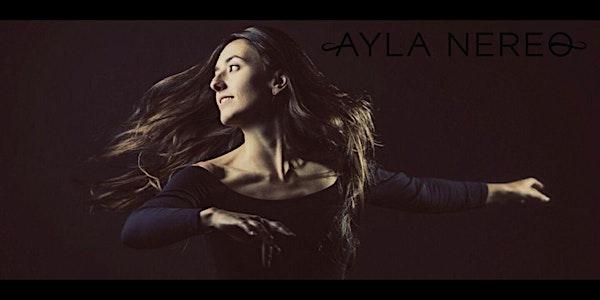 Ayla Nereo at Asheville Music Hall
Location
Asheville Music Hall
31 Patton Avenue
Asheville, NC 28801
Show: 8PM (Doors: 7PM) // Tickets: $25/$30 // 21+
About this event
Ayla Nereo
"One of the most poignant voices currently floating about... Ayla Nero is an otherworldly artist who shares the fruits of her soul" — The Huffington Post
"[Ayla's] relationship with the earth is imprinted in her music… expansive and intriguing." — Billboard
Ayla Nereo is as a voice for the planet, a modern bard and beacon who dances songs directly from her soul. With lyrical poetry splashing across a canvas of sound, her music has an uncanny ability to disarm and crack open the heart, as she sings for the depth of our humanness, and for the return to our pure wonder of existence. Her lucid storytelling and magical presence onstage and off creates a force field that is palpable, joyous, deep, and utterly enchanting.
With a particular joy for bridging musical styles, Ayla's songs seem a genre unto their own, as she weaves between vocal looping, produced beats, live drumming, orchestral string arrangements, Celtic melodies, disco rhythms, electronic soundscapes, and even dashes of hip-hop wordplay. Calling us to listen deeper, her songs are elegant masterpieces of lucid storytelling, with lyrics ringing as anthems for planetary healing, human potential, beauty, and compassion.
Though you'd never know it by witnessing her perform, Ayla grew up with an intense fear of singing. In her final year of college, songs began pouring through her, and it was only through the constant urging of those around her that she began to slowly share her music. Propelled by the songs themselves, Ayla's journey of meeting those fears and singing through them has grown her into the powerful performer she is today, touching an ever-widening global audience with the inspiring magic of her songs.
A child schooled at home in the hills of Sonoma County, Ayla was raised on Cat Stevens, Bob Dylan, opera, classical music, traditional celtic songs, and ABBA -- influences which have deeply shaped her music. Touching on both the timeless and modern, she always rides the line between genres, so that her songwriting and sound ultimately cannot be compared to anyone else.
Dancing her own songs on stage as she sings them, her movement and presence gives the audience a permission to be wild, real, vulnerable, and alive. Every performance Ayla gives is its own inspired journey; an enchanting and poignant experience that holds you by the heart and doesn't let go.
After touring 33 cities in 6 weeks with The Polish Ambassador for the first Permaculture Action Tour, she began to create her own Herbalism Action Days to connect her fanbase with their local plant-teachers and healers, to empower communities to know what medicines and foods grow around them, and support the self-reliance of individuals to reclaim their own health care and community food systems. She is excited to weave more action days into her future touring.
Ayla released her 6th solo album, the phenomenal By The Light of the Dark Moon, in the spring of 2019 via Jumpsuit Records. The album marks a distinct stepping-out into the world arena. Dancing between genres across each song, this album is a journey of finding light through darkness, connecting to what is currently happening in our world with many collective shadows rising to be seen and healed. "By the Light of the Dark Moon," as Ayla shares, "speaks to what becomes visible when times get darker, whether it be within us, or as a culture, or out in the sky above." This album is a beacon, illuminating hope, awareness, and a deep sense of wonder for all of Life. As the opening track calls forth, "We the shining forest… to the darkness bring song." Ayla has also 2 albums with her project Wildlight (her collaboration with David Sugalski, aka The Polish Ambassador), and 3 collaboration albums.
Honing her impeccable artistry and craft over the years, Ayla has developed a deeply loyal fanbase, one that has recently seen exponential growth into widening circles across the planet. After a nationwide tour supporting the album release in the spring of 2019, a full summer of notable festival appearances, a sold out appearance at Red Rocks with Nahko & Medicine for the People and Trevor Hall, a co-headlining concert with Rising Appalachia, supporting Nahko & Medicine for the People on 14 dates this past fall, and her second nationwide and European tours set for this year, Ayla's music is reverberating from a west-coast transformational niche into larger global audiences, to inspire and uplift the hearts of humanity. Her music is currently seeing rapid and increasing growth throughout the US, Europe, as well as Canada, Australia, and dozens of other countries.
web: https://www.aylanereo.com/