Uhuru by Gloria Majule (YSD '21) feat. Genevieve Angelson (Flack) Andrew Burnap (The Inheritance) & YSD Alumni Brandon Burton, Manu Kumasi
About this Event
AYE DEFY - an innovative producing, consulting and advocacy arts organization - launches the StorySpace program with a one-night-only, online benefit reading of "Uhuru" by Gloria Majule directed by Bianca LaVerne Jones with dramaturgy by Sandra A. Daley-Sharif on Thursday, July 2nd at 7:00pm EST / 4:00pm PST.
All StorySpace programs will livestreamed. Purchase tickets today to benefit the organizations below! You will be receive a link to the reading on the day of the event at 6:30pm EST / 3:30 pm PST.
Mshale, a Mount Kilimanjaro tour guide, dreams of marrying a white woman and moving to the West. Sprite hates white people and sets out to decolonize what he deems "his mountain". Henry and Frannie are white missionaries who claim to be Tanzanian. As the four journey up to the roof of Africa, the looming ghost of colonialism dictates who gets to reach the peak, and who gets left behind.
Beneficiaries: One Village Healing in New Haven and Kilimanjaro Porters Assistance Project.
Cast:
Genevieve Angelson as Frannie
Andrew Burnap as Henry
Brandon E. Burton as Sprite
Manu Kumasi as Mshale
Stage Directions by Bibi Mama
Please email AYEDEFYco@gmail.com if you have questions or need assistance.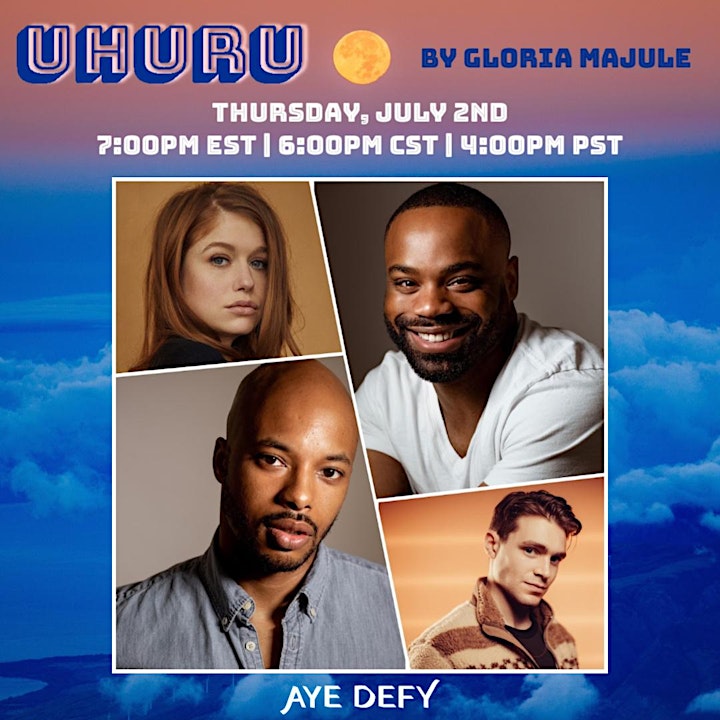 Date and Time
Location
Refund Policy