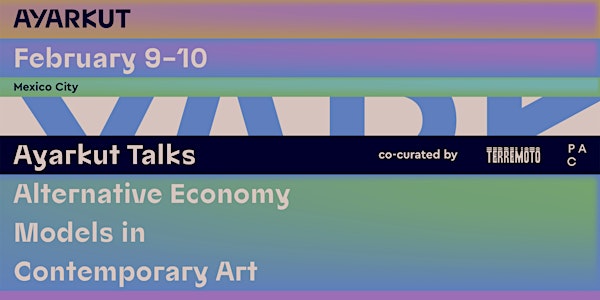 Ayarkut Talks. Day 2. Co-curated by Patronato de Arte Contemporáneo PAC
Series of talks by Ayarkut and Patronato de Arte Contemporáneo PAC / Co-curado por el Patronato de Arte Contemporáneo PAC
When and where
Date and time
Friday, February 10 · 12 - 3pm CST
Location
Lafontaine 163 163 Lafontaine Ciudad de México, CMX 11550 Mexico
About this event
El arte contemporáneo constituye un espacio de imaginación de lo posible. En tal sentido, desde hace tiempo diversos proyectos en este campo han acudido a modelos de organización, saberes y entendimientos que permitan delinear horizontes distintos a los de la lógica global neoliberal. En esta jornada se propone un diálogo entre proyectos de dicha naturaleza. Concebidos desde las políticas de ubicación, desde enfoques comunitarios, colaborativos, originarios, contextuales y de pedagogías radicales, estos proponen vías alternativas a las que hemos creído únicas.
Como han visibilizado eventos internacionales como la documenta fifteen, dirigida por el colectivo indonesio ruangrupa, se trata de prácticas concebidas desde una diversidad de entendimientos y modos de hacer en el mundo que, contrario a lo que pretende una mirada colonial, siempre han sido contemporáneos.
Parácticas artísticas que desbordan modelos: dentro, afuera, negociando con el sistema. Mesa redonda (español)
12:00-13:20
Los proyectos reunidos en este panel se caracterizan por acudir, en toda su concepción y en los modos de sus intercambios, a referencias de organización que desbordan las del capitalismo en la modernidad occidental. También, insisten en modelos de pensamiento que han cuestionado dicho sistema. Con el ejercicio de sus prácticas, todas ellas colaborativas y que apelan a experiencias provenientes de otros marcos, abren espacios de reflexión y prácticas artísticas que escapan a un entendimiento individualista del arte que se concibe únicamente como producción de objetos para un mercado capitalista. Ubicado en Oaxaca, Lugar común apela a los modos de organización colectiva del tequio; en diálogo con la metodología feminista de los conocimientos situados y de la tradición de participación política activista de Veracruz, BRUMA Laboratoria indaga una historia del arte de manera descentrada; mientras que la organización comunitaria Arte a 360°, al tiempo que difunde y fomenta el arte contemporáneo en el estado de Tlaxcala, plantea problemas relacionados con la defensa del territorio y la lengua Náhuatl.
Jaime Ruiz / Lugar Común, Oaxaca, México
BRUMA Laboratoria, México
Arte a 360, México
Moderador: Christian Gómez Vega / Patronato de Arte Contemporáneo / México
.......................................................
Un horizonte infinito: Construir proyectos desde otros imaginarios.. y sostener su propia transformación. Mesa Redonda (inglés). Con traducción simultánea
13:30-15:00
En este panel, se propone un espacio de reflexión entre representantes de proyectos que se han construido como alternativas a las instituciones convencionales y los modelos imperantes. Después de alcanzar el objetivo de constituirse, ¿cómo seguir?, ¿cómo sostener la energía?, ¿cómo permitir que los proyectos se sigan transformando para responder, de la misma manera crítica y divergente, a los nuevos retos que enfrentan? ¿Qué retos económicos y éticos trae consigo sostener espacios que garanticen la libertad de la experimentación?
En este panel se invita SOMA, un espacio independiente surgido para ofrecer un programa de estudios con un nivel de posgrado, pero que ha optado por no ser oficial para mantener la libertad de la experimentación artística y pedagógica. Por otra parte, Common places es el nuevo programa de la plataforma inSITE, con actividades en Baja California, Perú y Sudáfrica; aquí buscamos destacar cómo un proyecto reconocido internacionalmente dentro de un discurso del arte contemporáneo globalizado opta por una radical mirada hacia lo local y contextual, y poner un acento en la capacidad de un reconocido proyecto de reinventarse. Finalmente, Teor-ética, un espacio para la reflexión y exhibición de las práticas artísticas contemporáneas en Costa Rica, y su capacidad de sostener la energía, el financiamiento y la vocación en un proyecto independiente y sin fines de lucro.
Laura Cortés / SOMA, CDMX
Andrea Torreblanca / INSITE Commonplaces, Tijuana, México
María Paola Malavasi Lachner / Teor-ética, Costa-Rica
Moderator: Carmen Cebreros / Curator and researcher / México
English version
Co-curated by PAC, the second day of Alternative Economy Models in Contemporary Art, will focus on projects that have resorted to organizational models, knowledge and understandings that allow to delineate horizons different from those of the neoliberal global logic. Conceived from localization policies, from community, collaborative, indigenous, contextual approaches, and radical pedagogies, these propose alternative paths to those that we have believed to be unique.
As international events such as documenta fifteen, directed by the Indonesian collective ruangrupa, have made visible, these are practices conceived from a diversity of understandings and ways of doing things in the world that, contrary to what a colonial perspective claims, have always been contemporary.
English & Spanish / with simultaneous translation
.......................................................
Artistic Practices that Go Beyond Models: Inside, Outside, Negotiating with the System. PANEL DISCUSSION.
12:00-13:20
The projects gathered in this panel are characterized by arising, in all their conception and in the ways of their exchanges, to organizational references that go beyond those of capitalism in Western modernity. They also turn to thought models that have questioned said system. Through their practices, all of them collaborative and that appeal to experiences from other frameworks, they open spaces for reflection and artistic practices that escape an individualistic understanding of art that is conceived solely as the production of objects for a capitalist market. Located in Oaxaca, Lugar común appeals to tequio's modes of collective organization; In dialogue with the feminist methodology of situated knowledge and the tradition of activist political participation in Veracruz, BRUMA Laboratoria investigates an art history in a decentered way; while the community organization Arte a 360 disseminates and promotes contemporary art in the state of Tlaxcala, while raising issues related to the defense of the territory and the Nahuatl language.
Participants:
Jaime Ruiz / Lugar Común, Oaxaca, México
BRUMA Laboratoria, México
Arte a 360, México
Moderador: Christian Gómez Vega / Patronato de Arte Contemporáneo / México
.......................................................
An Infinite Horizon: Building Projects from Other Imaginaries. PANEL DISCUSSION.
13:30-15:00
In this panel, we propose a space for reflection between representatives of projects that have been built as alternatives to conventional institutions and prevailing models. After reaching the objective of establishing itself, how to continue? How to sustain the energy? How to allow the projects to continue transforming to respond, in the same critical and divergent way, to the new challenges they face? What economic and ethical challenges does sustaining spaces that guarantee freedom of experimentation entail?
The first invited to this panel is SOMA, an independent space that emerged to offer a study program with a postgraduate level, but which has chosen not to be official, to maintain the freedom of artistic and pedagogical experimentation. On the other hand, Common places is the new program of the inSITE platform, with activities in Baja California, Peru and South Africa; here we seek to highlight how an internationally recognized project within a globalized contemporary art discourse opts for a radical look at the local and contextual, and to emphasize the ability of a recognized project to reinvent itself. Finally, TEOR/ética, a space for reflection and exhibition of contemporary artistic practices in Costa Rica, and its ability to sustain energy, financing, and vocation in an independent and non-profit project.
Participants: Laura Cortés / SOMA (Mx), Andrea Torreblanca / INSITE Commonplaces (Mx), María Paola Malavasi Lachner / TEOR/ética (Cri)
Moderated by Carmen Cebreros (Mx)
.......................................................
¡Estaríamos encantados de que pudieras venir! / We'd be glad if you could come!
Ayarkut
.......................................................
Ayarkut Talks
February 9 - 10
Lafontaine 163, Polanco, 11550, CDMX
.......................................................