Description
Registration closes 48 hours before the class start time. Please plan accordingly.
Axure is one of the most popular wireframing and prototyping tools today. You can see many companies ask for Axure as part of the required skill sets in their UX positions. With powerful features and versatility to be used on both Mac and Windows, Axure is the hottest tool you can add to your resume and instantly increase your value in the job market.
WHY ITHAKAI WORKSHOPS?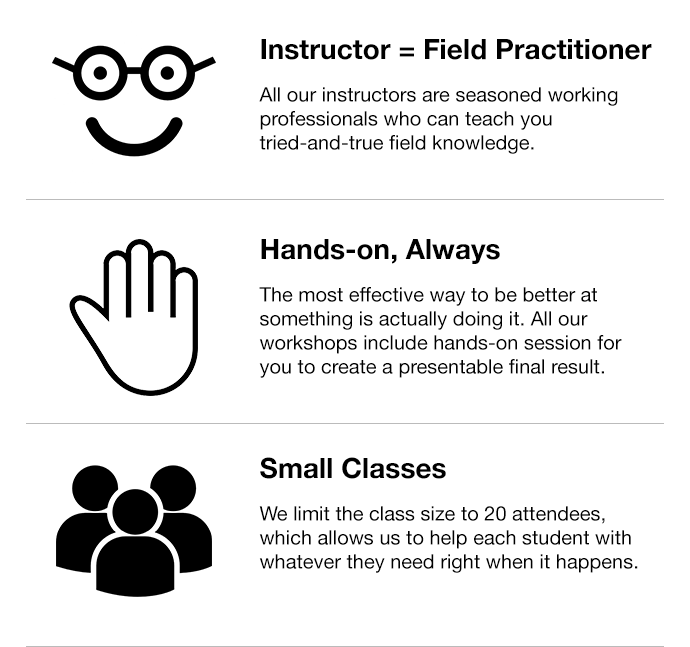 WHO YOU ARE
UX designers to be more proficient with Axure's rich features
Graphic designers to create an interactive prototype from a static mockup
Developers to communicate via prototypes with the team
Startup founders to do rapid prototyping to convey the idea
Beginners in UX to add Axure in their skill set
LEARNING OUTCOMES
By the end of this workshop, you will be able to
- comfortably navigate the interface in Axure
- understand most essential features and know how to use them
- build an interactive prototype and showcase it
WHAT YOU NEED
Bring your laptop.
Install a trial version of Axure RP.
No prior experience required.
CURRICULUM
Axure Overview
Getting familiar with interface
Adding/deleting/moving pages
Loading libraries
Setting up grids and guides
Getting Started
Creating/Duplicate/Styling shapes and text
Naming components
Adding interactions via Case Editor
Previewing interactions
Masters
Convert To Master and Drop Behavior
Page header and navigation
Creating a page topper
Page footer
Adding content
Dynamic Panels
Convert to Dynamic Panel
Panel States
Adding interaction
Create a contact us form
AxShare
Publish to Axure Share
AxShare interface
Collaborating with your team