Location
ADI
47247 Cartier Drive
Wixom, MI 48393
Meet our Axis Experience Vehicle | Driving innovation forward
About this event
We are thrilled to announce the first leg of our upcoming Axis Experience Vehicle (AEV) tour with dates starting from July to November 2022. Join us for lunch and come see our AEV at ADI!
The AEV is a mobile version of our Axis Experience Center, 39 feet long bumper-to-bumper and just over 13 feet high, and created to further strengthen relationships and to share ideas about how we can create a smarter and safer world together.
You'll have the opportunity to directly interface with Axis and our ecosystem partners, and experience the latest technologies and products. Learn more about how we at Axis can support you, and we'll be able to learn more about your business and the challenges you face – so we can do a better job for you.
First glimpse of the vehicle: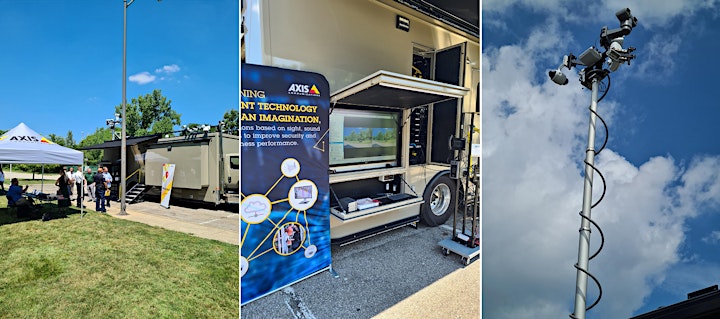 Discover countless Axis solutions including but not limited to:
AXIS Object Analytics with optional integration into strobe sirens and/or IP speakers
AXIS License Plate Verifier for free-flow traffic and for gate access control
AXIS Camera Station including forensic searching and our unified access control offering via Secure Entry
AXIS Live Privacy Shield and redaction for when privacy is a top concern
Axis and 2N Intercoms along with their integration with VMS's
Don't forget all of our partners! Genetec, Milestone, Sound Intelligence, and BriefCam just to name a few will be available to demo.
Want to see something specific and not sure we'll have it available? Reach out to your local Axis contact and we'll do our best to have it ready for you.
Paul Winsker, Business Area Director, Mid-Atlantic at Axis:
"The AEV is designed to be both an indoor and outdoor show vehicle, and is capable of demonstrating technologies across our entire portfolio: cameras, intercoms, audio, management software, and network accessories. Multiple demonstrations can be carried out simultaneously providing views and functionality from both local and remote assets, such as our Axis Experience Center in Washington DC. We look forward to bringing our AEV on the road and getting closer to our partners and customers in their hometowns!"
* Please note: This event is exclusive to invited ADI and Axis guests only.