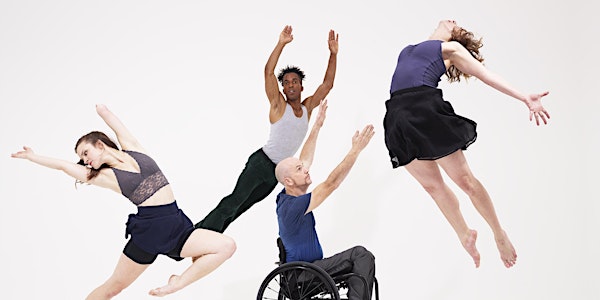 AXIS Dance Company: Redefining Dance & Disability
Date and time
Wednesday, March 15, 2017 · 11am - 12:30pm EDT
Location
Boston University School of Medicine: Hiebert Lounge 72 East Concord Street 14th Floor Boston, MA 02118
Description
The BU Arts Initiative, Sargent College of Health and Rehabilitation Sciences, The Dance Program, and Disability Services is pleased to host AXIS Dance Company for a residency March 13-18, 2017.
We invite you to join us on the BU Medical Campus for a lecture demonstration titled Redefining Dance & Disability. During this hour long program, dancers will show excerpts of current material and give information on company history as well as on personal dance and disability history. The session will conclude with a Q&A session.
The Hiebert Lounge is accessible to guests with disabilities as are all entrances, hallways, restrooms and pathways. Additionally, CART services and ASL interpreters will be available.
For disability or communication access for those with impairments that may not allow them conventional access to the event's programming, please contact Christopher Robinson at crobin@bu.edu.
If you have any questions, please don't hesitate to reach out to us at artsinbu@bu.edu.
---
AXIS Dance Company exists to change the face of dance and disability through three pillars of activity: Artistry, Engagement, and Advocacy.
AXIS Dance Company was founded in 1987 and has paved the way for a powerful contemporary dance form called physically integrated dance, which features dancers with and without disabilities. Nearing their 30th year, AXIS Dance Company recently announced Marc Brew as the new Artistic Director. Under the artistic direction of Judith Smith since 1997, AXIS' list of collaborators includes Bill T. Jones, Stephen Petronio, Yvonne Rainer, Ann Carlson, David Dorfman, Meredith Monk, Joan Jeanrenaud, and Fret Frith. AXIS has toured major dance venues and festivals in more than 100 cities nationwide as well as internationally to Europe and Russia. Their work has been honored with seven Isadora Duncan Dance Awards, and the company was featured twice on FOX TV's So You Think You Can Dance.
Photo Credit: AXIS Dance Company 2015. Photo by David DeSilva. Dancers Julie Crothers, Nick Brentley, Dwayne Scheuneman, and Sophie Stanley.
About the organizer
The Boston University Arts Initiative ensures that the arts are fundamental to the BU student experience both inside and outside the classroom.