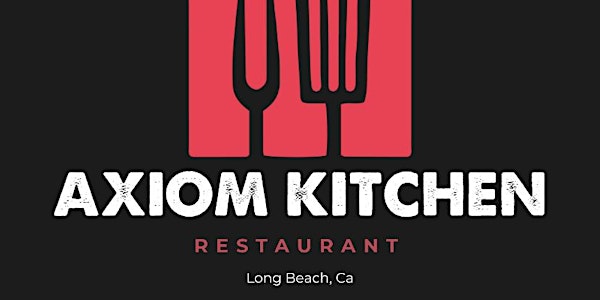 Axiom's 5- Course Dinner and Restaurant/Small Business Marketing Secrets
Grow your business in less than a year with limited $ ! Featuring Qiana and Ian Mafnas of Axiom Kitchen. Dinner included in ticket price.
Date and time
Sunday, July 30 · 6:30 - 8:30pm PDT
About this event
Come have dinner with us and chat about all things personal and business growth!!
Axiom Kitchen Smoked Meats & BBQ was built from the ground up by Qiana and Ian Mafnas- both former addicts and both formerly system impacted, and has been featured on 2 news channels (KTLA5 and FOX11 Good Day LA), 4 publications (Long Beach Post, The HiLo, Voyage LA and Eater LA), a radio station(102.7 KIISFM) and countless content from well-known foodies in Los Angeles, Orange County and Long Beach. We've received many requests to reveal our business secrets, or how we managed to build our small business from non-existent to a very well known pop up restaurant in less than one year. We are sharing our tips and strategies with you, because we feel that if we can do it then ANYONE can do it…and we want YOU to WIN!! Join us as we share our story and our life experiences, and show you how to effectively build your small business in record time! We will be providing a delicious 5-course dinner, courtesy of Axiom Kitchen as well!! We'll be providing tools and resources to help restaurant and other small business owners generate income and grow their client/customer base with a limited budget!
VIP tickets include business marketing and planning kit, and a free social media consultation with Qiana Mafnas.
Ian Mafnas- Co-owner, Pitmaster and chef at Axiom Kitchen
Qiana Mafnas-Co-owner and Head Chef at Axiom Kitchen