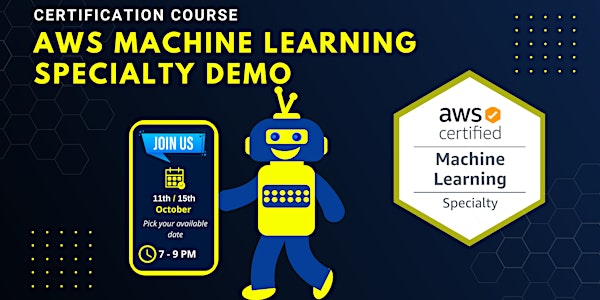 AWS Machine Learning Specialty Certification Demo
AWS Machine Learning Specialty Certification Demo,2 Hour FREE training, consisting of theory and hands-on demo.
About this event
About Psitron Technologies:
Psitron Technologies is an IoT and AI Company. Our mission at Psitron is to connect the world with innovative technologies. Psitron has responsibility for developing innovative innovations for addressing current problems in industries, especially focusing on industry 4.0 solutions.
Do you know?
This is the best time to learn machine learning as the trends in the market suggest. The global machine learning market is estimated at US dollar 8.43 billion in 2019, and is expected to reach 117 billion by 2027, at a CAGR of 39.2%. Thus, job opportunities in this sector are going to grow with a boom in the coming years.
AI and machine learning are not only used in machine learning applications but also in Internet of things, like self-driving cars, smart homes, digital assistants, etc. In fact during COVID-19, statistical machine learning had played a significant role in generating advanced models for predicting virus spread, and aided in the management of the pandemic across the world. Machine learning in finance has also secured a respectable place among the business leaders using the technology for generating automatic models for stock management.
AI is starting to move out of research labs and into the real world. It is having an impact on our lives. There can be little doubt that we are entering the age of artificial intelligence.
About Demo:
Psitron Technologies Pvt. Ltd presents a live demo on AWS Machine Learning Specialty Certification. In this demo , participants will be able to experience and explain the following things.
Duration:
2 Hour Free Training , consisting of theory and hands-on demo.
Schedule:
Pich your avaliable date: 29th , October 2022
Demo on AWS Machine Learning Specialty will be conducted at GoToMeeting(ONLINE)
7 PM to 9 PM IST
9:30 AM to 11:30 AM EST
3:30 PM to 5:30 PM CET
What You Will Learn?
Data Engineering
Exploratory Data Analysis
Modeling
Machine Learning Implementation and Operations
Live Demo:
Amazon Sagemaker(Build, Train & Deploy)
Amazon Transcribe (Speech Recognition)
Amazon Textract (Document processing)
Amazon Rekognition (computer vision)
Amazon Lex (Voice and Text Chatbots)
Total Price: FREE
Take away:
Access to recordings (Only for participants)
FREE Sample Questions
FREE Machine Learning E-books
For more information contact.
Sarathkumar.C
Founder & CEO
Psitron Technologies Pvt. Ltd.
+918940876397 / +918778033930
sarath@psitrontech.com
P.S. - Today, don't play it safe, play it smart.