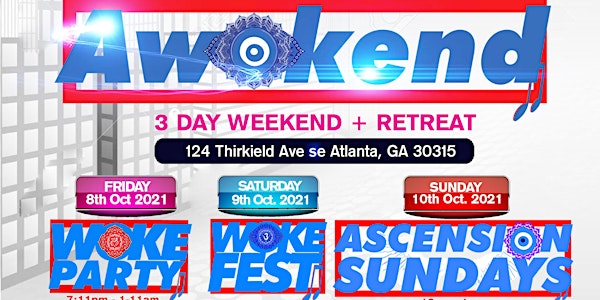 Awokend - 3 Day Weekend + Retreat
Pink Diamond Records & Divine Tribe Presents Awokend - 3 Day Weekend + Retreat™ Wake Up & Unify
When and where
Location
Bohemian Mansion Atlanta 124 Thirkield Ave SE Atlanta, GA 30315
About this event
      Divine Tribe & Pink Diamond Records Presents              
                               Awokend™ - 3 Day Weekend + Retreat
It's Time! 
Time to wake up & unify our community...
Time to bring community leaders together to shine the light on the great work they are doing for our community ...
 Celebrating wokeness of all walks, shapes,  & sizes. 
The weekend will go as follows:
Friday - "WokeParty" ; A Fashion March Into A Bonfire Party w/ Spoken Word & Performances
Saturday - Our 3rd Annual "Wokefest" ; A Festival dedicated to celebrating awareness and promoting more UNITY
More about this event: WokeFest 2021 is dedicated to hosting a positive cultural experience for the urban millennials in the city of Atlanta to connect, learn, heal, explore, and build with people, products, & information that is imperative to positive growth simulation.
We curate events around the country to quench the thirst for knowledge & awareness regarding spirituality, wellness, and community among the African American community.
Our main objective is for every attendee will leave with practical tools that cater to their needs to improve their daily lives and strive towards their goals.
Sunday - "Ascension Sundays" ; A Metaphysical fellowship day geared towards healing and wellness, with live performances geared to uplift and heal the spirit
We will have VIP guest speakers speaking on multiple subjects throughout the 3day weekend regarding today's current landscape for our people in the 2021- 5 YEAR & the importance of identifying & displacing conflict to promote UNITY and innovation amongst our people. Also provide examples/solutions & some sustainable-friendly initiatives.
WOKEFEST 2020: https://www.youtube.com/watch?v=UIVw9CYhWZs
WOKEFEST 2021: https://www.youtube.com/watch?v=9J0w66i9s2cWZs
Our 3 Day weekend offers a general theme that involves our movements and many diverse activities. This year's theme, however, is all about how people can effectively initiate a personal change with the information provided to be able to assist them to self-educate, identify threats, & shed light on the potential spiritual & financial practices for personal & cultural gain.
The Food and Beverage
WokeFest will feature food items that are Vegetarian/Plant-Based Friendly. We will be serving ALL black-owned liquor & beer brands only! Some of our signature cocktails Woke Punch, Charaka Shots & 3rd Eye cocktails, and several other drinks from our woke-bar. 
The Location
Awokend will be nestled just 1 mile from the heart of ATL! In a historic area by Grant Park featured on Bravo TV "The Real Housewives of Atlanta". Grant Park is a residential district, known for its Victorian mansions and Craftsman bungalows and is now the oldest surviving park in Atlanta and houses Zoo Atlanta and a residential area. The park was named after Lemuel P. Grant, who donated the land to Atlanta in 1881. Sidney Root, a pioneer Atlanta merchant, played a role in the early development of Grant Park.This unique building offers unforgettable architecture for a truly memorable stay. The picturesque white brick exterior with impressive interior architecture is like nothing you have ever seen we promise. The 35-foot-high white tin tile ceilings combined with tall windows and original wood floors give the room its turn of the century charm yet modern day masterpiece. Features: 6 bedrooms, living area w/ 3 large couches, dinning area for 20, Gas range w/ full kitchen, 3 bathrooms, 50'x150' gated side courtyard w/ string lights, lounge area and parking.
The Culture
The event will be hosted by MamaSauce™ (IG:@SabrinaRasha) , Cue Reaves (IG: @Cue.Reaves), Red Pill (IG:@EL_PhilthMoor) Blue Pill (IG:BluePillar44) , Lizzy Jeff (IG:LizzyJeff) & Wayne Levert - MC/Host (IG:WayneLevert_Corona) (Other V.I.P Hosts TBA). We have the WOKEST Speakers &  Hip-Hop/AfroBeat DJs in Atlanta! 
RSVP: http://www.WokeFest.net