Description
Join us for the 2nd annual AWHONN NY Conference.
September 25th: Start the party early with a networking cocktail hour !

Come out to meet your section leaders, presenters, vendors, exhibitors, and members from across the state!
Light refreshments will be served with a cash bar.
Westchester Marriott. Time: TBA
September 26th: Conference Day
7:00 AM – 7:45 AM Registration, Breakfast and Exhibitors
7:50 AM – 8:00 AM Introductory Remarks with AWHONN NY Leadership
Kathleen DeMarco, MSN, NE-BC, CPHQ, RN,
Theresa Fay Conte MSN, RNC, NE-BC
8:00 AM – 10:00 AM Legal Issues in EFM and Obstetrics: Protecting Your Patients and Your Practice Part 1
Lisa Miller, JD, CNM
10:00 AM – 10:30 AM Break with Exhibitors
10:30 AM – 11:30 AM Legal Issues in EFM and Obstetrics: Protecting Your Patients and Your Practice Part 2
Lisa Miller, JD, CNM
11:30 AM - 1:00 PM Lunch with Exhibitors & posters
1:00 PM – 2:00 PM Oral Intake in Labor: Food For Thought
Anne Shea-Lewis, BSN, MBA, NEA-BC, RNC-NIC
2:00 PM – 2:15 PM Hospital Representative and Mentorship Programs with AWHONN NY
Marin Skariah MS,RNC-MNN,IBCLC
Vincenza Coughlin MS, RNC-MNN, CNE, CLC
2:15 PM – 2:30 PM Break with Exhibitors
2:30 PM – 3:30 PM Missed Nursing Care During Childbirth
Dr. Audrey Lyndon, PhD, RNC, FAAN
3:30 PM – 4:30 PM Healthcare Equity: Advocating for Moms and Babies
Cheryl Larry-Osman RN, MS, CNM
4:30 PM – 4:45 PM Wrap-up and Evaluations


---




Continuing Nursing Education
Montefiore Nyack Hospital is an approved provider of continuing education by the Northeast Multi-State Division, an accredited approver of continuing nursing education by the American Nurses Credentialing Center's Commission on Accreditation.
A maximum of 7.0 nursing contact hours will be awarded for this program. The participant must attend the entire program to be eligible for full contact hour credit.

---
STOP BY THE POSTER SESSION AND EXHIBITION HALL DURING BREAKS FOR ADDITIONAL CNE AND RAFFLE TICKETS!
---


Westchester Marriott Hotel:


A block of rooms is reserved for AWHONN NY attendees at discounted rate depending on room type. Call and let the hotel know you are attending the AWHONN NY conference and provide the following codes.
AHNAHNA for Kings, AHNAHND for doubles
Westchester Marriott Hotel
670 White Plains Rd, Tarrytown, NY 10591
T (914) 333-1211 | F (914) 631-2832 |
---
GIVING BACK TO OUR COMMUNITY
Did you know that….?

There is 5.3 million babies who do not have enough clean diapers!
Join AWHONN NY as we partner with the National Diaper Bank Association and Huggies to provide diapers and wipes to New York families. Each pack of diapers or wipes you donate at the conference will qualify you for extra raffle tickets for our grand prize!
...AND HUGGIES WILL MATCH US DIAPER FOR DIAPER ON ALL DONATIONS!!!
Do you prefer to support AWHONN's Healthy Mom&Baby Campaign to Wipe Out Diaper Need by donating dollars for diapers? One dollar buys 6 diapers at wholesale cost. You can contribute here, Make sure you credit NY state at the top of the donation page.

Bring your receipts to conference registration for raffle tickets and matching.
---
SHARE YOUR KNOWLEDGE: POSTER SESSION
We want to learn from your good work! Please submit an abstract, description, or PDF of your poster to Aviva.kleinman@nyumc.org. Reasearch, projects and case studies are welcome. Posters will be displayed in the exhibition hall and will contribute toward earned contact hours.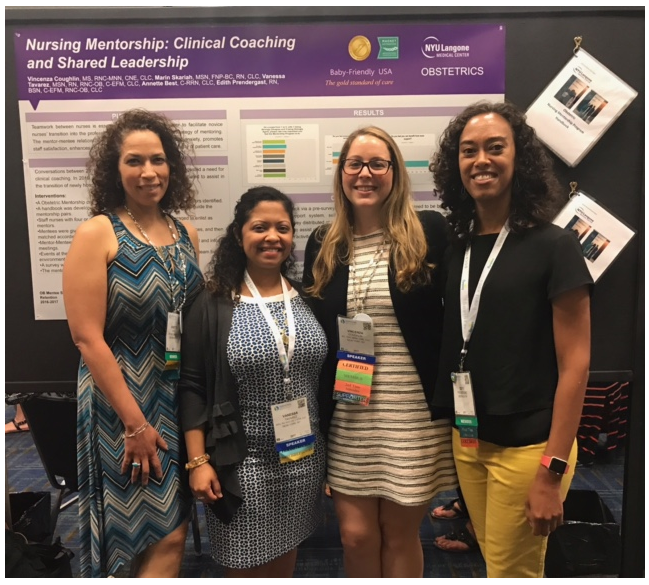 Above: AWHONN NY members presenting their poster at national AWHONN Convention.
---
SPEAKER BIOS:
Lisa Miller, CNM, JD, is a registered nurse and certified nurse-midwife with more than 30 years of clinical experience in a wide variety of clinical settings. An attorney since 1990, her legal background gives her a unique understanding of the impact of law on medicine and nursing. Lisa served as Clinical Instructor for the University of Illinois College of Medicine in Champaign-Urbana and as an Assistant Professor in Obstetrics and Gynecology at Northwestern University Medical School in Chicago, where she directed an academic midwifery service.Widely published in the areas of EFM, obstetrics, patient safety, and legal issues, her 2003 article Safe promotion and error reduction in perinatal care: lessons from industry was chosen by her peers as one of the best of the decade in 2006. Lisa has co-authored two textbooks on electronic fetal monitoring, currently writes two editorial columns for the Journal of Perinatal and Neonatal Nursing (JPNN), and serves as a member of JPNN's editorial board. She provides peer review for the Journal of Midwifery and Women's Health, and is an active member of the Association of Women's Health, Obstetric and Neonatal Nurses (AWHONN).
Cheryl Larry-Osman, RN, MS, CNM is a Perinatal Clinical Nurse Specialist at Henry Ford Hospital in Detroit, Michigan, and has over 23 years of experience in the clinical areas of Labor and Delivery, Postpartum, High Risk Antepartum, Normal Newborn, and Women's Health. Cheryl trained as a Certified Nurse Midwife and is regularly invited to present on a host of clinical and healthcare equity topics, both locally and nationally, related to the care of women and newborns. Cheryl is an active member of Association of Women's Health, Obstetric and Neonatal Nurses (AWHONN), currently serving as a member of the National Board of Directors, the National Public Policy Committee, as well as the Michigan Section Leadership Team. As a complement to clinical practice, Cheryl is trained as a Healthcare Equity Ambassador through the Henry Ford Health System, serving as an authority in the areas of cultural competence and healthcare equity in the hospital system. She is a passionate advocate for the optimal and equitable care of women and children. Cheryl actively promotes healthcare equity and the awareness of disparities with her involvement in policy and clinical strategies at the national, state, & local levels addressing preterm birth, infant mortality, and the reduction of maternal morbidity/mortality.
Anne Shea-Lewis, BSN, MBA, NEA-BC, RNC-NIC is the Director of Nursing for Maternal Child Health and Chemical Dependency at St. Charles Hospital in Port Jefferson, NY.
Audrey Lyndon, RN, PhD, FAAN, focuses her research on building knowledge to improve patient safety and quality in inpatient maternity and neonatal care. She investigates three inter-related topic areas: front-line provider perspectives on safety including likelihood of speaking up about concerns; parent perspectives on safety; and barriers and facilitators to implementation of evidence-based quality interventions. Current focus areas include: Communication and teamwork among care providers during labor and birth, Serious childbirth complications (severe maternal morbidity), Parent perspectives on safety, and Relationship of nurse staffing and missed nursing care during labor and birth to patient outcomes. She is also a volunteer leader for the California section of the Association of Women's Health, Obstetric, and Neonatal Nursing, and serves on the Executive Committee of the California Maternal Quality Care Collaborative. Her clinical interests include women's health, perinatal nursing, patient safety, teamwork, interdisciplinary communication, high risk obstetrics, fetal monitoring, perinatal loss, breastfeeding, and family-centered maternity care. I teach graduate level courses in research methods and philosophy of nursing science at the UCSF School of Nursing.