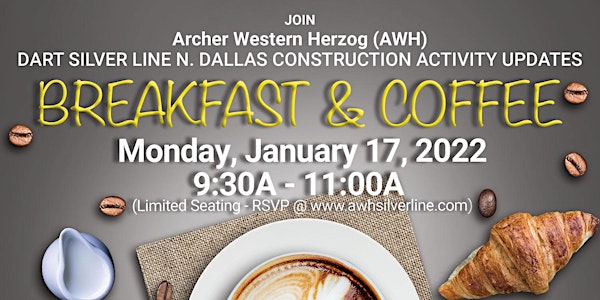 AWH Silver Line Breakfast & Coffee - North Dallas Construction Updates
AWH, DART Silver Line Contractors, is hosting a North Dallas construction updates breakfast & coffee on Monday, January 17, 2022 @ 9:30A.
About this event
Archer Western Herzog (AWH) is hosting a construction updates breakfast at Coffee House Cafe off Preston Road and Frankfurt Road. Join us for the DART Silver Line construction activity updates in the North Dallas community. AWH will cover current and upcoming construction activities.
Due to limited seating at Coffee House Cafe please RSVP. First come first serve.
Coffee House Cafe's Firm Mask Policy
Masks are required inside when not seated at your table including when you leave and use the restroom.
We have employees with high-risk medical conditions (including cancer) and employees with children who cannot be vaccinated (including a newborn) providing for their families, and many guests come here specifically for our safety measures.
None of our reasons are political. We are not asking you to change your beliefs. We serve everyone who respects our policies as a business. We are not entertaining debates on our mask policy. Our mask policy will vary based on guidance and current local conditions.
Expect to receive a kind reminder from our staff if you forget. Please don't give them trouble for doing their job.
We have a place for everyone, so if this is a problem, we are happy to seat you on our patio or serve you in our drive thru. Our policy is not negotiable, and hostility or abuse of staff will not be tolerated.
We understand if you decide to go elsewhere.
Thank you for helping us focus on food & service and not on masks.
We sincerely appreciate your kindness & cooperation.
Tonya & The Coffee House Cafe Team
Organizer of AWH Silver Line Breakfast & Coffee - North Dallas Construction Updates