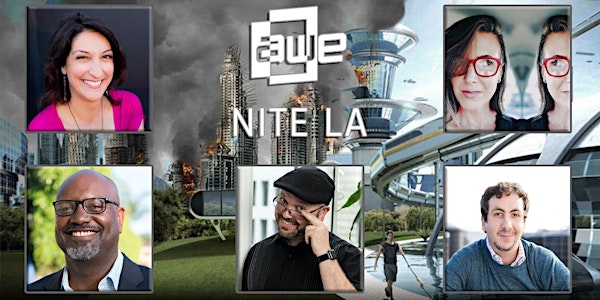 AWE Nite LA - Ethical Considerations for Emerging Technology (July2020)
Ethical Considerations for Emerging Technology
About this event
Science Fiction has forcasted brilliant technology utopias and dystopian futures collapsed by technology that too often foreshadow familiar bits of reality. All-knowing AI, robots, accessible space travel, virtual/augmented reality, and life-saving health technologies; all being developed to create a better and brighter future. But, who decides what is right and how technology should be applied? What will it take to assure the power of exponential technology is used for good, the betterment of humankind and all of spaceship earth?
Join our panel of industry leaders as we explore the role of ethics in design and technology. We'll probe into how we can each make an individual impact and to ensure our evolution is created consciously.

PANELIST: Arturo Perez is the founder of Kluge Interactive, a creative technology studio that delivers digital experiences for clients such as the City of LA, Activision, Deloitte and a wide range of B2B tech companies. He is also the creator of Evenings at the Loft, a design event series which puts a philosophical and ethical lens to design challenges. Recently, Kluge published and released Synth Riders, a VR music rhythm game based in a retro-futuristic setting that is proving to be a new way for VR enthusiasts to work out and get fit.
PANELIST: Kathleen Cohen is an XR immersive and experience strategist with over 20+ years building both user and guest experiences. Currently, Kathleen's consultancy, the Collaboratorium focuses on immersive, disruptive and exponential tech, AI/ML, XR and spatial computing projects as it relates to virtual beings / digital twins inside themed attractions, LBE, gaming, product development and future storytelling narratives. Her interest is the near future of man+machine and the human transformation and expansion supporting it.
PANELIST: Jonathan de Armas (JdA) is a Partner at Diamond, developing inclusive cloud-based applications, APIs, and infrastructure solutions for major networks, studios, and other content owners. JdA wrote his first code at the age of 6, led by his father on a Commodore 64, and is an avid early adopter of IoT and Smart Home tech. Since 2005, he's been in the Digital Media space as an entrepreneur, developer, director, and CTO protecting and delivering content in one way or another.

PANELIST: Leila Amirsadeghi has over 20 years in Entertainment, Technology & Live Events, developing digital products across mobile, web, OTT, AR & VR, as well as launching award-winning marketing campaigns for some of the world's most notable brands and startups including Microsoft, Disney, Warner Bros, Meow Wolf, Two Bit Circus and NBCUniversal. Leila has operated venues in London and San Francisco and is the co-creator of the Unreal Garden, the world's first mass mixed reality location-based experience. Most recently, Leila joined smart tech hygiene company Cleanbox Technology as Chief Growth Officer, overseeing sales, marketing, partnerships and innovation, while driving strategic relationships in education, entertainment, enterprise, healthcare and government.
PANELIST: Eric T. Elder started his career as a 2D animator at MTV on Beavis & Butt Head and then moved to LA to work on King of the Hill & The Simpsons. When not working as a professional animator he spent 15 years working with the Art Institutes as an Instructor, then as an Academic Director and created the most successful Video Game production training programs in the system. He is currently a professor at Loyola Marymount University teaching VR Studio, Worldbuilding and Studio Pitch. He spends most of his time as a Media Arts Consultant designing training programs and production pipelines for animation, video game & XR production.
MODERATOR: Suzan Oslin began her career animating digital effects for Warner Brothers, and Disney Feature Animation. She brings the same pioneering spirit and enterprise-level expertise to her product strategy and design consulting work for progressive VR and AR companies that understand and appreciate the user experience-driven marketplace.  She's helping to bridge the gap between humanity's future and its origins as the creator/director of "SEARCHING FOR SISTER GAIA", a VR experience that reminds us of the preciousness of life and the extraordinary forces controlling it