Description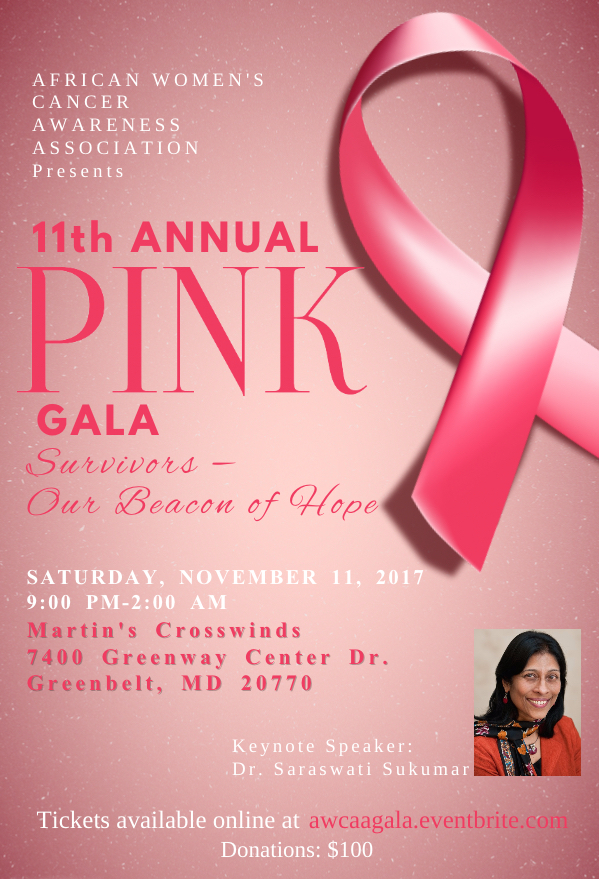 On November 11th, 2017, join AWCAA as we celebrate our accomplishments and raise funds for future initiatives during our 11th annual Pink Gala. This year's Pink Gala's theme is Survivors: Our Beacon of Hope, which enforces our goal to encourage and nurture the discussion around breast cancer and to raise additional awareness about the disease by celebrating survivors of breast cancer. Come celebrate the lives of breast cancer survivors as a way to encourage newly diagnosed women.
Attracting over 200 attendees annually, Pink Gala includes live entertainment, special guest speakers, surprise performances, giveaways and of course, dinner!
AWCAA is a non-profit 501 (c) (3) organization that was founded in 2004 as part of an effort to promote cancer prevention and intervention for African women in the Washington Metropolitan Area. Over the past decade, AWCAA has impacted over 50,000 people in the African community both nationally and internationally through cancer awareness, advocacy, education, and medical missions. Find out more about AWCAA at awcaa.org.
For media, sponsorship and vendor opportunities, please contact: ladiesfirst@awcaa.org
Date and Time
Location
Refund Policy