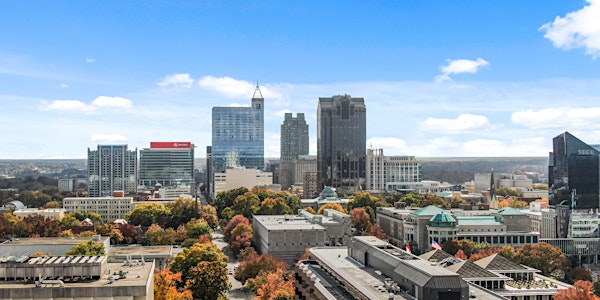 AWARN Raleigh Roundtable on Advanced Emergency Information (AEI)
Join AWARN, WRAL, PBSNC, NCAB, and NCDPS to discuss roll out of interoperable Advanced Emergency Information (AEI) using ATSC 3.0/NextGen TV
When and where
Location
The Chapel at Dorothea Dix Park 1030 Richardson Drive Raleigh, NC 27603
About this event
On October 6-7, 2022, the AWARN Alliance will join with WRAL - Capitol Broadcasting Company, PBS North Carolina, (PBSNC), North Carolina Association of Broadcasters (NCAB), and North Carolina Department of Public Safety (NCDPS) to host the first regional roundtable discussions in North Carolina on the deployment of Advanced Emergency Information services (AEI). Leveraging the advanced alerting capabilities of a powerful new broadcast technology, ATSC 3.0/NextGen TV, will be an important piece of a broader discussion of interoperable technologies that can transform the landscape of public warning. We call this digital network-of-networks Next Generation Emergency Messaging (NGEM).
The meeting, with invitees from across North Carolina, will take place in-person at The Chapel at Dorothea Dix Park starting by 1pm on Thursday, October 6th and concluding by 1:30pm on Friday, October 7th. Light refreshments will be provided on both days, including a catered working lunch on October 7th. This is an opportunity to join with other disaster information stakeholders in a relaxed, informal setting to discuss the future of public warning and emergency information sharing via broadcast technology.
Activities will include level-setting briefings, networking opportunities, and a series of closed-door roundtable meetings among public and private disaster information stakeholders. Discussions will center on building out a voluntary, all-digital, and interoperable 'network of networks' to improve our response to many types of emergencies. Although the use of NextGen TV and 'Broadcast Internet' in a converged system will be covered, technology is not our focus. Instead, we will focus on the institutional and human interactions needed to leverage new technology solutions.
Objectives for the roundtable
Review the state of alerting relationships between EM's and TV stations (those with newsrooms and those without) in North Carolina today.
Identify best ways for EM's, broadcasters, and other emergency information distributors to use AEI broadcast directly and in a voluntary, interoperable 'network of networks.'
Identify relationships that need to be built or strengthened between alerting stakeholders.
Help refine the model for AWARN roundtables in other regions and develop a national framework for the roll-out of AEI and NGEM.
Who should attend?
Emergency managers, including those who "push send" for alerts, TV station general managers, news directors, and operations and technology executives from both commercial and public media in the North Carolina.
Local and state emergency managers, including sheriffs, alert originators, and Public Information Officers.
Area members of the State Emergency Communications Committee (SECC).
Federal and non-federal alerting regional officials.
Selected expert technology solution providers and device makers.
Officials involved in emergency communications policy and planning.
AWARN Regional Roundtables: Rebooting the Broadcaster-Public Safety Partnership
The goal of the AWARN Regional Roundtable Series is to bring together emergency managers and broadcasters to launch Advanced Emergency Information (AEI) with ATSC 3.0 NextGen TV. Through this effort, we want to reboot the historic relationship between broadcasting ("first informers") and the public safety community.
Post-meeting evaluations from participants from across Southern California at our first roundtable in Santa Barbara were extremely positive, with comments like "eye-opening," "excellent," "it really moved me," "connections were made," and "just the beginning."
We expect the Roundtable will lead to AEI becoming part of the agenda for the revitalized State Emergency Communications Committee (SECC) meetings and, eventually, voluntary agreements between emergency managers and TV stations.
Registration is required for this invite-only event.
For more information, please contact AWARN Deputy Director Anya Shetler at anya@awarn.org.
Sponsorship opportunities are available.