| | |
| --- | --- |
| "Awareness Through Movement" (ATM) Classes From The Feldenkrais Method® | |
Event Details
Series of 3 Introductory "Awareness Through Movement" (ATM) Classes from the Feldenkrais Method in April 2017.
Dates: April 1st (Sat), 9th (Sun) & 30th (Sun)
Time: 10:00 - 11:00 AM EST
$20 per Class per Person. Maximum 15 people per class.  
Venue: The Center for Love & Light, Atlanta (https://withloveandlight.com/directions/)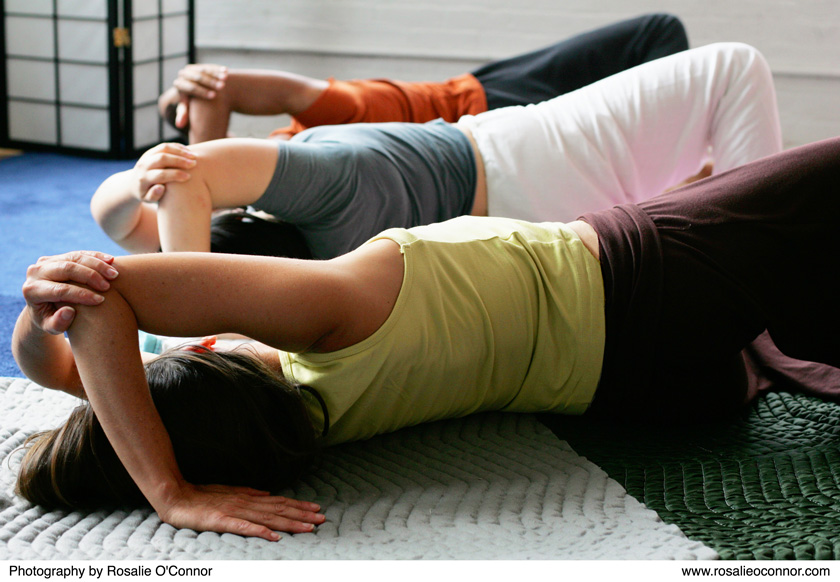 What is the Feldenkrais Method®?
The Feldenkrais Method is a way of learning - learning to move more freely and easily, and to carry less stress in your body. It is learning through, and with, your body — something you knew as a child but lost touch with while growing up. Through gentle movement and directed attention, it puts you back in touch with yourself, with the fluid, easy movement that is your birthright.
Watch - How Feldenkrais Helps People : https://www.youtube.com/watch?v=iPs3ximLb_w
What is Awareness Through Movement

® 

(ATM)?
The Method is taught in two formats — group classes/workshops in Awareness Through Movement (ATM), and individual lessons in Functional Integration (FI). In ATM classes, the practitioner guides you through a sequence of slow, gentle & non-strenuous movements. You explore different ways to perform the same movement. By slowing down and paying attention, you provide feedback and options to your nervous system, enhancing self-awareness and improving function. Students often experience immediate improvements in posture, lightness of movement, and freedom from chronic discomforts.
"The Feldenkrais Method is the most sophisticated and effective method I have seen for the prevention and reversal of deterioration of function." 
Margaret Mead, Ph.D., Anthropologist


Who can benefit from an Awareness Through Movement (ATM) Class?
The Feldenkrais Method provides a tool for self-exploration and self-improvement that can benefit everyone, from the seriously impaired to the normally functioning, and even high-functioning people who want to perform at a still higher level. Elite athletes, dancers, actors, artists and musicians have relied on Feldenkrais for decades to move more efficiently and enhancing their performance and creativity. Seniors and those with neurological disorders gravitate towards the method as it helps regain youthful function, balance and vitality. The benefits, however, are not limited to those suffering from chronic pain or recovering from injury. Lack of awareness imposes significant unconscious limitations on all of us and the Method is a way of becoming aware of these limitations and discovering alternate options/choices of moving and being. 
"The Feldenkrais Method (has) had remarkable success in a wide range of complaints ranging from the debilitating to the merely nagging."
Science Digest
What are the benefits?
Improve Coordination & Flexibility

Reduce Aches & Pains

Increase Range of Motion

Find Relief from Stress

Recover quicker from Injuries

Refine Athletic & Artistic Performance

Attain greater Ease in All activities

Renewed Vitality, Health & Well-being
"After having suffered from severe shoulder problems and surgery, I have found lasting relief from the Feldenkrais Method."
Gloria Jones, Atlanta Symphony Orchestra 
What is an Awareness Through Movement (ATM) class like?
 Participants lie on mats or sit in chairs and are verbally guided through a sequence of gentle movements and/or visualization.  In a relaxed environment, free of comparison and judgment, you explore your uniquely individual habits of movement.  Along the way you discover that variations in position, eye movements and breathing patterns can either make movement nearly impossible...or completely effortless!  Your neuromuscular system automatically adopts the easiest, most efficient movement patterns so that without having to think about it consciously, you are more highly organized to engage in daily life.  Whether carrying groceries, working at your computer, doing Yoga, playing the piano or competing in a triathlon, everything becomes easier.
"The lessons are designed to improve ability, to expand the boundaries of the possible, to turn the impossible into the possible, the difficult into the easy and the easy into the pleasant."
Moshe Feldenkrais
How many classes should I attend?
This is an introductory series and you will get some benefit from attending even a single class. It is however preferable to attend all 3 classes in the series to get a feel for the ATM lessons and the Method.  
What to wear?
Please wear loose, comfortable clothing; since you will not be highly active, wear extra layers so you don't get chilly. Please bring a yoga or a floor exercise mat if you have one, or we will provide you with the same. If you pre-register, it will be helpful for me to know you are coming so I can save a mat for you.   
More About the Feldenkrais Method:
Here are two short but informative videos about the method:
http://davidzemach-bersin.com/2012/06/introduction-to-the-feldenkrais-method/
http://www.feldenkrais.com/whatis    
Here is a terrific write-up http://www.somatic.com/articles/feldenkrais_overview.pdf. To
o learn more about the Feldenkrais Method, visit http://www.feldenkrais.com/ and http://feldenkrais-method.org/en.   
---
---


 

About Ravi Prabhakar:
Ravi is a Guild Certified Feldenkrais Awareness Through Movement Practitioner. He graduated as an Aeronautical Engineer and followed it with a Masters' Degree in Business Administration. He has lived and worked in 7 countries in the past 18 years and currently resides in Decatur with his family. He finds endless joy and amazement in learning about the human body and uncovering its potential. Much like Feldenkrais himself, a nagging knee injury led Ravi to look for ways to improve his condition. After trying several forms of therapy, from the conventional to the esoteric, Ravi discovered the Feldenkrais Method, which he feels has been the most effective in addressing the root cause of the pain – an inability to sense oneself. Teaching Awareness Through Movement lessons is his way to explore the work of Moshe Feldenkrais. He may be contacted via email at llcsavera@gmail.com. 
---
Have questions about "Awareness Through Movement" (ATM) Classes From The Feldenkrais Method®?
Contact Ravi Prabhakar
When & Where

The Center For Love And Light
1145 Zonolite Rd NE
Suite 10
Atlanta, GA 30306