Description
Datagedreven organisaties kunnen sneller beslissingen nemen, sneller innoveren, de klantervaring verbeteren en hun efficiency verhogen door processen te optimaliseren. Alle reden om te investeren in een datastrategie. Toch nemen nog maar weinig bedrijven dit onderwerp écht serieus. Ze zeggen wel dat data de nieuwe olie is, maar in de huidige processen wordt data nog vooral beschouwd als bijproduct van applicaties. En dat is zonde!
Datakwaliteit blijft een uitdaging. Uit sectoroverschrijdende studies blijkt dat:
gemiddeld minder dan de helft van de gestructureerde data van de organisatie actief wordt gebruikt bij het nemen van beslissingen - en minder dan 1% van zijn ongestructureerde data wordt überhaupt geanalyseerd of gebruikt.

Meer dan 70% van de werknemers heeft toegang tot data waartoe ze geen toegang zouden moeten hebben

en 80% van de tijd van analisten wordt besteed aan het eenvoudigweg ontdekken en het voorbereiden van gegevens.
Bron: Harvard Business Review, What's Your Data Strategy? by Leandro DalleMule and Thomas H. Davenport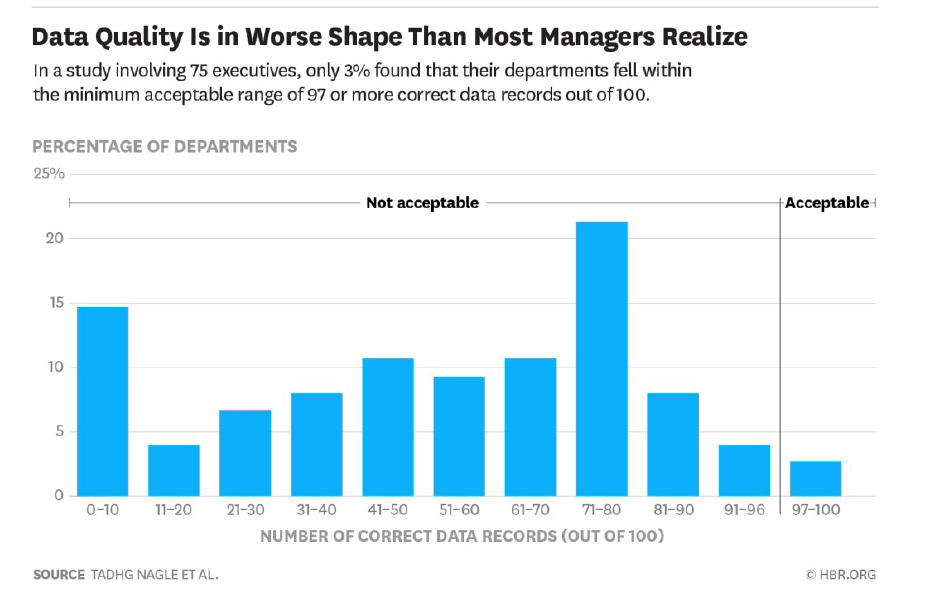 In de Awareness sessie Datakwaliteit gaan we dieper in op vragen als:
Hoe definieren we data van goede kwaliteit?

Welke stappen moeten we als organisatie nemen om de datakwaliteit te verhogen?

Welke data zijn uit uw systemen te halen?

Hoe kunnen we (externe) data op juistheid controleren?

Op welke manier kunnen we data met externe partijen delen?

Hoe kunnen we datakwaliteit een centraal onderdeel maken van onze organisatie?
Tijdens de Awareness Sessie over Data Kwaliteit laten we u kennismaken met strategieen en praktische bruikbare tools om de datakwaliteit in de organisatie te verbeteren. Aan de hand van praktische use cases leert u welke stappen u als organisatie kunt zetten. Daarnaast bieden we je de mogelijkheid om samen met peers te netwerken en te brainstormen over dit onderwerp.
Agenda:
15.30: Inloop
15:50: Intro Awareness Sessie
16:00: Bespreking Datakwalitietsloop door prof. Felix Janszen
17:00: Praktische case: datakwaliteitsverbetering bij een groothandel, case gepresenteerd door Youwe.
17:45: Interactief Gedeelte
18:30 Borrel