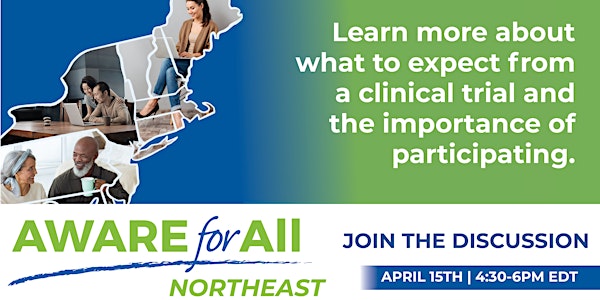 AWARE for All - Northeast Virtual Health Event 2021
Pre-registration for this event has closed - Please follow this link to reserve your spot for Thursday's webinar https://bit.ly/3dfHVe7
About this event
Pre registration Is Closed
Our pre-registration has closed. Please visit https://bit.ly/3dfHVe7 to reserve your spot for AWARE for All- Northeast! We look forward to "seeing" you!
NOTE: This event will run 1:30-3:00pm PDT, 2:30-4:00pm MDT, & 3:30-5:00pm CDT
What's it like to be a patient in a clinical study? Hear the stories from patients from the Northeast area in a facilitated and lively conversation with researchers and health professionals. The Webinar program also includes fun health exercises and segments with information that can help you make informed decisions about your health.
The AWARE for All – Northeast educational event will cover the Boston, New York, Washington D.C, and Baltimore areas with a specific focus on these therapeutic areas and medical conditions:
Pulmonary/Asthma
Infectious Disease/Lyme Disease
Neurology/ Parkinson's Disease
Oncology/Cancer
You will also have an opportunity to visit the Informational Exhibit Center that offers more friendly, informative resources about clinical trials and these specific medical conditions.
At the AWARE for All – Northeast Webinar and Informational Exhibit Center, you'll:
Hear personal stories from patients who participated in clinical trials
Have fun with quick and easy 5-minute health exercises
Receive a free downloadable booklet with a lot of helpful information about clinical research—available in English and Spanish
Visit over 30 organizations in the Informational Exhibit Center to learn more about clinical trials
Webinar Agenda:
• 4:30 PM—4:35 PM: Welcome from CISCRP
• 4:35 PM – 4:40 PM: MT Pharmacy Video
• 4:40 PM—5:10 PM: Overview Presentation + Q&A
Led by Dr. Carmen Guerra, Associate Professor of Medicine, Perelman School of Medicine, University of Pennsylvania
• 5:10 PM—5:40 PM: Panel Discussion
Donna Matlach, Asthma Trial Participant
Colleen Ziegler, Lung Cancer Trial Participant
Christian Ramirez Martinez, Clinical Research Enrollment Manager, Columbia University/ All of Us
Cathi Thomas, Program Director of the Parkinson Disease and Movement Disorder Center at BUMC and Coordinator of APDA I&R Center
Jaime Houde, EMD Serono
Rodney Winley, CSL Behring
• 5:40 PM—5:50 PM: Q&A
• 5:50 PM—5:55 PM: Virtual Health Tips
• 5:55 PM—6:00 PM: Med Hero Ceremony & Raffle
We're excited for you to join us on April 15th to learn more about clinical trials and how they work.
HOW WILL I SIGN IN?
It's Easy to Sign in to the Webinar!
1. A link to the Webinar Platform will be sent in your confirmation email and reminder email 2 days before the event
2. Follow the link and click "Already Registered"
3. Enter your Email Address
4. You're In!