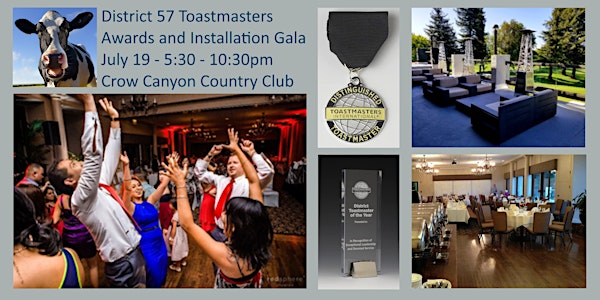 Awards & Officer Installation Gala
When and where
Location
Crow Canyon Country Club 711 Silver Lake Drive Danville, CA 94526
Description
Mark your Cowlendar
In honor of our favorite cowgirl, District Director, Diane Pleuss, this event is true COWlifornia! Even though Diane left WisCOWsin over 20 years ago, and settled into COWncord, you just can't take the farm out of girl.
Join the herd! Dignitaries include: Holstein Dior, Helen Guernsey Brown, Estee Fodder, Moodona and you!
Agenda:
5:30pm Games and Cowcktails: no host beverages on the Back 40, aka, the patio
6:15pm Fancy Feedbag dinner with Make your own Sundae and mulch, mulch more
7:15pm Awards Presentation, Installation and Toast.
9pm Dance till the cows come home – or 10:30pm, whichever comes first.

De-Tails
Dress: black and white attire is always an appropriate fashion statement.
Awards: Educational achievements from July 1, 2018 to June 30, 2019 not awarded at the Annual Conference including Triple Crown, OATM, DTM, individual program/level awards as well as Toastmaster of the Year, Division Director of the Year, Area Director of the Year, Club of the Year and some surprise awards, too.
Cowbells: Optional.
Toasts: Should be amoosing, cowsiderate, 2-3 minutes and yes, legend dairy.
Music: I'm a Bulliever, I Can't Get Hereford Off My Mind and Simply Irresistibull.
Registration Deadline: Friday, July 12 or you'll be pasture prime.
Refunds: Non-refundable but fully transferable.
No sacred cow has been left unmocked. Look for our pics on Insteargram.
Moochas gracias.