Featuring the "Farm Family" of the year
About this event
Our program will feature the award-winning Roseville mushroom grower "Farm Family" of the year. Nick Robinson, proud owner of the urban organic farm, will share his journey to create R&R Cultivation, and share his knowledge of shipping 1,500 pounds of mushrooms each week to farmers markets, co-ops and grocery stores. He will bring samples and we will have a small gift to take home. The meeting will be held at the Wicked Wort Brewery in Robbinsdale, where we can relax with a delicious Costa Rican Buffet meal from Marna Catering and fresh fall brew.
Guests and students are welcome to join us!
COVID precautions: Masks are recommended when not eating or drinking.
Speaker Bio:
Nick Robinson is a Twin Cities native with a passion for growing fresh, gourmet mushrooms. After getting married in 2012 Nick lived in Shanghai, China for 3 years and visited 12 different countries to explore more of what the world had to offer. After returning home, he started finding ways to give back to his community in a local and meaningful way. After working in education for 3 years and serving on a school board, he was drawn into the world of sustainable living and urban farming through his friend, Lance Ramm. This was where the idea for R&R Cultivation began.
Schedule:
5:15 pm-5:45 pm Check-In
5:45 pm-6:15 pm Welcome and Dinner Served
6:15 pm-7:00 pm Program
7:00 pm-7:15 pm Announcements/New Member Introductions
7:15 pm Program Ends
Students are welcome to attend! Please reach out to your network, and encourage some up-and-coming young professionals to join us! We have 2 student scholarships available for this program. Email hello@fcsprofessionals.org if you or someone you know are interested in receiving a complimentary registration.
RSVP Deadline:
Registrations are due on, or before, 4:00 pm Monday, October 25, 2021.
Other Details:
Guests are welcome!
Location is at the Wicked Wort Brewing Company, 4165 West Broadway Ave, Robbinsdale MN 55422.
On street parking is available, or park in the lot behind the brewery. We will be meeting in the lower level. Look for a sign to find the location.
Ticket includes a meal from Marna Catering and one beverage.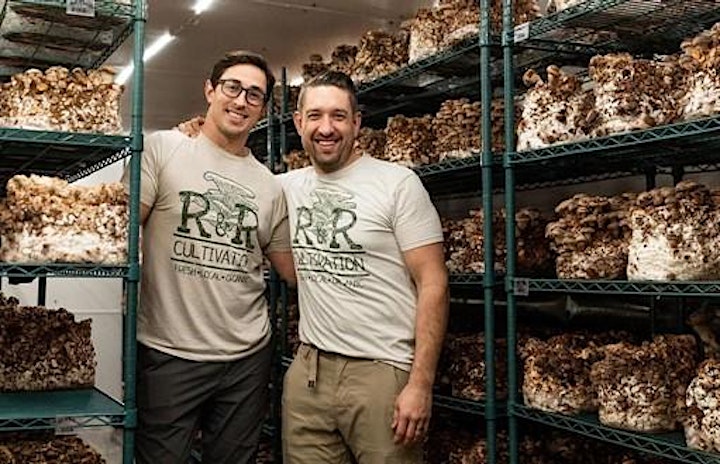 Organizer of Award Winning Mushroom Grower Nick Robinson