Award Ceremony - Cutest Child of the Month September 2017 St.Helens
Event Information
Location
St Anne Social Club
40
Monastry Road
St. helens
WA9 3 3ZD
United Kingdom
Description
Award Ceremony - Cutest Child of the Month September 2017 St.Helens
Dear Guests,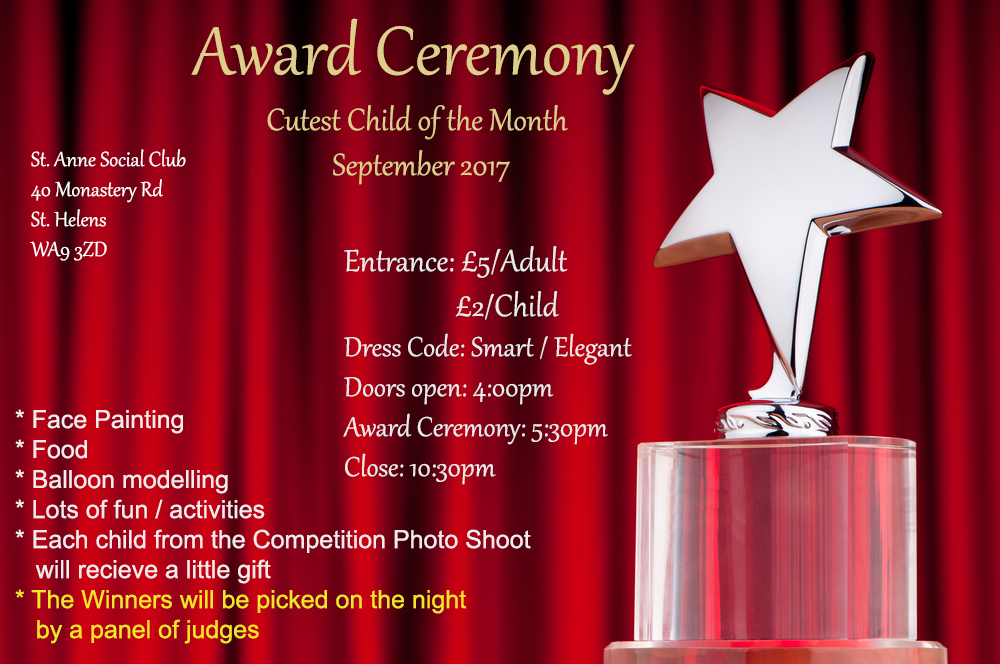 St. Helens would like to present you the " Cutest Child of the Month September 2017" on Friday 1st September 2017. You are welcome to join the Award Ceremony.
It is taken place at:
St. Anne Social Club
40 Monastry Road
WA9 3ZD
Entrance:
Adult : £5
Child 2+ : £2
Dress Code: Elegant / Smart
Doors are open at : 4:00pm
Award Ceremony at: 5.30pm
Close: 10:30pm
We will have :
* Some special guests attending our award ceremony.
Leanne Woodall editor of Natural Sparkle Magazine as well as chief editor and manager of Natural Sparkle TV along with national and international Beauty Queens to award our winners on the evening
* Food
* Lots of activities!
* Face Painting
* Balloon Modelling
* Glitter tattoos
* Treasure hunts!
* Tinkerbell/ disney princesses performing
* Syprise special guest for the children
* Gifts for each child
* singers in the evening
* raffle tickets
You can bring your children and friends with you.
How the Competition worked. We had all Photo Shoot done at brigitte Photography Studio.
Competition Photo Shoot time :
31st July - 29th August
Editing photos time:
13th - 29th August
Leanne Woodall editor of Natural Sparkle Magazine as well as chief editor and manager of Natural Sparkle TV along with national and international Beauty Queens to award our winners on the evenin
Age Categories
Age : 0 - 2 years ( Three Winners )
Age: 3 - 6 years ( Three Winners )
Age : 7 - 10 ( Three Winners )
Announcement of Winner for each Age Category:
1st September 5:30PM
See you soon
Kind Regards
Brigitte Robertson
www.brigittephotography.co.uk
Date and Time
Location
St Anne Social Club
40
Monastry Road
St. helens
WA9 3 3ZD
United Kingdom
Refund Policy