| | |
| --- | --- |
| Awalim's Foundation Revelations: Dance Technique Building Series | |
Event Details
AFBD presents
Awalim's Foundation Revelations: Dance Technique Building Series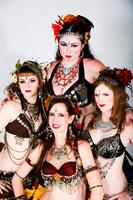 Explore key dance concepts to give you a base for studying with a variety of instructors and workshops. This workshop series will give you a foundation to hear and communicate basic dance concepts. Over the years, Awalim Dance Company has welcomed a wide variety of dancers and we want to share our experience in communicating across Egyptian, Turkish, Tribal Fusion, ATS Improv, and American belly dance styles.

The workshop curriculum is designed to foster your intellectual, artistic and professional growth and prepare you to study a wide variety of styles and levels. This workshop series will improve your rhythm, flexibility and endurance and create a foundation for formal belly dance training. Dancers interested in any style of belly dance will benefit from the material of these workshops.
Saturday June 25- SESSION 2 Endurance Techniques
Hours of rehearsal! Restaurant gigs that go all night, only to have to get up to do it again that night! Back to back classes! Plus one of Bellydance's most amazing aspects is the longevity that a dancer can have. All these aspects present special challenges that energy conservation can help with. I mean really, why do more work to produce a move than you need to?


***THIS SERIES OF WORKSHOPS IS BENEFICIAL TO ALL LEVEL DANCERS:
How Shoulders & Hip joints work

Revealing the ultimate, mind-blowing potential of "Basic Position"

Using your muscles, not your skeleton, to power moves


Saturday July 9- SESSION 3 How to Simplify What Seems Complex
This class will give any dancer a good base to study with any international Bellydance star! Stop being frustrated when attending seminars, with a  good foundation you can do anything. This workshop's goal is to stop the "I paid $80 for this one move because it is all I can remember" syndrome.
How to discern what a dancer's feet are doing- common footwork patterns to recognize and simplify. Stop being frustrated with the basic portions of workshops so that you can really grab the essence of what an instructor is trying to convey!

How to break dance down into simple parts to make class and workshops you attend fit together and be more relevant to each other. You will receive tools to better understand how simple this can all be.

Beginner dancers  will walk away with a strong foundation that will prepare them for any style of belly dance, whether in a class, workshop, or learning a new choreography.

Intermediate dancers should grasp a more streamlined approach to studying with a variety of instructors.

Advanced dancers will experience a different approach to communicating with students and troupe mates, learn techniques to keep their bodies safe that will elongate their dance career, and help build endurance for those long nights of restaurant work or show performances.

LOCATION
All workshops will be held at Atlanta Fusion Belly Dance 500 Bishop Street NW Suite F6, Atlanta, GA 30318

DATES   (all workshops are from 2pm-4pm at AFBD)
Saturday April 30- SESSION 1 Relearning How to Walk
Saturday June 25- SESSION 2 Endurance Techniques
Saturday July 9 (DATE CHANGE)- SESSION 3 How to Simplify What Seems Complex

COST
A la Carte: $30 per workshop in advance/$35 per workshop at the door
Where
500 Bishop Street NW
Suite F-6
Atlanta, 30318