Awakening True Women's Power: Connecting to the Divine Feminine Avatar

Tuesday, April 11, 2017 at 3:00 PM

-

Monday, April 24, 2017 at 10:00 AM (WITA)
Who's Going

Loading your connections...
3 of your friends are going.
Share it to get more people on board!
Share

Sara Haughty
San Francisco, California

Luke Picard
London, United Kingdom

Rick Vespucio
Florence, Italy
Event Details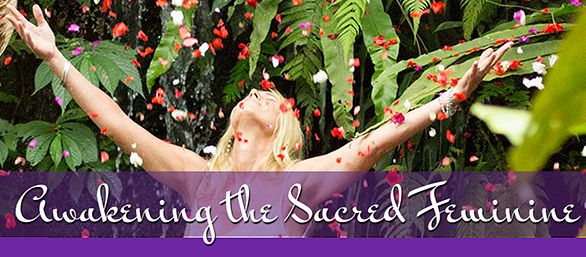 Are you feeling fully Alive, Joyful, Free, Powerful, Unlimited, and Creative?
Are you Fulfilling your Life Purpose?
Are you in Presence of I AM the Source of Life, Light, and Love?
Join us for an Adventure in Bali! This 8-day retreat (and 5-day optional tour) will be held at the Nirarta Center for Living Awareness in Bali, Indonesia. Nestled in this beautiful, lush nature we share an in an intimate, empowering journey.
8 Day Retreat: April 11th - April 19th 
Investment Includes: Two Courses, Workshops, Yoga, and a Creative Day of Soul Painting. Balinese Water Ceremony and FireCeremony. Shared Accommodation. 3 Vegetarian Meals per day made from organic produce; gluten free, chicken and fish available upon request. Payment of taxi from the airport.
Price: $1800 USD (with a $1000 deposit due by December 31, 2016; full balance must be paid by March 28, 2017)
Early Bird Special: $1620 USD paid in full by December 31, 2016
(OPTIONAL) 5 Day Tour of the Island of Goddesses: April 19th - April 24th
Investment Includes: Continued accommodation at the same venue for 3 more nights, 2 nights in the cultural and spiritual heart of Bali, Ubud. Breakfasts (lunches and dinners will be out at various restaurants, enjoying many of the delicacies of Balinese food. *not included in the price). Transportation and Guides.
Price: $1500 USD (with a $750 deposit due by December 31, 2016; full balance must be paid by March 28, 2017))
Early Bird Special: $1350 USD paid in full by December 31
Contact Sophia Magdalena or Sandy Levey-Lunden to purchase tickets. Contact information is listed in the event organizer column to the right.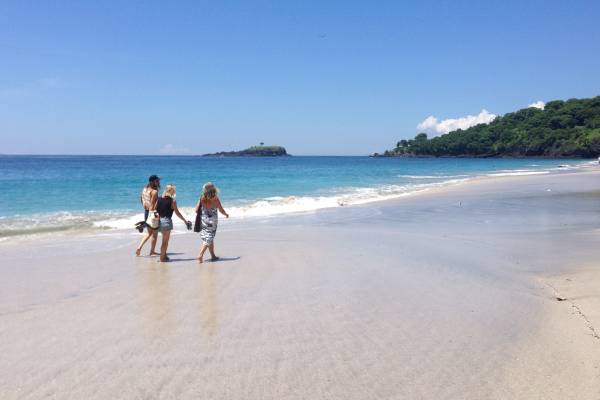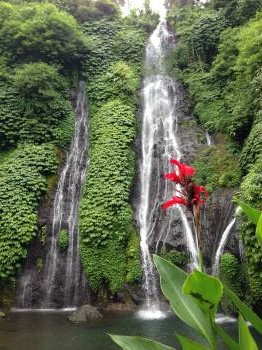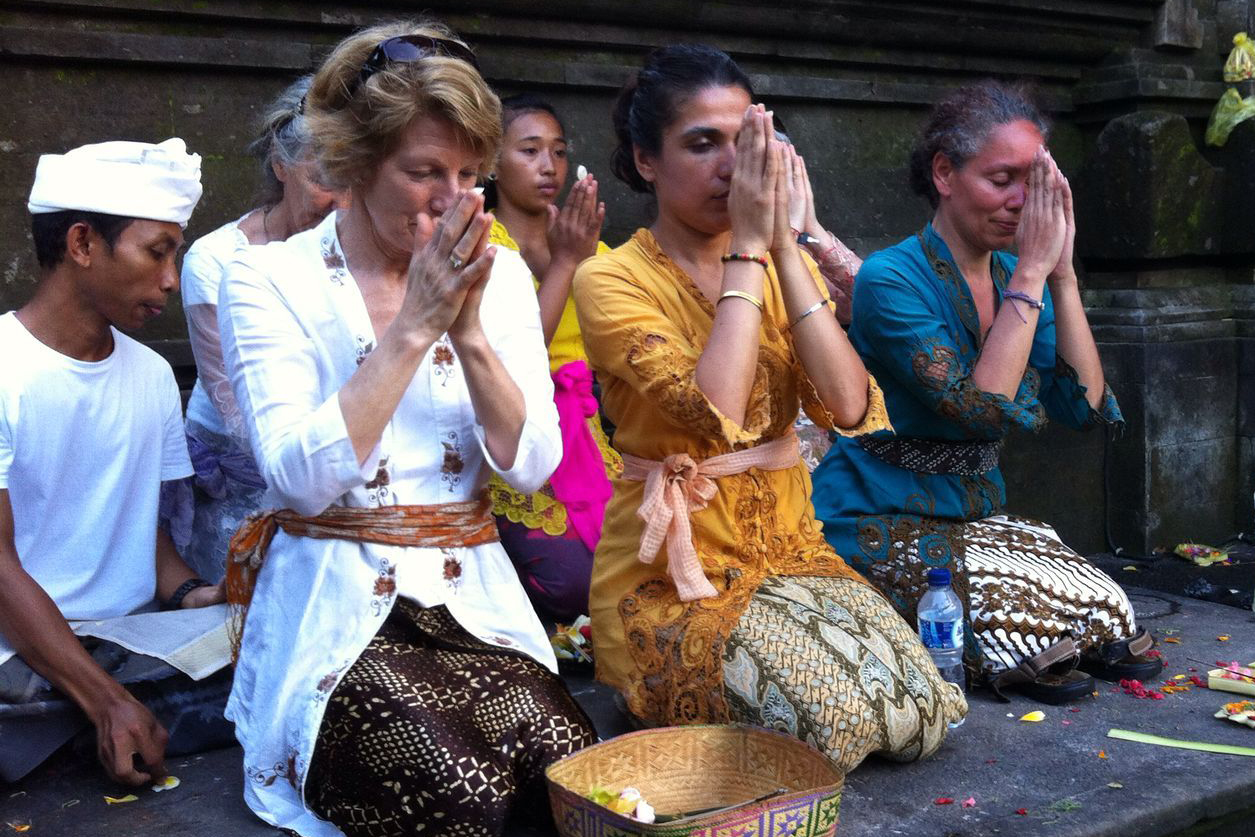 Offering Two Retreats in One

1. Sophia Magdalena presents "Awakening the Divine Feminine Avatar"

www.facebook.com/awakeningthesacredfeminine
2. Sandy Levey-Lunden presents "OUTLAW: The Outrageous Unstoppable Leadership Adventure for Women" 
 www.sandylevey.com/courseschedule
Sophia Magdalena & Sandy Levey-Lunden invite you to make this empowering journey together with them.
Awakening the Divine Feminine Avatar

Taught by Sophia Magdalena

Inviting you to unleash the Passion, Wisdom, Compassion and Unconditional Love of True Feminine POWER.To willingly make a journey within, an exploration of inquiry into the negative conditioned beliefs we hold of ourselves as women, along with the Guilt and Shame of Sexuality. In Trusting Self Love, we empower ourselves as women as we purify and embody the Sacred Feminine. Share what arises within the safety of the Sacred Circles. Energetically holding Presence and space for each other to feel more deeply, supporting each other in Clearing Beliefs and Returning to Our Original Innocence.
This course includes the following:
Conscious and Connected Breath Work, Re-Birthing

Clearing Beliefs

Vinyasa Yoga

Sacred Soul Dancing,

Sound Healing

Sacred Sharing Circles

Balinese Water Blessings

Purification Ceremonies
OUTLAW: Outrageous Unstoppable True Leadership Adventure for Women

Taught by Sandy Levey-Lunden

Do you ever feel that you are destined for far greater things than you've achieved?
Do you ever stop yourself from being too loud, too different or too much?
Do you feel stifled in your ability to fully express your creative talents? 
If so, join in this extraordinary 8-day journey that will lead you to actualize the potential you KNOW you have! Imagine what you could achieve once you give yourself the license to BE 100% YOURSELF, create a VISION for your life, and develop an UNSTOPPABLE MINDSET!
In this course you will:
Stretch the limits of what you think is possible in your level of OUTRAGEOUS and level of creating the PURPOSE of your life

Discover and release whatever is in the way of your being UNSTOPPABLE in




creating your life your way

Learn to play 100% POWERFULLY in your life, in your community and in the




world, as a leader on the EDGE
This course is for WOMEN WHO DARE to have it all.Play full out and discover that anything's possible. Since the course will take place in Bali, it will stretch out ability to be in a completely new culture, and provide us with the opportunity to release our judgments, fears and anxieties.
OPTIONAL: Sacred Tour of the Island of Goddesses
April 19-24, 2017
HEAVEN is HERE, there is no other place. HEAVEN is NOW there is no other time.
The tour is a continuation of the Retreat as we stay together as a Group integrating this transformation process, supported by the Balinese traditional healing practices.
We will be taken each day to visit some of the most Sacred Temples in Bali; the Mother Temple, The Water Temples, the Rice fields, Volcanic mountains and Waterfalls. 
Pampered, Nourished, and Nurtured by Beauty and Love of the Balinese.

Included in the Tour we offer you Balinese Massage and Dance performances and time to Swim and enjoy the local lunches on beaches as well as visiting the heart of Bali, Ubud, where we will be staying for the tour.

We continue the Journey. 
Purifying and Embodying,
Integrating and Activating our Power as Women, as Avatars of the Divine Feminine. 

We will be staying at a Beautiful Hotel and Spa in Ubud, which is the cultural and spiritual heart of Bali, for five nights, including breakfast and a spa treatment. 
Lunches and dinners are not included as will be out at various restaurants savouring many of the delicacies of Balinese food. 
Extended Details on Elements of the Retreat
Daily Schedule

| | |
| --- | --- |
| Time    | Event |
| 7:00-8:00 | Morning Exercise: Yoga, Qigong, etc. |
| 8:30-9:30 | Breakfast |
| 10:00-12:30       | First Session - Seven Portals of the Yoni: Purification & Cleansing of Emotions attached to conditioned beliefs of Sexuality Womb Healing |
| 12:30-13:30 | Lunch |
| 14:00-17:00 | Second Session - Frequency Wheel, Transmuting Core Beliefs, Radical Inquiry, Love Breath, Sacred Dance, Sound Healing |
| 18:30-20:00 | Dinner |
| 20:00-21:00 | Evening Activities supporting the Creative Expression |
Love's Breath: Conscious Connected Breath-Work

An invitation to feel the Essence of Love flowing and expanding from the Heart, connecting ecstatically to the Divine Light, to the source of all Creation. Love's Breath is a journey of making the home in the breathing, relaxing into the breath, and softening what is rigid within.
Breathing with connected conscious breath, feeling within, with sound and vibrations you are guided to move through the gateway of the yoni into the womb, surrendering into the darkness, burning in the flames of forgiveness, and returning to Innocence, to Wholeness, to the Divine Mother, to Unconditional Love.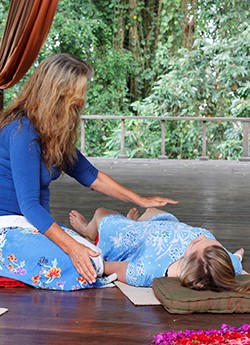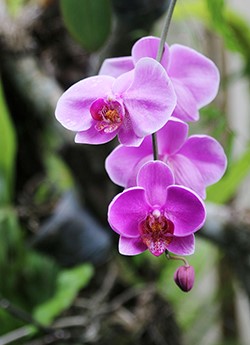 Radical Inquiry
A guided transformative journey bringing awareness to limiting core beliefs of sexuality and patterns of behavior in unloving relationships. Through embracing emotions and deep-rooted fears attached to sexuality, an alchemical journey of forgiveness is made, as the remembrance of the deepest Truth and Wisdom of the Feminine Returns. Thus opening to spaciousness new frequencies and new choices can be made to set the Feminine Free to feel the Power and Sacredness of Sexuality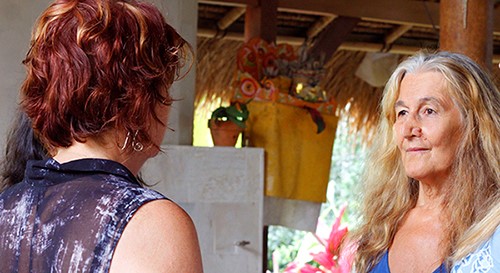 Soul Painting with Iona Leishman
Luscious swirling paint reflecting movement and emotion from the heart and soul. Vibrant color in strong darks and zinging lights reflecting our inner power. 
Throughout this course, I will be there to guide you into your soul painting, your creative heart expression about which there is no judgment, no right or wrong way.
In Balinese, the word 'taksu' means anything from the heart or soul.  Welcome to taksu painting.
Iona Leishman has been a professional artist for more than ten years. This will be her third trip to Bali and the effect its energies has on her work is very deep. Here, she explores and releases her creative heart and soul expression and will enable you to do so also.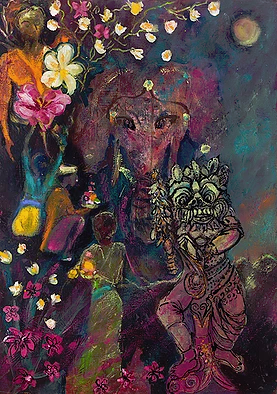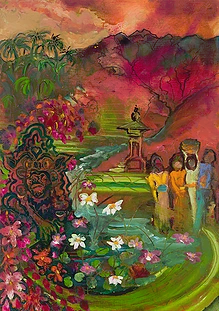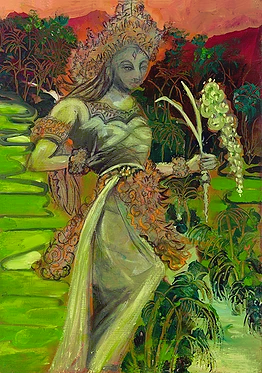 Yoga, Tantra, Vinyass
Every morning we will start our beautiful day with a gentle vinyasa yoga inspired by a feminine Shakti flow, working with tantric energies of Goddesses.
You will be led each morning into embodiment of the Divine Goddess frequencies through this deep yoga practice. 
Immersion into the Balinese Culture of Spiritual Purification

FIRE PURIFICATION
Burning and releasing all that no longer serves and embracing the new frequencies of the Sacred Feminine. Giving Blessings and Praise Declaration of I Am.

WATER PURIFICATION
Water temple visit to cleanse and purify the Goddess the Divine connecting to Source, the flowing of Unconditional Love. Embracing our feelings, flowing into an Ocean of love.

AIR PURIFICATION
As we breathe, we Inspire, breathing in spirit, we live and embody the very Life-force within us bringing us the Joy the Bliss and Sensuality of the Divine Feminine.
EARTH PURIFICATION
Walking, Meditating, Connecting to the natural Beauty surrounding and supporting us, to Mother Earth, who is Creator of All, birthing new paradigms of Loving Relationships.

Travel & Accommodation
The Venue

We will be staying at Nirarta Center for Living Awareness in the village of Sidemen in the central heart of Bali, nestling in a secluded rice field village, 30 min from the ocean. Shared Accommodation; Traditional Balinese bungalows each with its own terrace overlooking spectacular views of the mountains and terraced rice fields. http://www.awareness-bali.com/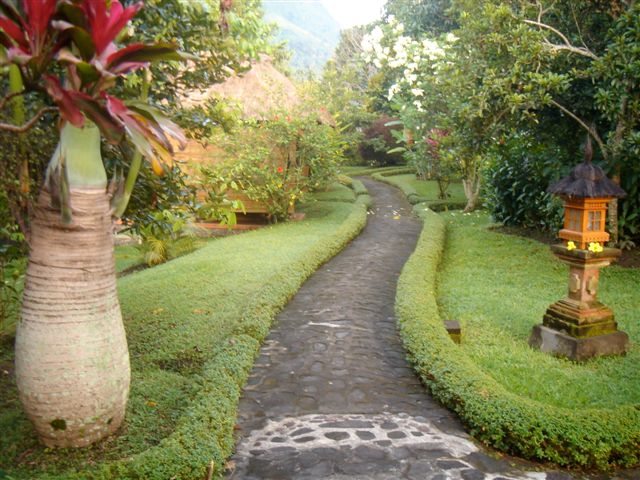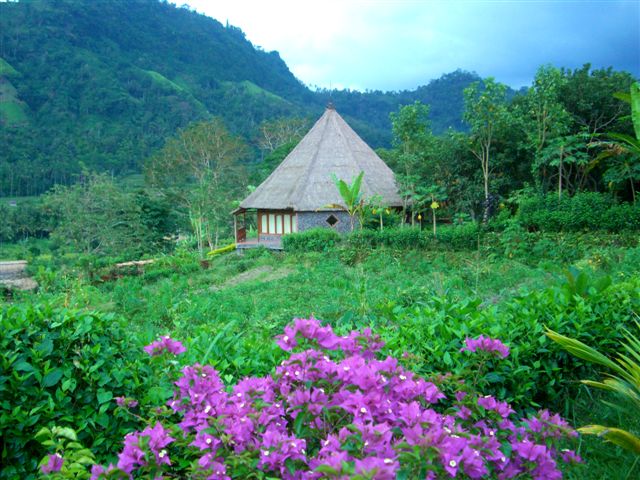 Food
Three Vegetarian Meals, optional fish and chicken will be available as part of our menu, all made from local organic produce. Natural juices, herbal teas, tea and coffee available. For any specific food requirements and concerns please contact us.


Travel Arrangements
We can arrange travel for participants coming from Sweden, the United Kingdom, and the United States. We can suggest which airlines and tickets to purchase so that participants can travel together in groups. Participants will be collected at the airport or from Ubud on the 11th of April 2017.
When & Where

Nirarta Centre for Living Awareness
Karangasem
Sidemen, Bali 80864
Indonesia

Tuesday, April 11, 2017 at 3:00 PM

-

Monday, April 24, 2017 at 10:00 AM (WITA)
Add to my calendar
Organizer
Sophia Magdalena & Sandy Levey-Lunden
Sophia and Sandy met each other this summer in Sweden and wroked together in several courses including the Warm Water Re-Birthing Training. Sandy has always dreamed of going to Bali and went for the first time last year for the 2016 Bali Retreat - she is very excited to be going again this year. Sophia lived in Bali for 10 years including 7 years at the Way of Mastery Ashram with Jayem. Sophia loves Bali and wants to share the sacred spaces and mystery of Bali with other women on this spiritual journey.
Sophia Magdalena
https://www.facebook.com/verena.mostyn?fref=ts 
verenamostyn@gmail.com
+62 73 736 1831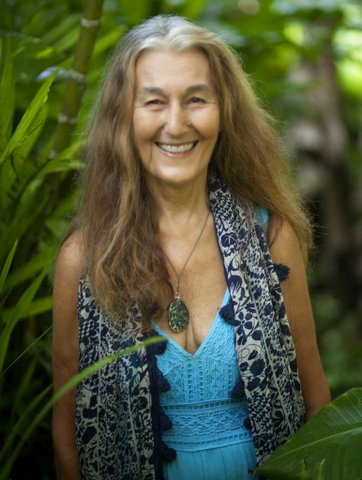 Sophia Magdalena's experience of being a conduit for Healing, "embraces a lifetime of learning from owning my experiences as my creations, and embracing the deeper beliefs that have caused me to live in fear and in pain." In so doing I now see the shadow side as jewels at the end of the rainbow that have brought me to a place of deep self- forgiveness, compassion and love". 

Sophia has dedicated herself to Healing and to Serving from the early days of human personal development in San Francisco where she lived in the 70s. Here she studied Physic Healing and Radical Self Inquiry along with energy work which is now called reike.

She has for the past five years been extending her healing empowering practices in facilitating Love's Breath and as a Life Coach giving private sessions and facilitating workshops, for men and women and in facilitating Retreats for Awakening the Sacred Feminine for women, in Sweden, The UK, France, Italy and Bali.

Sandy Levey-Lunden
onpurpose@sandylevey.com
(360)527-2796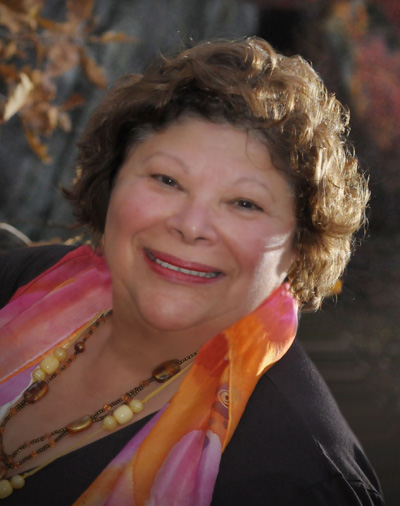 Since 1984, Sandy Levey-Lunden has been sharing her Divinely Received courses with spiritual seekers around the world. Driven to continually unearth the greatest and most challenging questions that reside in each of us, Sandy has based each of her 16 courses off of Inspired and integral points of Personal Growth. For more than 35 years, Sandy has brought healing through her course-work, life-coaching and public speaking to Australia, Hawaii, Germany, Spain, Sweden, Scotland, England and Estonia, finding that in the heart and the spirit, we are all the truly the same. She is widely known for receiving her breakthrough Power of Clearing Process in Sweden in 1990. After moving between San Francisco, Los Angeles, Hawaii and Sweden, Sandy now resides in Bellingham, Washington, on the West Coast of the United States. 

Inspired by one female client's desire to challenge herself fiercely and transcend her own limitations, Sandy created the Outrageous Unstoppable Woman's Leadership Adventure. Combining her popular Art of Personal Marketing techniques, and her course "Taking Your Place as a Leader in the World," Sandy's OUWL enables every woman to dissolve everything that has ever held her back from sharing herself at the deepest level of her heart.


Testimonials
"Sophia really created a sacred space for the workshop and she has a gentle sensitive way of guiding that I believe is a true gift. I'm so grateful for the change that happened to me. Instead of feeling guarded and controlled, by the end of the workshop I felt ready to let go and open up to trust and to receive love. Today I want to celebrate that I'm a woman and I feel so much more trust and strength in myself and who I am." - Mia, Sweden.


 

 

"I would absolutely, positively recommend this course to someone else. Never before have I felt so loved, safe and supported in processing my damaging beliefs. The ratio of one facilitator per student is very rare if not unheard of. Each facilitator is blessed with special healing gifts that could be utilized whenever emotions were bring needed to cleared or released. I finally feel true, whole and complete. I am free to be me.Thank you for offering such a powerful gift of total, unconditional love and support… something I have never experienced until today!!" - Mahlia

Awakening True Women's Power: Connecting to the Divine Feminine Avatar