Awakening to the Heart of Oneness, Co-Sponsored by the Windswept Center, SLC, Ut.

Friday, November 19, 2010 at 6:30 PM

-

Sunday, November 21, 2010 at 6:00 PM (MST)
Event Details
Windswept Center, One Mind Studio, and Awakening Oneness presents... Read On... and note our Special Pricing for Thanks Giving, 2 for 1, paying our success forward with blessings for you.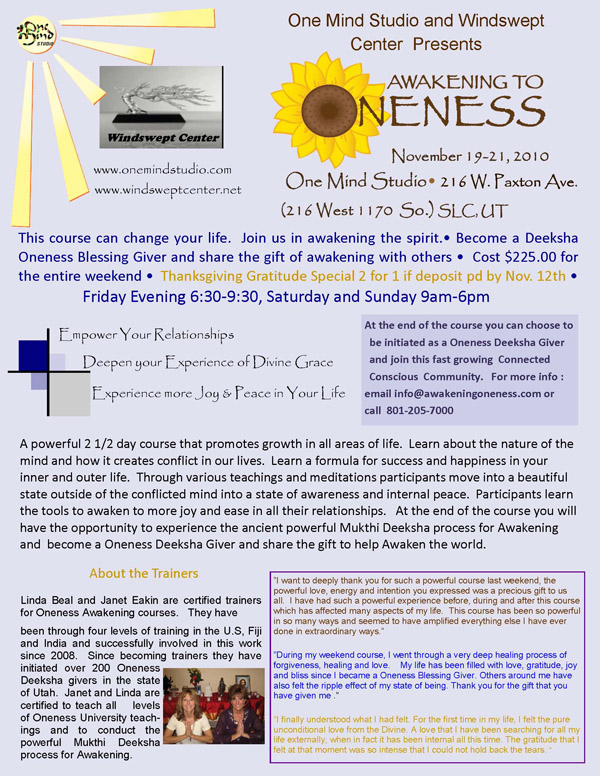 About our Co-sponsor "The Windswept Center", Founder, Vickie Parker,
Vickie joined us at our last Awakening to the heart of Oneness Course. As we joined together during the weekend and Awakening became apparent to her. She now has integrated Deeksha Oneness Blessings into her readings. Further enhancing and bringing in more of the Divine to her already thriving practice. Vickie has jumped in with both feet creating a Monday Night Deeksha at her location The Windswept Center.
Vickie is offering both Friday and Monday before and after this course.  A special pricing for those that are attending the course.  An opportunity to experience her readings at her location in SLC. Check her website for times available and location.  www.windsweptcenter.com
Vickie's, RADIO SHOW
I created my radio show to not only introduce people to me but to give people information on what being psychic is about and how to use it.  I also introduce people to the pieces of our psychic energy system so they can understand their selves.  There is much more to the psychic world than reading people.  So my topics are varied and eye opening for my listening audience.  I really love doing my shows I feel great that I can make changes in people's lives, Janet and Linda will be joining Vickie on her show the 14th of Novemember, 6:30 pm. http://www.windsweptcenter.net/reawaken.htm
When & Where

One Mind Studio
216 W. Paxton Ave
216 W. 1170 So.
Salt Lake City, UT


Friday, November 19, 2010 at 6:30 PM

-

Sunday, November 21, 2010 at 6:00 PM (MST)
Add to my calendar
Awakening to the Heart of Oneness, Co-Sponsored by the Windswept Center, SLC, Ut.