Description
Spend the weekend with a group of loving, creative, and supportive women. We will practice strengthening and restorative kundalini yoga, meditation and sound healings, engage in the expressive arts of dance and art making, share in earth based shamanic practices and connection, dive into selfcare and ayurvedic tools, and eat healthy and nourishing food.
If you have questions please contact Gurudev email / (505) 690-0040
Your facilitators: Gurudev, Deva Khalsa, Lisa de St. Croix, and Michele Rozbitsky
See Facilitator Bios below the schedule
Check-out Synergia Ranch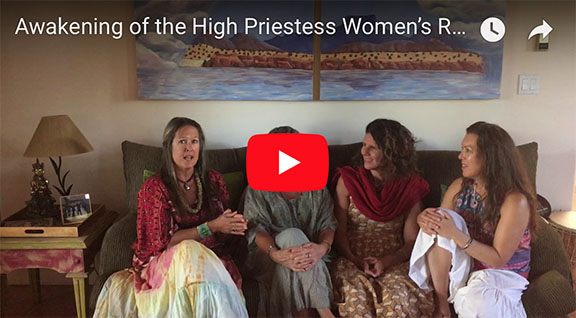 Schedule:
Friday
10:00am Registration/Check-in
11:00-12:30 Meet and Greet
12:30-1:30 Lunch
1:30 - 3:00 Opening Ceremony
3:00-5:00 Check-in, Yoga, Pick your Tarot Card
6:00-7:00 Dinner
7:00-9:00 Yoga / Gong Healing
Saturday
5:00-7:00am Sadhana (optional)
7:00–8:30 Breakfast
8:30-9:00 Yoga warm-up
9:00-11:00 Descent of the Goddess / Priestess Rising
11:00-12:30 Rebirthing Kriya
12:30-2:00 Lunch
2:00-4:00 Make Your Crown
4:00-6:00 Free Time - Readings, Consultations, Rest, Hike
6:00 -7:00 Dinner
7:30-9:00 5-Rhythms Dance Experience
9:00-10:00 Evening meditation / Gong Healing
Sunday
5:00-7:00 Sadhana - Morning yoga and meditation (optional)
8:00-9:00 Breakfast
9:00-9:30 Yoga/chanting
9:30-11:00 Make Goddesss Icon
11:00- 12:30 Shamanic Walk About Deep Nature Journey
12:30-1:30 Lunch
1:30-3:00 Self Care Checklist and Ayurvedic Wisdom
3:00-4:30 Closing Circle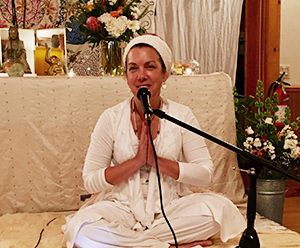 Gurudev (Elizabeth)
Gurudev has been a KRI certified Kundalini Yoga Teacher since 2000. She was a teacher and business partner in Golden Bridge Hollywood before she moved to Santa Fe, NM to raise her daughter, Noelani who is now 13 years old. From 2010-2013 she was the Marketing Director for 3HO Foundation during which time she started the Yogic Living series, created the Live to Give Grant Program, developed online webinars, and implemented innovative programming at the Solstice Events. She started Sacred Kundalini (now BePeace.Yoga and The Kundalini Yoga Co-op Santa Fe),and is certified in Trauma Informed Yoga and teaches several classes a week at homeless shelters, group homes and treatment centers. www.bepeace.yoga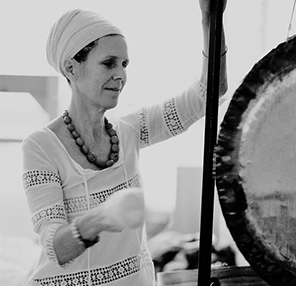 Deva K. Khalsa, AHP, BA, RYT is an Ayurvedic Health Practitioner, cookbook author, cleansing expert and Yoga teacher. Deva embodies the spirit of a healthy lifestyle and began practicing yoga in Vancouver, Canada in 1992. In 1996 she moved to New Mexico and began to personally study with Yogi Bhajan. In the Fall of 2009 Deva went back to school at the California College of Ayurveda and studied for 3 years to become an Ayurvedic Health Practitioner. Deva is the owner of Deva Health featuring The Cleanse of Santa Fe™ and Whole Self Recovery. In addition she is a certified Kundalini Yoga Teacher and a hypnotherapist. She also teaches Ayurvedic cooking and raw food prep classes. www.devahealth.com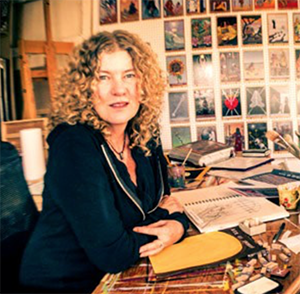 Lisa de St. Croix was born in Johannesburg, South Africa. She received her Bachelor of Fine Arts from the School of Visual Arts in New York City. Lisa has exhibited her art Internationally. Lisa painted and published the award winning Tarot de St. Croix. Lisa teaches workshops on art and tarot locally, nationally and internationally. Her art, tarot deck and writing have been featured in many publications. Currently Lisa is working on a Goddess deck which will be published in 2019. http://lisadestcroix.com/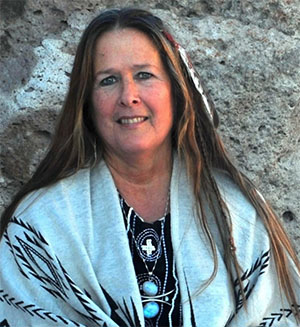 Michele 'Ama Wehali' Rozbitsky is a Shamanic Practitioner, Psychotherapist, Author, Teacher, and Ceremonialist for 28 years whose main experience and goals are all about the field of deep healing and transformation. Michele trains Apprentices and facilitates Sacred Marriages, Land Clearings and 13 Moon Women's groups as well. She started 'Peace Keepers', for the Eight Northern Pueblos in N.M and has participated in extensive teachings with Wisdom Keepers from many cultures including Native American, Mayan, Balinese, Peruvian and Hawaiian, weaving together the sacred Medicines of the Rainbow Bridge for future generations.

Michele has been filmed on the N.M. Naturopathic Show 'Shamanic Healing for Our Times' and the "Miracle Detectives" on the Oprah network, spoken at Holistic Fairs and on Radio. Her photo is in "American Goddess" and she was a speaker at the "International Gathering of the Leaders of the Feminine" as well as Ceremonialist at Star Dreaming Temple Labyrinths.
Author of "JOURNEY to the FIFTH WORLD: COMING FULL CIRCLE in HEALING and TRANSFORMATION"; which takes one on a powerful journey, bringing together New Age, shamanic, psychological and indigenous wisdom.`