Description
Welcome! If you have made it to this page, then we KNOW you are feeling called to experience greater health and more magic, energy, ease, joy, and flow in your body, relationships, money, and career.
We know you're ready to create a lifestyle that includes loving and nourishing yourself and your body. When we fill our own cup, our cup naturally overflows. Without pushing and forcing, we can BE a huge contribution to others. As we nourish and honor our sacred body temple, it activates our magic and shifts us into a more empowered state of living.
This means projects get birthed, visions become reality, magical collaborations take place with ease, and the limitations, exhaustion, and frustration are replaced with energy, vitality, self-love, and self-sovereignty.
What would it BE like to trust your body, your womb, the timing of your life, and your creativity? What would it be like to know what your secret super powers are? Would you be willing to stop going into the wrongness of you, and to trust yourself instead? What if you haven't created certain things yet, not because you aren't capable, but because you didn't know how to be ALL OF YOU?
When we learn about our bodies, our wombs, ancient self-care practices, and we begin to connect deeply to our magic and deep expanded awareness, something profound happens. It activates a shift. It literally re-aligns your energy and brings you back to the truth and beauty of YOU. And from this place, life is really fun! EVERYTHING becomes an opportunity to expand, play, enjoy, and create whatever you'd like to have more of!
As women, we are conditioned to think self-care is NOT a priority, that we're lazy or irresponsible if we focus on nourishing ourselves. We feel HUGELY resistant to making time for ourselves and we've been programmed with a long list of reasons/justifications, that keep sacred nourishment on the bottom of the priority list, which also keeps our self-love and empowerment at the bottom of the list.
How we prioritize sacred nourishment, is how we prioritize ourselves, is how we prioritize self-love, and how we prioritize our empowerment.
The way we choose to love ourselves (or not) will show up all over the place.
We're on a mission to empower all women. We believe that as you return to genuinely feeling like the Goddess you are, the children, men, the planet, and the whole universe will benefit.
These are the roles we play: Mother, sister, wife, boss babe, lover, friend, daughter, aunt, grandmother, granddaughter, cousin, super-woman, etc. But what about just BEING YOU, deeply and completely, unapologetically? ALL OF YOU, not exhausted fragments? What if being YOU is the most magical thing you can possibly be for everyone?
What would it FEEL like to cultivate a sacred, loving partnership with your body temple, no longer working against it, but respecting, honoring, trusting, and flowing WITH IT?
You're brilliant more than you know. You're wise beyond what you've been willing to acknowledge. YOU'RE the one who has all the answers.
Through awakening self-love sisterhood we will be stepping into a loving, shame free, and judgment-free zone. In this space together, we will release and let go of all the layers of programming and conditioning around what's healthy, what's good for us, and what we "should" or "shouldn't" be doing.
Instead, we will embody the unique medicine and wisdom we each carry within and allow this ancient intelligence to emerge and empower our choices and actions.
Sister, it's time to claim your health and vitality back. It's time to taste your own magic. When you're happy, the whole world heals!
It's time to understand and experience the power of sisterhood, and the magic that happens when women gather in sacred, safe spaces.
It's time to feel comfortable in that body of yours, to reconnect to your creativity, sexuality, sensuality, magic, and gifts.
Let's claim the Goddess back.
No more forcing yourself to do things that don't feel good.
Be DONE with feeling "Time Poor."
Create more time and space FOR YOU, with ease.
No longer feel frustration around your health and wellness journey.
Feel empowered, inspired, supported, excited, happy, and free instead!
Unleash your creative powers!
Return to a sense of ease and flow
Are you with us?
Introducing (drum roll please)...
AWAKENING SELF-LOVE SISTERHOOD
We are accepting 13 women only. We are ready for you, and prepared to be a HUGE contribution to you, and we are looking for women who WANT THIS.
This is not for everyone.
If you want more ease and flow around making money, exercising, making healthy choices, improving and increasing your intimacy, and birthing projects and visions into the world, then this is for you.
We can help, but you have to take action.
The results from these groups are beyond words.
We are setting up connection calls over the coming weeks, sending out our signals for the right 13 women for this container.
Are you feeling called?
TRUST THAT.
Are you willing to have more for yourself?
This is a virtual group, and we will meet on the New Moon and the Full Moon of each month, for approximately 8 months and for a total of 18 groups sessions. Our journey will begin on the New Moon on October 20, 2017, and end on the Full Moon on June 20, 2018.
A basic overview of what this self-love journey includes:
We meet on the New Moon and the Full Moon each month, which means we don't meet on the same day of the week for our calls. We are doing this to empower women to come into deeper alignment with the moon cycles, and therefore their own natural rhythms and cycles.

2 monthly calls on ZOOM (video conference calling)

S

acred Sisterhood FB group

Monthly connection calls with your fellow sisters

3 one-on-one deep dive coaching sessions with us throughout the 9 months

Womb healing and

Activating the Womb Wisdom (yes, even if, and ESPECIALLY if, you've had a hysterectomy).

Awakening the sacred masculine and feminine within you, and helping you cultivate more harmony and balance within yourself and in your relationships.

Embodiment, empowerment, and lots of encouragement!

The cultivation of ancient and sacred self-care practices that work perfectly FOR YOU, and bring you into deeper alignment with your body's wisdom.

Birthing your projects, visions, and ideas into the world.
Please register above.
If you'd like to connect with one of us first, please book your free connection call with us to explore this more deeply. calendly.com/erinlanahanmethod/60min
To register NOW and hold your spot, please do so at the top of this page.
To inquire about this more, book your free call here: calendly.com/erinlanahanmethod/60min
Thank you for saying YES to yourself!!!
As we heal, rise, and step into our power, the whole world benefits!
Meeting Dates are as follows:
Friday 10/20/17 6-7pm PDT (New Moon)
Friday 11/03/17 607pm PDT (Full Moon)
Saturday 11/18/17 6-7pm PDT (New Moon)
Saturday 12/02/17 6-7pm (Full Moon)
Sunday 12/17/17 6-7pm PDT (New Moon)
Monday 1/01/18 6-7pm PDT (Full Moon)
Tuesday 1/16/18 6-7pm PDT (New Moon)
Wednesday 1/31/18 6-7pm PDT (Full Moon)
Friday 2/15/18 6-7pm PDT (New Moon)
Friday 3/02/18 6-7pm PDT (Full Moon)
Friday 3/16/18 6-7pm PDT (New Moon)
Saturday 3/31/18 6-7pm PDT (Full Moon)
Sunday 4/15/18 6-7pm PDT (New Moon)
Sunday 4/29/18 6-7pm PDT (Full Moon)
Tuesday 5/14/18 6-7pm PDT (New Moon)
Tuesday 5/29/18 6-7pm PDT (Full Moon)
Wednesday 6/13/18 6-7pm PDT (New Moon)
Wednesday 6/20/18 6-7pm (Full Moon)
Love you,
Erin and Serra
More About Us...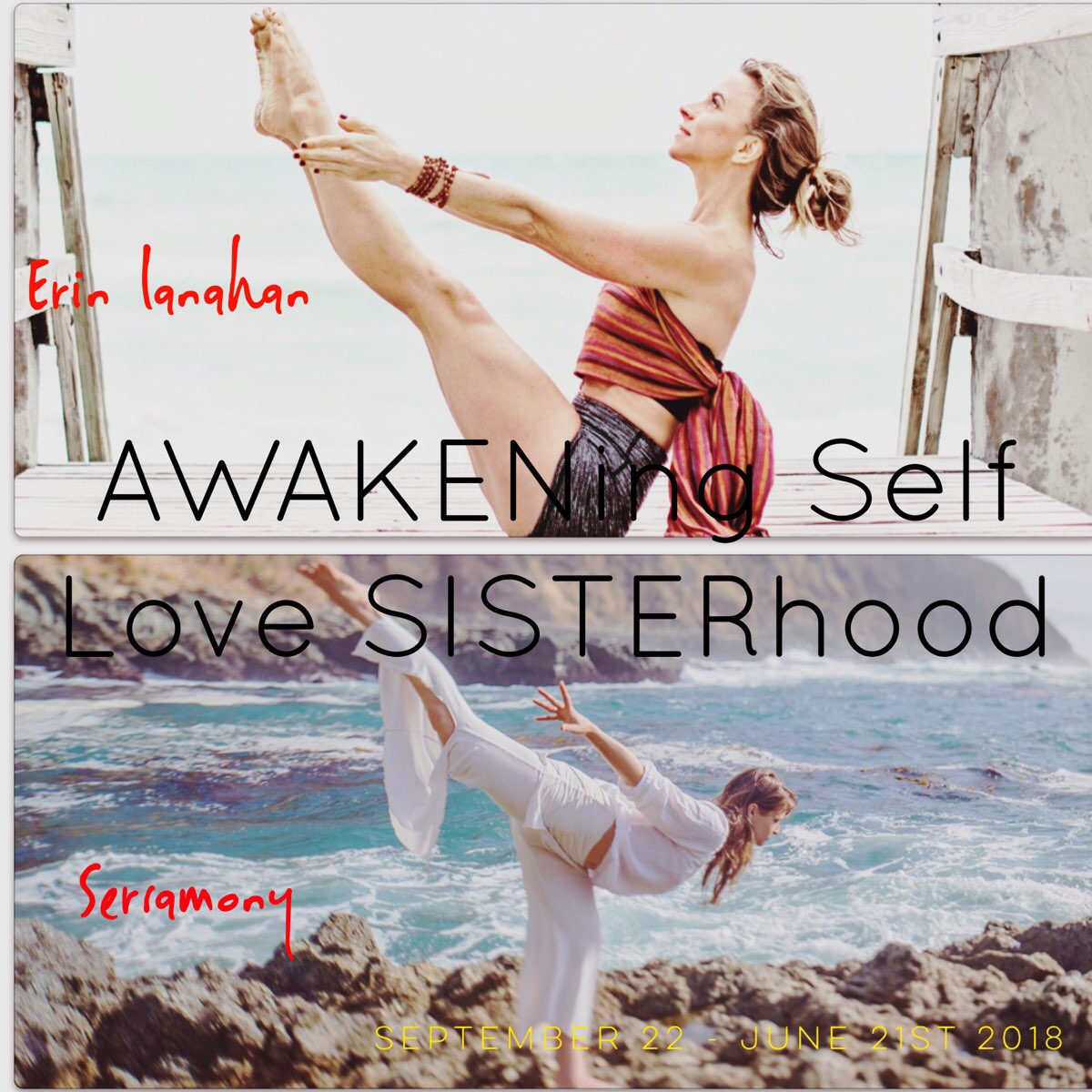 Erin Lanahan: I'm a transformational life coach, a Reiki Practitioner, an author, an internationally certified yoga teacher, a peace warrior, love soldier, and one heck of an optimist! I began working as a personal trainer to the stars in Los Angeles, CA and found that yoga, meditation, and spiritual work were the things that created lasting change. I became certified as a Holistic Health Coach, and began leading meditation, self-love, and healing workshops and groups around the world. I'm dedicated and devoted to being a catalyst for awakening on this planet, and to helping you activate your radical, magical self. Currently, my body of work has taken me deep into the Womb. I've facilitated Womb Wisdom ceremonies for women all over the world, assisting them as they reclaim their inner Goddess and awaken to their sacred feminine empowerment. I believe every woman has a great vision, and as she brings this vision to life, she brings great medicine to humanity. www.erinlanahanmethod.com
Serramony: Since 2008, I began diligently forging my own spiritual path and guiding others along their own path. I began teaching yoga, dance, meditation, and breath work as a vehicle for moving stuck energy. Since then I have taught and led teacher training and workshops internationally as well as globally. In 2016, I began experiencing debilitating back pain that completely shook the foundations of my own identity and offerings. It has been a humbling journey, and yet one I am deeply grateful for in the sense that it has refocused my efforts towards my true path and gifts as a Medicine Woman, Sound Alchemist, and Wisdom Keeper of the sacred feminine mysteries and midwife to the new higher dimensional Earth. www.serramony.com