Sales Have Ended
Ticket sales have ended
Our apologies! Ticket sales have ended. If you feel you have reached this message in error, please contact us at transform@erinlanahanmethod.com. We'd love to meet you! Love, Erin and Serra
Sales Have Ended
Ticket sales have ended
Our apologies! Ticket sales have ended. If you feel you have reached this message in error, please contact us at transform@erinlanahanmethod.com. We'd love to meet you! Love, Erin and Serra
Description
What would it be like to TRUST your body, your womb, the timing of your life, and your creativity and to know & fully embody your highest potential and greatest gifts?
As we NOURISH and HONOR our sacred body temples, fully ACTIVATE and FOCUS our minds on what we truly desire in our hearts and IGNITE the fire of our Spiritual purpose and path, we begin to SOURCE our sense of self-love from within.
We are UNSTOPPABLE.
We are MAGICAL.
We are EMPOWERED.
As we begin to awaken from a deep sleep, we begin to REMEMBER who we truly are.
Our dreams begin to actualize and magic unfolds before our eyes with ease, potency, grace, and joy!
From this place, we harness boundless energy for what we are birthing into life.
We are ALIVE and with this contagious joy, we INSPIRE others to wake up from their deep sleep as well.
And from this place, life is really fun! EVERYTHING becomes an opportunity to expand, play, enjoy, and create whatever we'd like to have more of!
Erin and Serra are positively passionate about empowering women to be whole people again, to remember how incredibly powerful and important we are as gatekeepers to the sacred portals of life and death, of creation and destruction. We believe that as you remember the Goddess you already are, that the children, men, our home (Mother Earth) and the entire cosmos will remember their power as well.
As we embark upon the journey of Awakening Self-Love Sisterhood we will open into a new story of ourselves; one that is loving, unapologetic, compassionate, raw and vulnerable.
Together, we will UNRAVEL the many layers of programming and conditioning around what's healthy and good for our well-being as a whole.
We will EMBODY the unique medicine and wisdom each of us carries and ALLOW this ancient intelligence to emerge and empower our choices and actions.
Sister, this is your RECLAMATION!!! It is time to take your rightful seat on the throne, to dust off the jewels and replace the crown upon your head, and to rule with the fierce grace of the priestess you are.
Our journey will begin on November 21st, 2017, and end on the Full Moon on August 14th, 2018.
A basic overview of what this self-love journey includes:
• BI-MONTHLY VIDEO CONFERENCE CALLS via *Zoom.

• Awakening Self-Love Sisterhood FACEBOOK GROUP
• Bi-monthly connection calls with your fellow sisters
• Womb healing and Activating the WOMB WISDOM.
• Awakening and uniting the divine masculine and feminine within as well as cultivating more HARMONY and BALANCE within yourself and your relations.
• EMBODIMENT, EMPOWERMENT, and INSPIRATION to potentiate your highest vision.
• The cultivation of ancient and sacred SELF-CARE PRACTICES such as yoni eggs, yoni steams, ceremonial menstruation and the use of herbs that work perfectly for you, and bring you into deeper alignment with your own body wisdom.
• Making potentially life-long connections and planting seeds for future collaborations amongst a tribe of women who hold the same vision for the future as you do, and who understand and support you your own unique path.
If your womb is singing a big YES then please feel free to set up an introduction call with Erin or I at calendly.com/erinlanahanmethod/60min
To register NOW and hold your spot, please do so at the top of this page.
Thank you for saying YES to yourself!!!
ONLINE VIDEO CONFERENCE CALL SCHEDULE: In order to empower women to come into deeper alignment with the moon cycles, and their own natural rhythms and cycles, we will be meeting on the New and Full Moons of each month as well as on special seasonal dates such as the winter solstice and Spring Equinox and Summer Solstice to honor the big shifts each of these events stirs up within us.
Tuesday 12/19/17 @ 5-6PM PDT: Serra & Erin (Opening Ceremony)

Tuesday 1/02/17 @ 5-6PM PDT: Erin (Deep Trust & Surrender)

Tuesday 1/16/17 @ 5-6PM PDT: Serra (Presence: Our Deepest Medicine)

Tuesday 1/30/18 @ 5-6PM PDT: Erin (Body Wisdom)

Tuesday 2/13/18 @ 5-6PM PDT: Serra (Womb Wisdom: Portal of Creation)

Tuesday 2/27/18 @ 5-6PM PDT: Erin (Rite of the Womb)

Tuesday 3/13/18 @ 5-6PM PDT: Serra (Awakening the Goddess)

Tuesday 3/27/18 @ 5-6PM PDT : Erin (Creating Time)

Tuesday 4/10/18 @ 5-6PM PDT: Serra (Personal Care: Yoni Steams, Eggs & Womb Care Products)

Tuesday 4/24/18 @ 5-6PM PDT: Erin (Just Be YOU!)

Tuesday 4/10/18 @ 5-6PM PDT: Serra (Blood Mysteries)

Tuesday 5/8/18 @ 5-6PM PDT: Erin (Let AbunDANCE flow)

Tuesday 5/22/18 @ 5-6PM PDT: Serra (Ceremonial Menstruation)

Tuesday 6/5/18 @ 5-6PM PDT: Erin (Divine Play: The Art of Making Light)

Tuesday 6/19/18 @ 5-6PM PDT: Serra (Herbs for Women)

Tuesday 7/17/18 @ 5-6PM PDT: Erin (Divine Feminine & Masculine)

Tuesday 7/31/18 @ 5-6PM PDT: Serra (Divine Union)


Tuesday 8/14/18 @ 5-6PM PDT: Erin & Serra (Closing Ceremony)
Love & Blessings,
Erin & Serra
More About Us...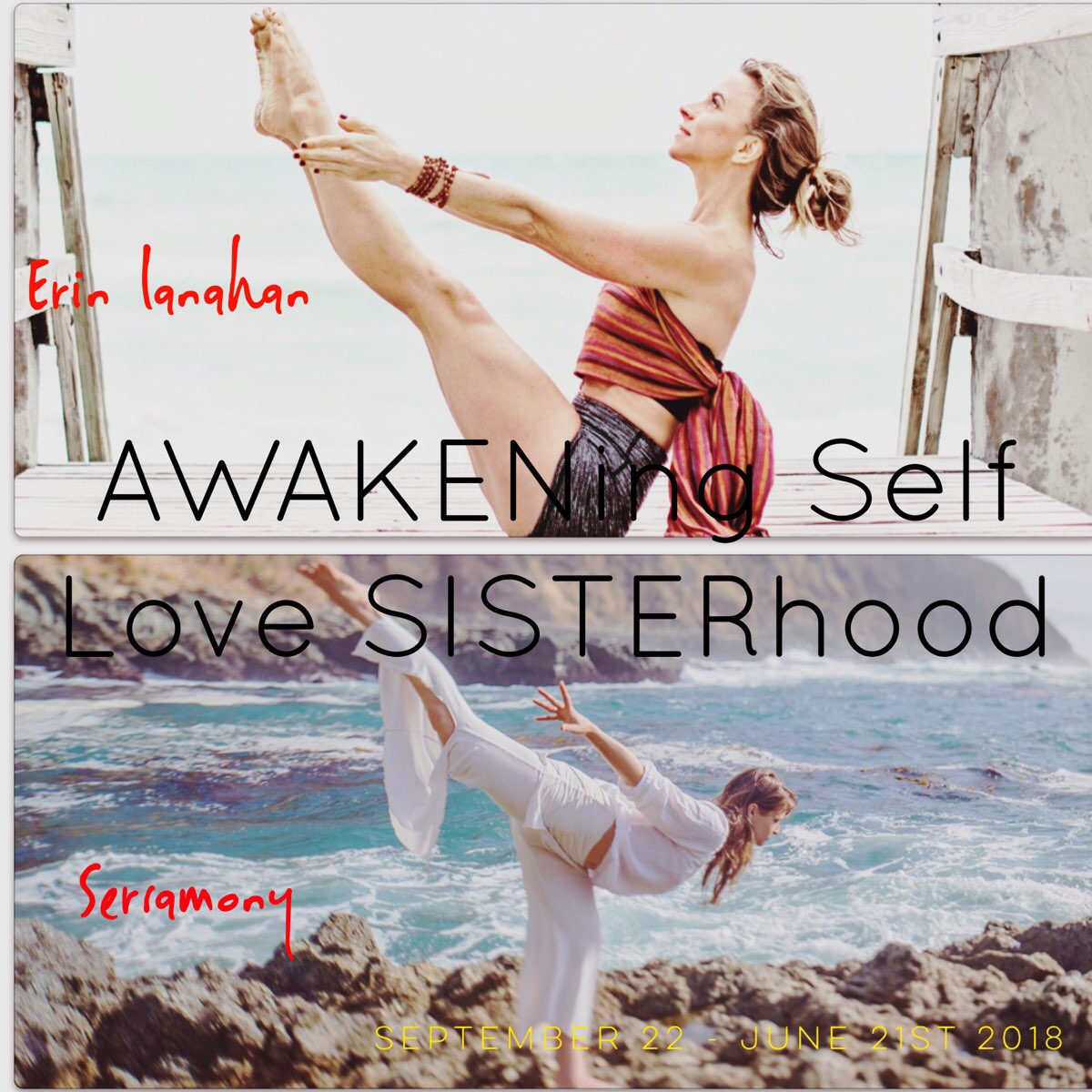 Erin Lanahan: I'm a transformational life coach, a Reiki Practitioner, an author, an internationally certified yoga teacher, a peace warrior, love soldier, and one heck of an optimist! I began working as a personal trainer to the stars in Los Angeles, CA and found that yoga, meditation, and spiritual work were the things that created lasting change. I became certified as a Holistic Health Coach and began leading meditation, self-love, and healing workshops and groups around the world. I'm dedicated and devoted to being a catalyst for awakening on this planet, and to helping you activate your radical, magical self. Currently, my body of work has taken me deep into the Womb. I've facilitated Womb Wisdom ceremonies for women all over the world, assisting them as they reclaim their inner Goddess and awaken to their sacred feminine empowerment. I believe every woman has a great vision, and as she brings this vision to life, she brings great medicine to humanity. www.erinlanahanmethod.com
Serramony: Since 2008, I began diligently forging my own spiritual path and guiding others along their own path. I began teaching yoga, dance, meditation, and breath work as a vehicle for moving stuck energy. Since then I have taught and led teacher training and workshops internationally as well as globally. In 2016, I began experiencing debilitating back pain that completely shook the foundations of my own identity and offerings. It has been a humbling journey, and yet one I am deeply grateful for in the sense that it has refocused my efforts towards my true path and gifts as a Medicine Woman, Sound Alchemist, and Wisdom Keeper of the sacred feminine mysteries and midwife to the new higher dimensional Earth. www.serramony.com