Description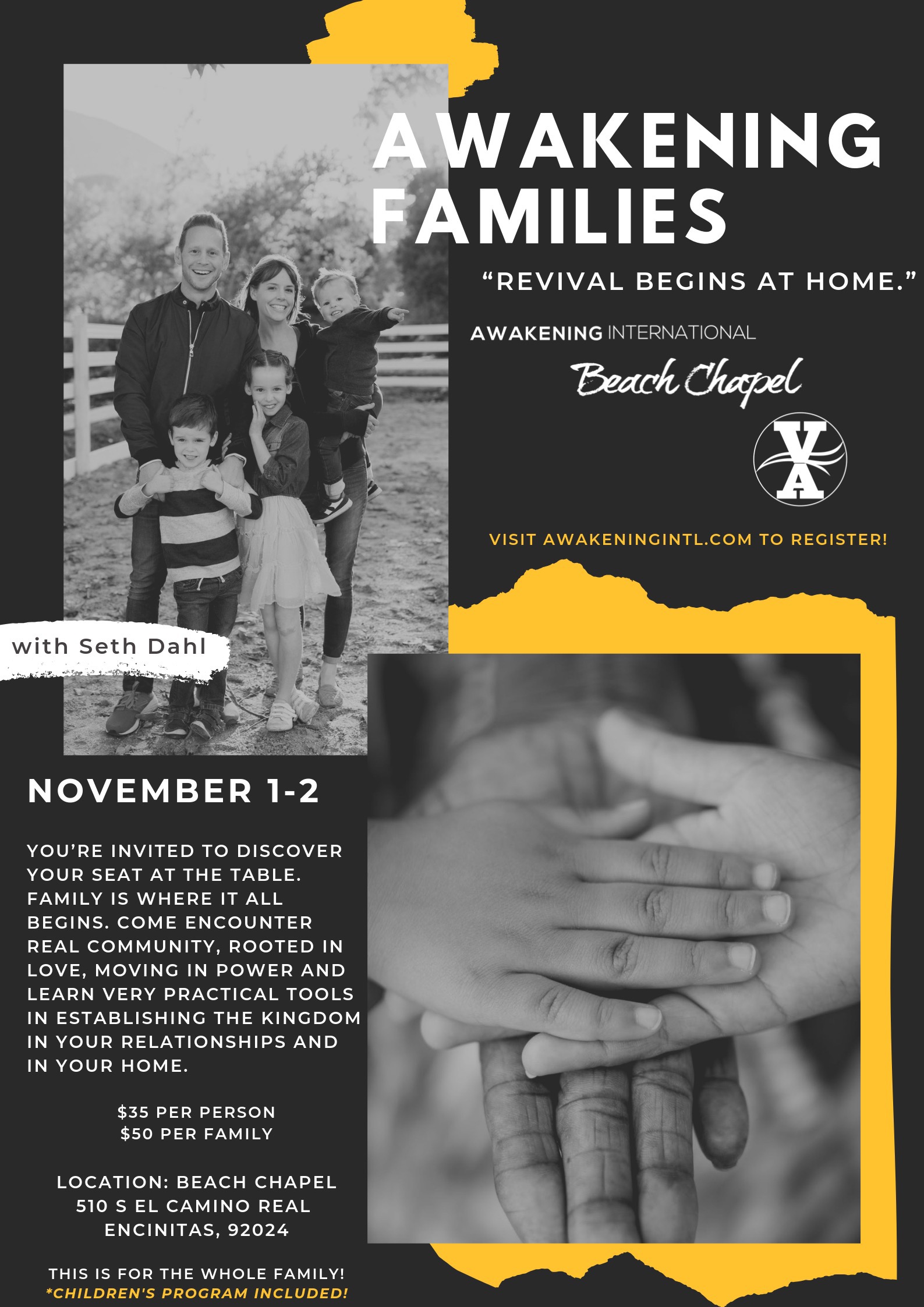 At the heart of the Gospel is the epic story of a Father's passion to restore His Family! That passion led Him to send His Son on the greatest rescue mission in the history of mankind. And so Jesus was sent by His Father, to restore all of humanity to Himself ensuring the eradication of poverty and healing the deep wounds of the orphan.


When we are introduced to God's view of family, we aren't just learning about how to increase our relationship skills with the goal of having the perfect "white picket fence" life… No! Instead, we're being immersed into the very nature of who God is…and in turn, all of who we're designed to be. Family is not peripheral to the Gospel. It is at the center of it. And it is here that we are launched into the center of His heart. It is here we discover who we are. It is here we find our mission for life. It is here the orphan finds their home. It is here we truly find our family!


Awakening Families is a conference that will breathe hope back into your relationships, reshape how you think about "family" and equip you with clear vision to walk out who you are called to be. With our Keynote Speaker Seth Dahls incredible ability to communicate profound truth in simple, easy to apply terms, you will definitely leave different than you came. In addition, we have Molly Mello, an impactful teacher to children who will be facilitating a children's track the entire weekend as a companion to the adult sessions. To round it off we will also hear from Micah and Bourne Burns, Gayelee Reynolds, and Craig and Karlet Muster. As Fathers and Mothers in our region, they each have unique perspectives on how the Kingdom invades our Homes.


Come join us and we dive into all of what God has for us in this season. It's time to see a Relationship Revival break out in our county and we want to be in the midst of it!


Craig Muster
Senior Director
Awakening International
About Seth & Lauren Dahl:
Seth has been ministering to children and families for over 15 years. He's seen incredible fruit from activating families to pursue the kingdom of God not only at church, but at home and in their communities as well. He has a passion to help people encounter God's goodness in a real way and to see the power of God transform families.
Lauren has been pursuing the art of homemaking for more than a decade. She loves helping parents with practical tips to cultivate a peaceful home and raise children who will be prepared to enter adulthood. She also strives to create a completely non-toxic and self-sustainable environment for her family. Her heart is to help others find the confidence to take simple steps towards a thriving home.
About Molly Mello:
Molly Mello has been in children's ministry over 15 years. She has been the Children's Ministry Event Coordinator at Bethel Church for 3 years, and is the project manager for all of the children's ministry curriculum production.
Molly has a passion to see children know how valuable and powerful they are, even at their young age, and give them a place to encounter God and to be equipped to release the kingdom everywhere they go.
About Bradley Rapier:
A dynamic speaker, Mr. Rapier shares powerful messages from his extensive life experience and thought provoking insight from freestyle dance culture. Reflected in his central phrase, "It's Not the Move, It's the Groove", he leads audiences to new levels of freedom and authenticity. Mr. Rapier has appeared on numerous panels and has been a guest speaker at The University of Southern California and The Kaufman School of Dance where he also gave lectures on Street Dance: History & Culture, Choreography & Performance, and taught Urban Dance forms for six years as part of the Adjunct faculty.
Throughout his endeavors, Mr. Rapier has remained deeply rooted in his community as a life coach and mentor. He has a unique ability to draw out people's abilities and guide them toward higher creativity and originality in art and in life. His infamous Groove Night program and other bold outreach methods were pivotal in establishing a central hub for dancers in Los Angeles when there was none to be found. As such, Mr. Rapier has been a launching pad for countless individuals and continues to provide support and key platforms for numerous members of today's top influential dancers and dance groups.
Schedule:


Friday the 1st
7:00 pm Session 1


Saturday the 2nd
10:00 am Session 2

12:00 pm - 1:30 pm Lunch Break

1:30 pm - 2:45 pm Session 3 Workshop
3 pm - 4:15 pm Session 4 Workshop
4:15 pm - 6 pm Dinner Break
6 pm - 9 pm Session 5