Refund policy
Contact the organizer to request a refund.
Eventbrite's fee is nonrefundable.
How do Psychedelics, Tech, and Meditation combine to support the future of psychological, emotional and spiritual wellbeing?
About this event
Join us at the intersection of Psychedelics, Tech and Meditation for our 2nd Awakened Futures Summit. We will explore the emergence of a new ecology of consciousness technologies, one that weaves the most potent tools of human transformation, historically unconnected, together. We're bringing thought-leaders, researchers, academics and entrepreneurs into cyberspace to discuss and collaborate on this emerging synergy.
The summit will mirror last year's highly participatory experience, with UnPanels, speaker-led breakouts, and virtual connection experiments to create a truly novel digital experience. Friday night we'll host a 2 hour long deep dive into collective consciousness led by AnnaLisa Adelberg, along with an hour long meditation each morning. This will NOT be your typical webinar. It will be a deeply participatory human experience.
Friday, May 1st, 2020 5:00 PM PDT | 8:00 PM EDT
Saturday, May 2nd 2020 9:00 AM PDT | 12:00 PM EDT | 6:00 PM CET
Sunday, May 3rd 2020 9:00 AM PDT | 12:00 PM EDT | 6:00 PM CET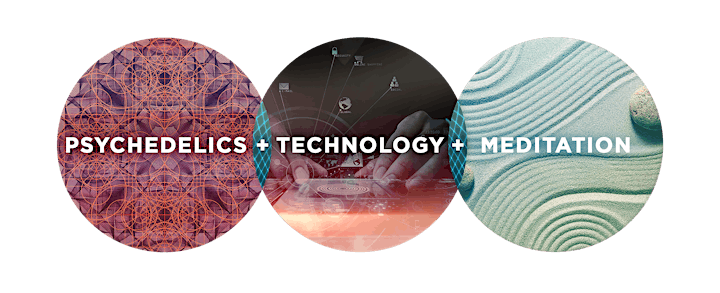 WHY NOW?
The domain of transformative technology is offering new ways for amplifying the potency, and scaling the reach, of the two most powerful catalysts of human transformation throughout history - psychedelics and contemplative practices. We'll be exploring how these silos are synergizing, as well as asking questions such as:
How might these innovations be used and scaled in response to the ecological and social crises upon us?
Could modern tech ever replace organic molecules and traditional practices as a means of shifting consciousness?
What are the ethical considerations and risks of these developments?
How do we preserve the wisdom of the ancient traditions as we move forward into an uncertain and technologically-enhanced future?
Building off the massive success of last year's conference, this conference will be highly participatory, interactive and a shared learning experience. Together we will create a global network to support meaningful connections and foster individual and collective flourishing.
WHO WE ARE
Consciousness Hacking is a global community exploring how technology can be a catalyst for psychological, emotional and spiritual flourishing. With over 50 chapters around the world we create a diverse offering of events and media content with the most important voices in the space. We believe that by uniting the power of modern technology with the wisdom of ancient contemplative traditions, we can support genuine human connection, transformation, and awakening. Learn more at www.cohack.life.
A list of speakers and performers you find at: www.awakenedfutures.org/speakers
Please visit our website for event schedule, photos from last year's conference and much more: www.awakenedfutures.org
Want to get more involved with Consciousness Hacking?
We host monthly events featuring speakers in the transformative tech world, interactive workshops, and fun community gatherings. Like us on Facebook to learn more about our upcoming event offerings.
BECOME A MEMBER
Memberships give us the ongoing support we need to keep Consciousness Hacking going strong! Members get guaranteed and discounted tickets to our conferences and free entry to one Consciousness Hacking event each month. Become a member here: www.joinit.org/o/ch
Current members: Your discount codes will be emailed to you. If you have not received your code, please reach out to us directly.
Volunteer opportunities / scholarships are available. To apply please reach out to info@cohack.life.
You will receive the zoom call invitation link that gives you access to the conference 24hrs prior to the event.
No refunds available, but your tickets are transferrable.
FAQ
Will the content be available after the event?
Yes, the content will be immediately available after the event for paying attendees. It will be available to the general public at a later date.
I love that this is so interactive but I have to [fill in actual life stuff] and can't make all the sessions, its that ok?
Yes, totally fine. Everything we do, whether its small group discussions, interpersonal meditations, or breakout groups will be opt-in. You never have to participate in anything. And we'll still love you 🧡.
I'm a little short on cash right now, can I still join?
Yes. We want everyone to be included, regardless of financial capacity. Ideally you can join us as a volunteer which would still allow you to participate in almost all parts of the conference. Or, if that doesn't work for some reason then we also have scholarships. Please reach out to info@cohack.life
What is the agenda for the event?
The official agenda will be posted soon, but the most important things to know are: Friday 5-7pm: Collective consciousness training/meditation; Sat/Sun 9-10am: Collective consciousness meditation; Sat/Sun 10am-6pm: Conference; Sat 7-10: Collective Connective 🥳
What platform are you using?
We will be using Zoom and meet.ps
Confirmed Speakers
Confirmed Speakers:
Adam Gazzaley, M.D. Ph.D. | Professor of Neurology, Physiology and Psychiatry, UCSF; Founder & Executive Director, Neuroscape
Alexander Beiner | Writer, Facilitator and Cultural Commentator, Co-Founder of Rebel Wisdom
Aneel Chima, Ph.D. | Director of the Division of Health and Human Performance and of the Stanford Flourishing Project
Ariel Garten | Co Founder and Chief Evangelist at Muse
Bia Labate | Executive Director the Chacruna Institute for Psychedelic Plant Medicine
Carl H. Smith | Director of Learning Technology Research Center
Charlie Hartwell | Change Agent, former President of Ideas to Go
David J. Muehsam | Senior Biophysicist at VID Art Science, National Institute of Biosystems and Biostructures, Research Director for the Consciousness and Healing Initiative
Dustin DiPerna | Founder of Bright Alliance, Author and Meditation Teacher
Erik Davis | Author, Speaker and Writer, Host of the podcast 'Expanding Mind'
Florencia Bollini | Founder of Nana
Jamie Wheal | Co-author of global bestseller Stealing Fire and the Co-Founder of the Flow Genome Project
Joshua Fields | Co-Founder Awakened Futures
Julia Mossbridge | Founder and Research Director of Mossbridge Institute, LLC
Kat Conour | Executive Director of Auryn Project and Co-founder of North Star
Liana Sananda Gillooly | Development Officer, MAPS
Mikey Siegel | Founder, Consciousness Hacking
Martin Dinov | Co-founder of AI startup Maaind and Co-founder of Hack the Senses
Maureen Pelton | Scientist, Integrative Psychotherapist, Executive Coach, Spiritual Teacher and Group Facilitator
Nanea Reeves | CEO and Co-Founder, TRIPP
Nichol Bradford |CEO & Founder of the Willow Group and Co-Founder of Transformative Technology Lab
Roger Walsh, M.D.,Ph.D., D.H.L.
Rohan Dixit | Founder and CEO of Lief Therapeutics & founder of The Internet Party
Shinzen Young | Mindfulness teacher and neuroscience research consultant
Tim Chang | Experienced Investor and Global Executive
Tristan Harris | Founder of the Center for Humane Technology
Yingzhao Liu | Design Leader, Coach and Facilitator
...and many more!