Get ur Cyber Party On! 15+ virtual experiences: live music, dance, games, connection, and more + East Forest Closing Ceremony
About this Event
The Connective Collective is a multi-room virtual deep-dive into a cosmic pool of creative facilitations. Choose your own adventure from a growing list of virtual experiences - from dance to connection to live music, we'll have a flavor for every mood. Hop from room to room, or settle in and take a ride. Inspired by the folks behind bicyclenight - we believe this is the new play space for virtual parties and beyond. Closing ceremony by the amazing East Forest from 9-10pm PST.
Event is by donation - we've opened up our Awakened Futures Summit afterparty to the whole community. Let's blow up this space and test the limits of this virtual experiment.
How will it work?
First - you'll get an email 48h before the event with all the details. So don't worry.
At 7pm we open up a dedicated page on awakenedfutures.org with a directory of experiences for you to choose from. These will range from dance parties to live music to authentic relating to totally new experiences that are impossible to categorize. It's like an experience buffet, and you can keep coming back for more.
At 9pm we consolidate and join together for a specially curated East Forest Closing Ceremony. Expect a mix between a concert, ritual and meditative deep dive. A beautiful way to end the evening.
We're really experimenting with providing the ultimate, intimate digital experience for attendees. Our in-person parties are famous for their vibes and connection, and we hope to re-create as much of that as possible in cyberspace. Check out our full conference if you want to dive even deeper: https://www.awakenedfutures.org/
Confirmed Experiences
More coming soon! Want to create an experience? Apply here: https://forms.gle/Fm6xgaGfbH1pifjV9
Closing Ceremony by East Forest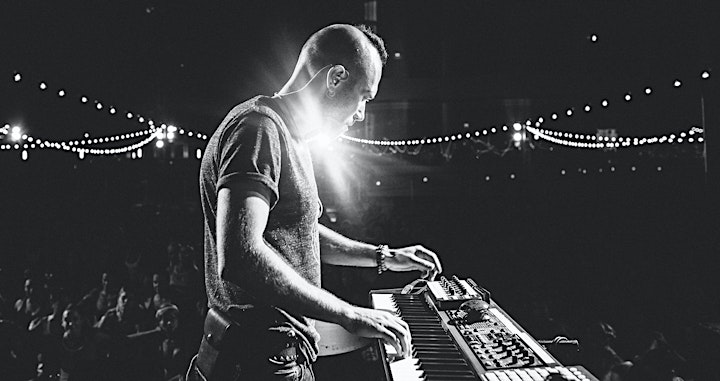 Bridging Concert and Ritual for a Transformative Life Experience. Check him out: http://eastforest.org/
Bruce Damer | The Field: Portending the Union of Science and Spirituality
New discoveries in the science of life's origins and deepening access to the luminous realms of spiritual experience suggest a union of these great magisteria in "the Field" an all-pervasive operating system processing probability. Join us for an explication and experimentation with the Field.
Sarah Hashkes | Meu 3D-Enhanced Party: Let's Dance Together Even If We Are Far Apart
Meu is the first social platform that let's dancers send their 3D dances. We will be using Meu along with an awesome DJ to allow people with AR capable phones to receive 3D dances they can interact with in their living room
Dominique Savitri Baron-Bonarjee | Love is in the Wireframe
The 'High Priestess of Non-sense' wears an intricate sensor-embedded cloak composing a soundscape from her movements as she shares practices of posthuman love.
Crystallin Dillon | T-Group 2.0: Emotional Intimacy
T-Group is an arena for the study and practice of emotional intimacy: what it is, how to create it, and what stands in the way. Intimacy isn't just for lovers. It's about letting go of self-as-performance so that we can discover and express the deepest truths of our hearts in the present moment.
Justin William Hartery | "You Are The Earth": A Guided Meditation
This guided meditation will show you how to leverage the intelligence of your body along with the earth's abundant support for our mutual survival, healing and awakening by learning how to cultivate an embodied relationship with the universal life-force that supports us all.
Nikola Ristic | Ways and Codes: Using Group Voice Dialogue to Awaken Spiritual Frequencies
Based on my recent work and my upcoming book, I would like to facilitate a group session using group voice dialogue to awaken Ways (meditation, Shiva, Muse) and Codes (Hipster, Hacker, Madonna) to experience the group itself and the world in various and rich ways.
Nir Solomon | Dance Dance Revolution - hip hop style
Always wanted to learn to dance like Jlo, Beyonce, Shakira, Chris Brown, or Bruno Mars? Now is your chance!
Jeremy Falk | Awaken Together
Embodied practices and connection exercises to feel and express our potent shared reality, remembering that we are more connected than we might think.
Kat Fleming | Flow State: Activation Games + Discussion
Flow State is an increasingly studied and revered mode of operation, which is shown to enhance experience, productivity, connection, creativity, and team work. Come party, play, and explore the activation, cognition, embodiment, and integration of Flow States with us via games and discussion!
Mark-David Hosale | Ambient, Eversive, Emotive
An audio-visual performance that uses the performer's bio-physiology as a main driver for the work.
Damla Gungor | Psychedelic Playback Theater
Interactive Psychedelic Multimedia Storytelling: Get ready to be a Psychedelic Performer -Write, Listen, Act, and Draw!
Amanda Gregory | Synæsthetics- an immersive sound journey, emulating psychedelic experiences and synesthesia.
Amanda Gregory draws on formal operatic training, improvising ethereal vocals that harmonize with kaleidoscopic songs of diverse species and sounds of nature. Wear headphones to experience psychoacoustic effects, such as binaural beats, EMDR, ASMR, and brain wave entrainment.
Sarah Cruse | Granny's Livingroom
Tap into awareness with Granny and receive her wisdom. Come with questions, ideas and humor!
WHO WE ARE
Consciousness Hacking is a global community exploring how technology can be a catalyst for psychological, emotional and spiritual flourishing. With over 50 chapters around the world we create a diverse offering of events and media content with the most important voices in the space. We believe that by uniting the power of modern technology with the wisdom of ancient contemplative traditions, we can support genuine human connection, transformation, and awakening. Learn more at www.cohack.life.
Want to get more involved with Consciousness Hacking?
We host monthly events featuring speakers in the transformative tech world, interactive workshops, and fun community gatherings. Like us on Facebook to learn more about our upcoming event offerings.
BECOME A MEMBER
Memberships give us the ongoing support we need to keep Consciousness Hacking going strong! Members get guaranteed and discounted tickets to our conferences and free entry to one Consciousness Hacking event each month. Become a member here: www.joinit.org/o/ch
Volunteer opportunities / scholarships are available. To apply please reach out to info@cohack.life.
You will receive the zoom call invitation link that gives you access to the conference 24hrs prior to the event.
No refunds available, but your tickets are transferrable.