Description
Join renowned acupuncturist and energy healer Laura Corrigan for a one-of-a kind evening on how to awaken and cultivate your own inner healing abilities through the practices of Qi Gong and Chinese medicine.
Laura will begin the evening with a discussion on the basics of Qi, our life force energy and how it functions in our body. She'll then lead participants through a gentle meditative and cleansing practice of Qi Gong called "Buddha Palm." Buddha Palm helps to awaken and enhance the flow of "Qi" throughout the body, which in turn, cultivates each individual's own innate healing abilities.
What You Will Learn:
The basics of Qi Gong practice and Chinese medicine

A gentle meditative and cleansing practice of Qi Gong called "Buddha Palm"

Learn how with the practice of Qi Gong you can calm anxieties, let go of all unnecessary stress and release patterns of stuck negative energy

How to create more love, joy, happiness and a greater overall sense of peace in your life
About the Speaker: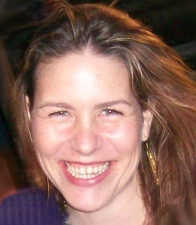 Laura Corrigan helps men and women of all ages find joy and success in their life journey. She leads her clients to greater physical health and well-being by helping to release old physical, mental and emotional patterns. Laura treats the mind and body with selective use of auricular, wrist, and ankle acupuncture, along with moxa therapy, cupping, gwa sha, tuina/massage, electric acupuncture and reiki and crania sacral therapy. Through these ancient and time-tested practices, she helps her clients sustain a higher level of well-being and function thus preventing future pains physically, mentally, emotionally and spiritually. She is a compassionate healer, working through her heart and mind as well as her hands and fingers. In this way, she treats the spiritual and emotional pains as well as the physical ones.
Laura earned a master's degree in Acupuncture and Chinese Herbal Medicine from the New England School of Acupuncture, the oldest school in the United States where she went on to become a teacher's assistant, refining her own skills as well as mentoring others. Laura is the former co-owner of OM oriental medicine now Namo yoga and the current owner of Laurel Wellness in Watertown, Massachusetts.