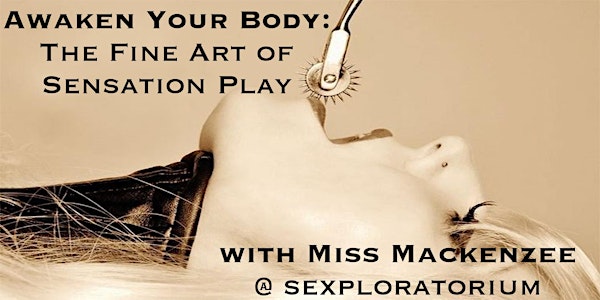 Awaken Your Body: The Fine Art of Sensation Play with Miss Mackenzee
Location
Sexploratorium
317 South Street
3rd Floor
Philadelphia, PA 19147
Description
Classroom Doors Open: 6:45pm / Class Starts at 7:00pm
---
Awaken Your Body: The Fine Art of Sensation Play:

Everyone always seems to be talking about rope and whips when it comes to BDSM but what about the softer side of things? Or the things that may hurt someone but not leave marks? This class is designed to talk about the wonderful world of sensations and how you can incorporate that into your sex lives.
This type of play can be more intimate and seductive. Learn how to make your partner tingle like never before. We'll talk about sensory deprivation and how that heightens all other experiences happening to your partner's body. Sensation play can include things like tickling, electro, massage, fire, etc. Learning how to play in the safest way possible is an extremely important topic that we will discuss. We will go over different toys and the responses they elicit from the body so you know what to use when trying to create a specific reaction. There will be live demos and a chance to experience some of what we go over. This class is open to all skill levels, gender identities, sexual preferences, and relationship dynamics. So come learn how to divulge yourselves and deliver mind-blowing sensations that your partner will remember forever.
---
Miss Mackenzee is a Professional Dominatrix, Certified Erotic Hypnotist, Sexual Wellness Coach, as well as an International BDSM and Sex Educator. She has been involved in the lifestyle for 10+ years. She teaches a full range of subjects including but not limited to energy/Tantra, bondage, power exchange, hypnosis, sexuality, and the art of sadism. She is highly sought after for private lessons with individuals and couples as well as presenting at conventions and graduate programs at major universities. She has brought her experiences and skills to various organizations such as Kink.com, Widener University, SF Citadel, Dark Odyssey, Celebrity Cruiseline, VoxBody Studio, SINergy, Kinky Kollege, Bound In Boston, Adventures in Sexuality, ROPECRAFT, Sacred Muse, Weekend of Wickedness, Spanksgiving, Rochester Erotic Arts Festival, Sexploratorium, EXXXotica, and many others. Miss Mackenzee has also appeared as a guest on numerous podcasts to share her wealth of knowledge on various topics. She prides herself on creating a fostering environment that is safe from societal judgments for people to explore their kinks and sexuality. She welcomes people to be free and honest with themselves and their desires.
She invites you to interact with her on FetLife and Twitter under the name MissMackenzee and to visit her website, www.MissMackenzee.com.