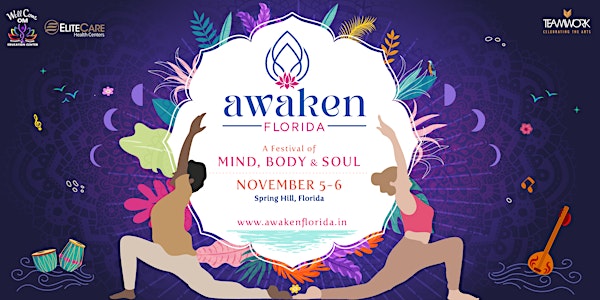 Awaken Florida
Awaken Florida, a Festival of Mind, Body & Soul, to be curated by Teamwork Arts, in partnership with EliteCare Health.
When and where
Location
WellCome OM Integral Healing & Education Center 4242 Lake in the Woods Drive Spring Hill, FL 34607
About this event
Awaken Florida, a Festival of Mind, Body & Soul will be held on 5th & 6th November 2022 at WellCome OM Integral Healing & Education Center, located in Spring Hill, Florida. Wellness practices, inspired by age-old traditions which are often overlooked in the urgency of our immediate lives, are what form the crux of balancing the physical with the mental. That elusive equilibrium which makes us radiate peace is an eternal search for the modern world. Awaken Florida believes in the power of wellness that empowers and creates deep spiritual bonds within communities.
The festival will endeavour to help people seek holistic healing and inner peace, focusing on spiritual, mental, physical and emotional well-being. It will be open, accessible and inclusive, and will showcase music, conversations, wellness, food traditions, workshops and more. The festival will be unique and special and a coming together of ancient traditions in wellness, yoga and meditation, as well as contemporary wellness therapies from across the world. Attendees will have a choice of holistic therapies and workshops, partake of mediation and chanting sessions and yoga, led by world-renowned mentors.
Music, dance and literature, that focus on the spiritual and guides towards inner calm, will also be important strands of the festival with performances by acclaimed artists and panels with well-known writers. Organic & health-conscious food stalls, merchandise, and consultations on mindful eating are on the anvil and will offer an opportunity for attendees to examine their day-to-day habits and look inwards for introspection.