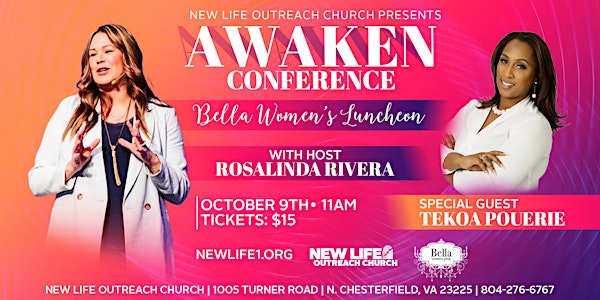 Awaken Conference- Bella Women's Luncheon
Join Rosalinda Rivera and Bella Women's Ministry for our conference luncheon with special guest speaker Tekoa Pouerie
When and where
Location
New Life Outreach Church 1005 Turner Road Richmond, VA 23225
About this event
Ladies come out and join Rosalinda Rivera and Bella Women's Ministry for a special afternoon of Worship, Teaching and Fellowship.  We love gathering with Women to empower and equip our faith-walk together.
Tickets are $15 and can be purchased at New Life Outreach Church or online. Lunch will be served and Vendor space is available.  Contact us at 804-276-6767 for Vendor Opportunities.
We are honored to have Tekoa Pourie as our keynote speaker.
About Tekoa:
Non-Profit Executive | Subject Matter Expert | Empowerment Speaker | Author
Like most Proverbs 31 women, Pastor Tekoa Pouerie wears many hats. Ordained in ministry at the age of 16, Tekoa was committed to exemplifying Christ in her career. She is a dedicated and result-driven subject matter expert, nationally recognized Implicit/Explicit Bias trainer, pastor, author, media correspondent, and community advocate focused on healing communities by bringing awareness to areas of social justice as well as empowering women and the next generation of girls.
Tekoa is the Senior Director of Resource Development at Pace Center for Girls national office, where she provides expertise in fundraising leadership and support for centers throughout Florida to raise over $10 million for adolescent girls. In addition, Tekoa trains Pace team members organization-wide to bring understanding to bias in the workforce and help build a framework for Diversity Equity and Inclusion for the national office and centers statewide.
For over a decade, Tekoa has worked in social justice researching Disproportionate Minority Contact and has been awarded multiple grants from the Florida Department of Juvenile Justice (D.J.J.) to train law enforcement. As a result of her work and community contribution, she received two (2) Congressional Recognitions and a Sheriff Citation Medal. Additionally, in 2019 Tekoa was appointed to the Mayor of Orlando's Community Investment Panel and the Orange County Mayor's Domestic Violence Commission.
To date, Tekoa has trained over 10,000 (and counting), including law enforcement officers, trial lawyers, corporate teams, non-profit executives, board of directors, judges, and HR professionals on how to recognize and reduce bias when in the workforce. Tekoa has made it her personal mission to use her voice and background to advocate for change through her lifework and company, Tekoa Pouerie International. A civil activist, published researcher, and sought-after certified bias trainer, Tekoa has been featured on USA Today, Wesh 2 News, FOX 35, Ebony Magazine, The Nicole Crank Show, and The National Criminal Justice Training Center. In addition, she was recently recognized in 2021 by the NBA as a Social Game Changer and by the Orlando Business Journal as a Diversity Honoree.
Feeling an even greater call to help equip people spiritually to go further faster, 4 years ago, Tekoa and her husband, Dio Pouerie, launched Acceleration Church in Orlando, FL. Each year Tekoa hosts Ladies Night O.U.T. that attracts women of faith throughout the U.S. for a night of fun, fellowship, and expressions of faith. Of all these "hats," Tekoa's proudest role is Motherhood. Losing her parents while in her teens, Tekoa is committed to making family her first ministry. Dio and Tekoa are rearing two beautiful future world leaders: Maximus (8) and Bella (7).
Tekoa's website: www.tekoapouerie.com
About Rosalinda Rivera:
CEO, entrepreneur, international speaker, producer, and Author of books like "Dare to Begin Again: Let God Write Your Best Future ," The Wonder Series including the soon-to-be-released Wonder Mom, and her latest, "Seductive Slayers of Success: Harness Your Strengths to Take Control of Your Destiny," Rosalinda Rivera is both outspoken and passionate about helping others change their lives and accomplish their dreams.
She is a sought after speaker by major companies, non-profits, and ministries around the world for her transparent and down-to-earth motivational style. Founder of Bella Women's Ministry, Associate Pastor of New Life Outreach Church.
Bella Women's Ministry Gatherings are open to all women from all churches and walks of life. Come out and be a part of Richmond's fastest growing women's ministry and grow with us! We know that when women gather together, to worship, to pray, to listen to inspired teaching, to become friends, to laugh and share, then incredible things happen! www.bella.pink www.rosalindarivera.com 
Women, women leaders, Christian, Conference, Women's conference, Richmond, Virgina, Evangelism, Teachng, Ministry