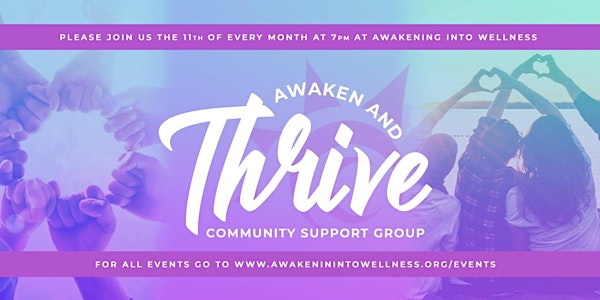 Awaken and Thrive: Community Support Group
Shared Space for Intuition, Cooperation, Knowledge, Support and Vision
When and where
Location
Awakening into Wellness 1990 Central Avenue St. Petersburg, FL 33712
About this event
Join us for our new adventure with a new support group for our St. Pete community. Our goal is to provide space for inner exploration, to relax, laugh and share. To reconnect and open new perspectives and gain strength from one another through stories, music, meditation, dance, art, energy work, and journaling.
Why the 11th of every month?
The number 11 is at one with the universe. It is open to vast spiritual concepts and the presence of greater power. It is a channel for truth and answers to reach us and help us on our way. This Master Number's vision is crystal clear, and it sees with a scale that others cannot. It is creative and magnetic, a beacon of wisdom and hope for others to follow. 11 is carrying the traits of intuition, cooperation, knowledge, support, and vision.
Feel free to bring anything that makes you extra comfortable - mat, pillow, props! Wearing a mask would not be required, but we will follow CDC social distancing guidelines.
Admission is free.