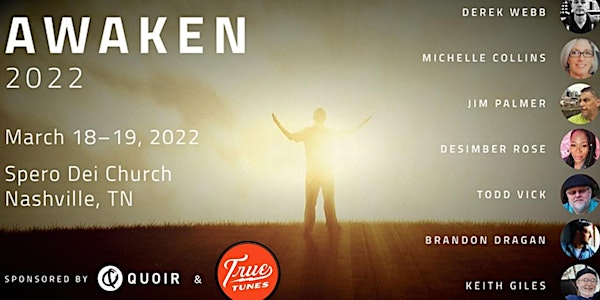 Awaken 2022
Awaken 2022 is a safe place to find hope, inspiration and insight for your post-Evangelical journey.
When and where
Location
Spero Dei Church 3701 Park Avenue Nashville, TN 37209
Refund Policy
Contact the organizer to request a refund.
Eventbrite's fee is nonrefundable.
About this event
Is there life after religion? Where do you turn for truth after you've doubted your faith?
After you've deconstructed Christianity...what's next?
Let's gather together to find common ground and practical resources for reconstructing our faith in God, Christ, Spirituality, and everything else.
Our guides for this journey are:
JIM PALMER is the Founder of the Center for Non-Religious Spirituality. He is an acclaimed author, Certified Spiritual Director, Religious Trauma Counselor, and Chaplain with the American Humanist Association. Jim believes in the universal relevance of spirituality for cultivating a life of meaning, and building a world of compassion, harmony, and flourishing.
KEITH GILES is a former pastor who left the pulpit to follow Jesus and started a church in SoCal where all the offerings were given away to the poor in the community. Today he is the best-selling author of the "Jesus Un" book series and leads the Square 1 deconstruction/reconstruction community and online course, helping dozens of people to process their deconversion and exodus from the Evangelical faith.
DEREK WEBB is a 20+ year music industry veteran, who sold millions of albums as a founding member of Texas-based folk/rock band Caedmon's Call and ruffled political & spiritual feathers alike during his nearly 20-year solo career. He is also founder of the revolutionary tribe-building platform NoiseTrade (acquired by Paste Magazine in 2019), MiddleClassMusician.com, an online course crafted to teach artists how to make both music & money, and The Airing of Grief podcast, discussing stories of spiritual de & reconstruction.
His album TARGETS, a defiantly joyous rock n roll album about love and unbelief, was released into the world in February of 2020. The record is an intimate ode to freedom, weaving through Webb's personal stories, questions, fears, and experiences.
In 2021, Webb embarked on a journey to conceptualize, write, and record his new album, The Jesus Hypothesis, live and in real-time through the membership platform, Patreon. Here, patrons get a unique insider's look at the process of making an album and exploring belief through live-streamed writing sessions, demos of the songs, and behind-the-scenes commentary in a bi-weekly podcast.
DESIMBER ROSE WATTLETON is an author, poet, spoken word artist, and former Pastor of The Restoration Center in Greenville, South Carolina and The Rock Worship Center in West Union, South Carolina. At every opportunity she is committed to reaching souls through love and truth, restoring lives through servant leadership, and equipping the Body of Christ for righteous living through the teaching of sound doctrine.
Her approach to the Gospel is practical, realistic, and void of legalism and religious restriction. Her sole objective is to present the Savior to the world as she understands Him… to spread the Good News of God's Grace to the world through radical truth. There is a kind of testimony and witness that can only come from brokenness. There is a level of compassion that can only be expressed by those who need it most. Desimber Rose speaks for those who don't have the words… for those whose voices have been muted by failure, rejection, abuse, and trauma... for those familiar with the darkness and fluent in pain.
Desimber Rose enjoys speaking truth to power wherever God opens the door. She welcomes opportunities to reach the world with an unfiltered, radical approach to spreading the Gospel. She currently resides in Laurens, South Carolina where she cherishes the constant love and support of her family and friends, and the privilege of being the mother of two miracles, her 8-year old daughter Oliviyah, and 7-year old son Israel.
MICHELLE COLLINS served in the US Marine Corps and is currently pursuing a Doctorate in Psychology as well as additional degrees in Biblical Studies and Christian Counseling. She is the host of the "Book-Ish" podcast and the author of Into the Gray: The Mental and Emotional Aftermath of Spiritual Deconstruction.
BRANDON DRAGAN is the author of The Wages of Grace. He grew up in northeastern New Jersey and attended Belmont University in Nashville, Tennessee. He is currently a 2L Juris Doctor candidate at Belmont University College of Law. Brandon enjoys road cycling, cigars, Irish whisky, and is an avid supporter of the Arsenal Football Club. He and his wife Jami live in the Nashville area with their two daughters.
TODD VICK is an award-winning writer, best-selling author, conference speaker, and Certified Transformation Life Coach. He has helped countless individuals achieve personal transformation through the renewing of their minds and the elimination of unhealthy religious beliefs.
He and his wife, Laura, have four adult children and one granddaughter, and currently reside in Columbia, South Carolina.
JOHN J. THOMPSON is creator and host of the acclaimed new True Tunes Podcast. For years now, he has been championing, challenging, and celebrating faith-fueled art and artists. He is a speaker, author of several books, pastor, producer, artist, and music enthusiast who has served as the Associate Dean of the Trevecca School of Music and Worship Arts and as a Creative Consultant, Writer, Music Supervisor, and Producer for various publishing companies, independent artists, films, websites, and more. He served Capitol CMG Publishing as Director of Creative and Copyright Development for nearly a decade before joining Trevecca, and before that was on staff at the Cornerstone Festival in Illinois. He is featured significantly in the Lionsgate / Kingdom Story film The Jesus Music as an authoritative historian on the ins and outs of Christian and Gospel music and as the Music Supervisor and Historical Consultant for the music comedy film Electric Jesus, via 1091 Pictures and MPX.
NOTICE: COVID-19 RESTRICTIONS - Attendees MUST have proof of vaccination and/or a negative test prior to the event or they will NOT be admitted to the event.
Masks are optional.
AWAKEN 2022 EVENT ITINERARY/SCHEDULE
NOTE: Main Sessions are 45 min each w/ 10 min breaks between sessions.
FRIDAY – MARCH 18 [DAY 1]
6PM TO 6:30PM WELCOME [Keith]
6:30PM TO 7:15PM SESSION 1: DESIMBER ROSE – Who I Am
BREAK 10 MIN
7:25PM TO 8:10PM SESSION 2: JIM PALMER – Exploring the Non-Theist Framework for God
BREAK 10 MIN
8:20PM TO 9:05 PM SESSION 3: KEITH GILES – Deconstruction: Why Does It Hurt So Much?
SCHEDULE DAY 2 - SATURDAY
9AM TO 9:15 AM WELCOME BACK [KEITH]
9:15 AM TO 10 AM – SESSION 1: MICHELLE COLLINS – The Mental and Emotional Aftermath of Spiritual Deconstruction
BREAK 10 MIN
10:10 AM TO 10:55 AM – SESSION 2 – JIM PALMER – How Toxic Religion Sabotages Spiritual and Human Development
11AM TO 12PM – LUNCH [FREE PIZZA]
+ JOHN J. THOMPSON [TRUE TUNES MAGAZINE/PODCAST DJ SESSION]
12:30PM TO 1:15 PM – SESSION 3 – KEITH GILES – Embracing Mystery
BREAK 10 MIN
1:25PM TO 2:10PM – SESSION 4 – TODD VICK – Releasing Shame
BREAK 10 MIN
2:20PM TO 3:05PM – SESSION 5 – BRANDON DRAGAN - Waking up to Restorative Justice
BREAK 10 MIN
3:15 PM TO 4:00 PM – SESSION 6: JIM PALMER: Post-Religion Tools for Cultivating a Life of Meaning and Wellbeing
BREAK 10 MIN
4:15 PM TO 5:30 PM – FINAL SESSION: DEREK WEBB – The Jesus Hypothesis
BREAK 10 MIN > 5:40PM TO 6:30PM – PANEL DISCUSSION [EVERYONE]